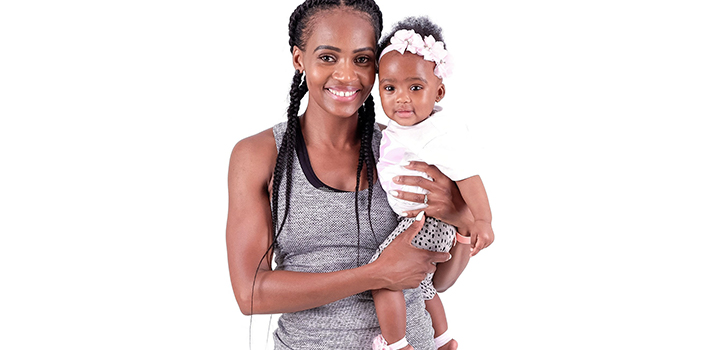 This month is #WomensMonth, and there's no better advocate than the vibrant Khethiwe Mlangeni – a mother and co-founder of PopUpGym, a lifestyle brand aimed at the health and fitness of women and children.
Entrepreneur Khethiwe Mlangeni (38) is a proud Diamond Vitality member whose health – and career – took off when she started prioritising a more active lifestyle. We caught up with Khethiwe to hear how practising positive habits changed her life.
Q: What made you decide to get serious about your health and fitness?
A: For many years, I wasn't active, and my eating habits were inconsistent. I cooked and ate without putting much thought into it. I was a seasonal weight gainer, especially after winter and after the festive season. When I was pregnant back in 2006, I weighed 85kg. By 2011, I was down to 65kg and was on holiday with my family when my then-6-year-old said, "Mommy, are you going to have a baby? Your tummy looks like you're going to have a baby." At the time I thought I was pretty much ok, because I had lost the weight from my last pregnancy. The shock that my child could see me as out of shape was what motivated me to change my unhealthy ways.
Q: When and how did you start changing your lifestyle?
A: It freaked me out so much, I started changing my habits right away – from no activity to five days a week. I just knew that's not how I wanted to be, and that drove me. I joined a gym, found a personal trainer and started running. I even signed up for the Two Oceans marathon, and just a year later, I completed a 56km! But you know, although I was training a lot, I was still eating badly. I thought, I've worked so hard but I'm not seeing results. That's the reality if you don't get the food right.
I then consulted a dietitian, who helped with understanding healthy portion sizes. I wanted to keep eating foods that were culturally familiar, so I had to explore how to cook the meals I'm used to in healthier ways – maybe change my normal white rice for a healthier type, maybe air-fry my chicken instead? It was a journey, but once I married healthier eating with exercise, the results started to show. For example, during my 2006 pregnancy, I picked up an extra 35kg, but during my 2018 pregnancy, I picked up just 17kg. The difference was that I was much healthier.
Q: As a busy working mom, how did you make time to stay fit?
A: I started keeping a 'fit-schedule' on my phone calendar, which is a personal appointment I make with myself. I set aside an hour daily for exercise, and I change the activities weekly to keep it exciting. This week's 'fit-schedule' is GRID at gym on Monday, a 5km run outdoors on Tuesday, yoga on Wednesday, a different 5km route on Thursday, and weight training on Friday. This has really worked to help keep me motivated and accountable in my training.
Q: How do you prioritise fitness in your family now?
A: Health and fitness have become a lifestyle in my home. My husband caught onto it a year after I started and we all play basketball once a week at our local park. My husband and I discuss our activity plans for the week and we always keep ready-packed gym bags in the car. The kids have caught onto this too. Last December, we were packing for a holiday and my 12-year-old asked if he could pack shoes for when we go running. My heart just smiled.
Q: Tell us about PopUpGym – how did it start?
A: Letshego Zulu and I started PopUpGym out of a desire to help people get fit in a fun way. Our aim is to prove that you can enjoy a healthy and active lifestyle anywhere, anytime. We want to get South Africans moving and show people there is so much variety when it comes to physical activity.
Q: How does Vitality motivate you?
A: I feel I get rewarded for doing the right thing. Weekly smoothies and healthy meals are a great bonus to keep me doing what I love, but my favourite benefit is the 35% saving on flights that you get on Diamond Vitality status. It makes a HUGE difference! I also like that you can add friends to your Vitality Active Rewards leaderboard and track each other's progress. This way, you're accountable and you can be a source of inspiration to your circle.
Q: Finally, what are your tips for others?
A:
Have a goal – do you want to be fit, lose weight, or run your first 5km?
Have a plan on how you want to get there – give yourself a year, not 12-week quick-fixes.
Explore different exercise options – boutique gyms, dance fitness, running clubs, the list is endless. Try different things to see what it is you like.
Invest in your eating – Try keeping a food journal for just seven days – record everything you eat or drink and decide at the end if they are good for your body.
Have fun with the journey – Create or join a circle of like-minded friends. The power of a WhatsApp group is amazing!
Enjoy getting active in a variety of ways with Vitality
Did you know that people of all ages and fitness levels can participate in a Walk, run, cycle, swim, golf, race ... Vitality offers you many ways to get fit. Join a health club, link a fitness device to track your activity, take part in race events and join Team Vitality, our running and cycling club.
Like to hit the gym? Save up to 75% on your monthly gym fees and boost your savings up to a 100% with Vitality Active Rewards Gym Booster, or head outdoor and earn points for walks and runs.
6 tips to beat your personal best at a run
myruns, parkruns, Retro Runs, the Discovery 947 Rhythm Run, the Discovery East Coast Big Walk, the Discovery Jacaranda Spring Walk – there's no shortage of exciting weekly and annual races to join. Here are 6 tips on how to achieve your personal best in them.
How Kori found a running community and regained his health
In his twenties, Kori's poor lifestyle habits were keeping him from living every day to his potential. Then he joined Team Vitality's running club, found a community that's since become like family, and regained his health in the process. This is his story.