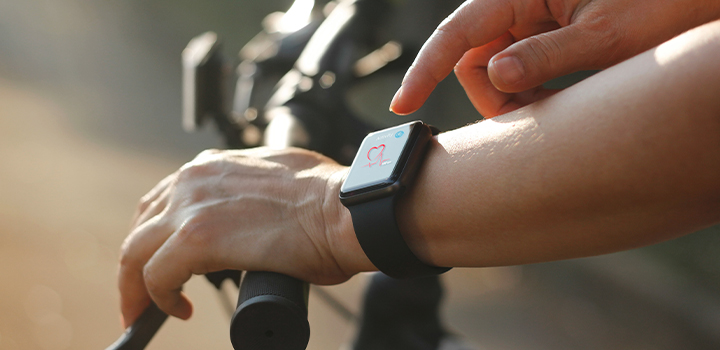 The more you understand how much skill and strength it takes for an athletic task to be achieved, the greater your sense of awe. Happily, for sports fans, advanced technology is bringing them closer than ever to their cycling heroes.
Birds of a feather flock together, so it's just as well Discovery is the official wellness partner of Dimension Data for Qhubeka – the first African cycling team to compete in the Tour de France. The two share a fascination of the many ways big data and analytics can be used to track health data and meaningfully connect with people.
"New and innovative technologies are increasingly allowing us to make intelligent decisions about our riders' preparation and our strategic approach to a race," says Dr Carol Austin, Head of Performance Support & Medical at Team Dimension Data for Qhubeka. "To optimise performance outcomes, we need to ensure that the right athlete is at the right race in peak form and good health. Technology informs our decisions."
Directing cyclists effectively is key to a team's success
Cycling is a sport played on many different 'fields' – from a flat, cobbled, windy Spring Classic to +4 000m mountainous ascents on the Alpine stage of the Tour de France. This diversity of competitive cycling events provides opportunities for a range of different body types.
Understanding exactly when to plug in a climber with the endurance for rolling hills – versus a powerful, bulkier sprinter to fly towards a finish line – can mean the difference between winning and losing. The better a team's leaders know their riders, the more accurately and effectively they can plan. And all that knowledge is getting increasingly in-depth, thanks to innovations in technology.
A staggering range of digital tools enables the team to visualise and model race routes; capture detailed biometric data; analyse training and racing statistics; and optimise the aerodynamics of the riders and their bikes with precision.
Fans are now privy to compelling details and insights
And it's not just the sports directors and coaches who are getting to know their cyclists better. For sports-lovers, a lot of what makes following an event so enjoyable is an appreciation of a superior performance on display. But unlike with a football match, TV cameras covering a cycling race can't capture the entire playing field at one time. Fans following the race from home generally just have eyes on the race pack leaders, and glimpses of other riders indiscriminately throughout the coverage.
Many spectators rely on sports commentators to update them on what's happening with the rest of the cyclists and to interpret how a rider's moves or a team's strategy can change the game. But thanks to trackers fitted on each rider's bike, the rise of data analytics and social media platforms accessible on mobile phones, fans are also now privy to compelling details about their favourite cyclists and teams, wherever they are and whenever they want it.
During last year's Tour de France, fans could monitor their favourite cyclist throughout the race, view live data, as well as understand how elements like wind speed, direction and gradients affected their performance in real time. They could also interact with their heroes in new and exciting ways.
Racing alongside your favourite rider from across the world
For example, before the start of last years' team time trial at Tour the France, the Dimension Data for Qhubeka team invited fans from around the world to join their warm-up session through Zwift. This online multiplayer game connects thousands of users from around the world, enabling them to interact, train and compete in a virtual world. By linking up their indoor bikes to the software, hundreds of amateur cyclists around the globe could join the team's warmup.
This technology means that not only can a cyclist join organised group rides and attempt to keep up with their favourite rider in real-time, they can also send each other short instant messages – allowing them to interact meaningfully with others who share their interest.
A case in point: when 30-time Tour de France stage winner and former world champion Mark Cavendish recently opted for an indoor training session due to bad weather, he was thrilled by the stream of 'thumbs-ups' he received while racing 'alongside' fans and fellow cyclists on their shared virtual track. There's nothing like attempting to compete against a pro to learn first-hand just what makes them leagues above the norm!
And leagues above is precisely where Austin and the rest of her team wants them. She says, "It's an exciting time to compete in professional cycling. Our sport is one steeped in tradition. As it embraces new tech innovations, it is redefining itself from both a human performance and entertainment perspective. By applying new tech and data-driven approaches, we aim to position our riders and team for success."
Using interactive technology to get more people pedalling
"Cycling also offers significant health benefits and is great at fostering comradery," says Dinesh Govender, Chief Executive Officer of Discovery Vitality. "Through the growing popularity of wearable sports tech, the gamification of physical activity, and initiatives like the Team Vitality cycling club, we're hoping to inspire fans and followers of all ages and experience levels to appreciate and engage in all that cycling has to offer."
Are you a running or cycling enthusiast, or keen to become one?
Team Vitality is South Africa's most popular running and cycling club, and it can help you get fit, save money and connect with like-minded people. Join Team Vitality and get 50% cash back on registration entry fees for selected events.
You'll also receive a great Team Vitality starter pack with race gear and vouchers worth over R1 000. Plus, you'll have access to our VIP hospitality at certain events on the Team Vitality race calendar!
Catapult your cycling with 3 simple exercises
Want to take your cycling to the next level this year? Instead of spending more hours training in the saddle, achieve the endurance you need by strengthening your core muscles. Here's how.
Over 40? Here's why cycling may be perfect for you
Simple enough for a child to master, but challenging enough to keep Chris Froome's heart racing - cycling is a sport that can be enjoyed at almost any age. However, middle age may just be the perfect time to start. Find out why and learn even more with seven key tips for cyclists over 40!