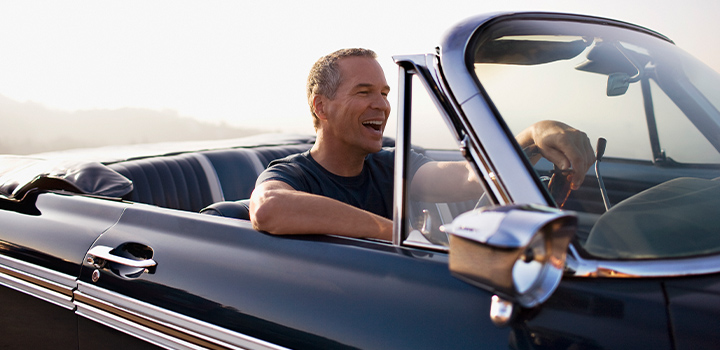 Our Purple Plan is designed to offer you the most comprehensive vehicle and home insurance.
This exclusive insurance plan gives you unique insurance cover with the most enhanced benefit limits, unique benefits and rewards. This plan caters for your everyday insurance needs and gives you elite experiences and dedicated services to help make insurance easy for you.
As a Discovery Insure Purple Plan client, you get the following unique benefits:
Personalised Service: You get a dedicated Service Executive as and when needed for portfolio assistance that's tailored for your benefit.
Flexible portable possessions cover: Purple Plan clients have wider and greater cover under the general clothing and personal effect section of cover. In addition, you do not need to specify as many items as the other plans.
Upgrade to the latest Apple or Samsung cellphone every 12 months. Learn more about this benefit.
Multi-vehicle benefit: If you own more than one vehicle and drive one at a time, you can reduce your car insurance premiums by only paying the accidental damage premium on one car. All you have to do is select which of your owned vehicles you'd like to allocate to this benefit and your premiums will be adjusted considerably.
Embedded accidental damage cover to cover you for any accidental damage to your household contents in your building.
You also have access to many other benefits that we offer including:
No excess benefit: You do not pay an excess for theft-related or weather-related claims or if a motor-vehicle accident is caused by an insured third party.
No-average guarantee: We offer a free inventory assessment for clients that have household contents insured for more than R1.5 million. If you then insure your household contents for the recommended amount, you will receive a no-average guarantee from Discovery Insure to ensure your claim is paid out in full.
Estimated maximum loss: With this benefit, you can easily manage your portable possessions cover and select an estimated maximum loss for certain categories of specified items under the portable possessions section of cover to reduce your premium while still getting the cover you need.
My Jeweller: You can opt to repair or replace valuable jewellery specified in your policy at a preferred store or provider.
Easy, online claims processes including Auto Claims to have your cellphone, vehicle glass and geyser claims instantly approved and Claims View to track the progress of your claims online or on your smartphone.
With Vitality Drive, you also get great rewards for driving well including:
Up to 50% off your BP and Shell fuel and Gautrain spend back every month
Weekly Vitality Active Rewards to earn Discovery Miles which you can spend on coffees, smoothies, shopping vouchers, gadgets and gifts.
Guaranteed 0% renewal increase: Diamond Vitality Drive status clients can receive a 0% renewal increase on their monthly car insurance premiums.
Great discounts including up to 25% off Uber, up to 20% off Tiger Wheel & Tyre and Bosch purchases and servicing costs and up to 25% off selected child car seats.
Access to our unique safety features including Impact Alert, where we send emergency help if you're involved in an accident, even if we can't get hold of you and the ability to use your smartphone as a vehicle panic button
With these unique benefits, cover enhancements and rewards, you can see why we believe that colouring your world purple gives you the best, market-leading insurance cover.