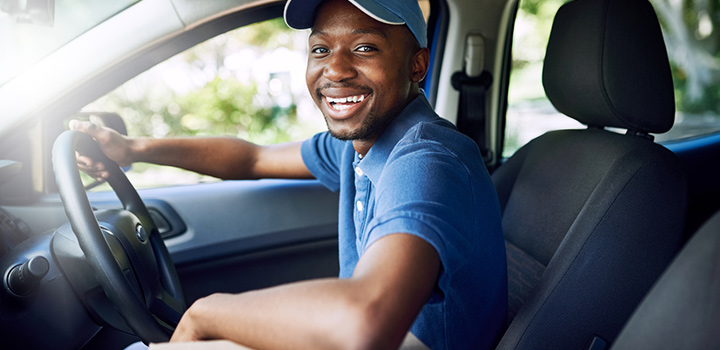 Savvy business-leaders don't wait for accidents to happen - they find concrete ways to reduce risks and promote employee wellbeing. This Corporate Wellness Week (2 - 6 July), here are 10 tips to keep your employees safe on the roads.
If you're an employer or business owner whose employees spend time on the road for work, you share in the responsibility of their safety on the roads. This applies whether your employees drive as part of their jobs or full-time, and whether they drive their own cars or a company car.
"Employers need to proactively identify common driving hazards their employees face, and then implement practices that reduce the risk of accidents," advises Discovery Insure CEO, Anton Ossip. This isn't just for their sake - it directly affects the day-to-day running of your business and its bottom line.
Here are 10 steps you can take to lower risk for your business and your employees on the roads:
As far as possible, encourage employees to have flexible working hours to avoid traffic, road rage and poor driver behaviours.
Be selective and vet your drivers well. Make sure they have the correct licence for the vehicle being driven, and check annually whether they need a licence renewal or refresher course.
Maintain all company vehicles and inspect them before and after trips to ensure they are fit for purpose. Check that they are well-insured to reduce your risk in case of downtime.
If your employees drive their own vehicles for work, check annually that their vehicles are well-maintained and are insured for work-related driving. You may think that this is their responsibility, but it is also yours if they are driving for you.
Provide training and information such as a driver's handbook. Educate your staff on topics such as road rules, driver etiquette, anti-hijacking tips, driver fatigue, mindful driving and emotional driving. You can even make these discussions monthly sessions presented by your employees to help them engage with the content.
Provide safety and personal protective equipment such as weatherproof, high visibility jackets and warning triangles in case of a vehicle breakdown, as well as navigation tools and phone banks or chargers to ensure they don?t get lost, and can call for help if they need to.
Schedule journeys so that drivers have enough time to carry out the trip safely, and urge them to pre-plan routes themselves. Bad planning can result in speeding, fatigue and poor driver behaviour.
Remember, although hands-free devices are better than handheld devices, using your phone in any way can still cause a distraction on the roads. Encourage employees to not read and reply to emails while driving.
Promote good driver behaviour among your staff and incentivise it in any way you can. Increasingly, driver behaviour (including actions like speeding, braking, cornering and cell phone use) can be accurately measured and analysed through the use of telematics, so equip your vehicles and drivers with the necessary digital tools and products to make this possible. For example, Vitality drive for Fleets is a driver behaviour programme designed for businesses that use telematics technology to measure and reward good driving. ?Knowing that their driving will be tracked and evaluated can go a long way in keeping drivers accountable and safe,? says Ossip. "In addition, businesses can earn up to 30% of their vehicle premiums back every month ? an incentive that can, in turn, allow employers to identify and reward employees for driving well."
Set a good example as a leader: Pledge as an individual and as a company to prioritise road safety through specific actions, such as using a hands-free device if you have to take a phone call while driving and being courteous as you drive, and encourage your employees to do so as well.
Discovery Insure data indicates that bad driving habits increase fuel consumption by 15% - a significant amount, given the rising costs of fuel. In addition, 77% of employees who drive for work admit to exceeding the speed limit due to work pressure.
Ossip concludes, "By understanding your responsibilities, educating your staff, and putting safety policies and incentives in place, you can reduce your (and their) risk. Safer roads start with individuals stepping up and pledging to put safety first."
Want help in building a healthy, high-performing business?
Discovery Business Insurance is different to traditional insurance companies in that we look at your business holistically, helping you to become a better and high performing business that can manage its risks.
We use incentive-based insurance principles to encourage behaviour change that reduces insurance risks, and results in savings for the insurer. These savings are then shared with clients to further incentivise behaviour change.
Discovery Insure's ImpactAlert sends help when you need it most
Wish you had the technology to call for help when you most need it? Discovery Insure's ImpactAlert feature can detect when you've been in an accident. If we can't get hold of you immediately, we'll send emergency assistance to your location, while our Vehicle panic button can be used to alert emergency services when you're in your car and need help.
Rely on Discovery Insure when it counts: Find out more about this benefit here.
Bigger and better rewards for driving well
In 2018, Vitality drive Active Rewards is getting bigger and better! You can now get a coffee, smoothie, popcorn, airtime or discounted car wash every week for 100 kilometres of consecutive event-free driving.
Taking safe driving to the highway
Driving on the highway can be risky business if you're not on the lookout. Make sure you know the ins and outs of staying safe on these busy roads with our handy tips.
How to practice mindful driving
Unnecessary cases will occur because stressed drivers will identify hazards in the road less frequently and be more impulsive in changing lanes without checking whether other vehicles are too close to theirs.