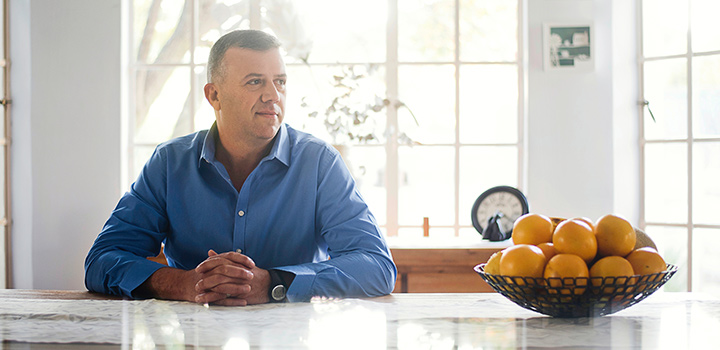 With Discovery Insure, clients can be assured that their vehicles have an added layer of security. Discovery Insure client, Johan de Wet, discovered this when he set off for the Telkom 947 Cycle Challenge after months of training.

"I arrived for the race about an hour before my start time. I was really excited about participating – it was my third 947 race and I trained about five months to be ready for it," Johan tells us. As he arrived at the starting line, his wife phoned him to wish him luck. About three minutes later Johan got another recurring phone call which he ignored, having set off for the race already.
When the phone rang for the fourth time, Johan answered his phone. "I found out my car was stolen. I was really disappointed when my race was cut short." The call was from Discovery Insure's Insure24 team that monitors alerts from insured vehicles with the DQ-Track installed.
The DQ-Track in Johan's vehicle picked up an impact on the vehicle, which immediately alerted the Discovery Insure team that something was amiss. Johan was contacted within three minutes of the car being stolen.
"Interaction with the Discovery staff was amazing", he adds. "The guys were really professional, responsive, and called back when they said they were going to call back." Johan's car was recovered about an hour and a half after the initial call.
Despite having interrupted his cycling race, Johan's experience with his vehicle insurance was a good one. "I know that if the car's going to get stolen, I'm going to get it back again. And what really helps is to know that there is a responsive team sitting behind the insurance to respond quickly and make sure you get your vehicle back with the least amount of inconvenience."
Watch Johan's story here:
Your phone can now talk to us if you can't
With Discovery Insure's panic button, your phone can talk to us if you find yourself in danger and need help fast. Press your Android smartphone's power button at least five times in quick succession to alert us if you find yourself in an emergency situation. We'll be able to track exactly where your vehicle is and send a response team to help.
Discovery Insure's Impact Alert sends help when you need it most
Wish you had the technology to call for help when you most need it? Discovery Insure's Impact Alert feature can detect when you've been in an accident. If we can't get hold of you immediately, we'll send emergency assistance to your location, while our Vehicle panic button can be used to alert emergency services when you're in your car and need help.
What does event-free driving look like?
South African roads are among the most dangerous in the world, with a road death toll of 22.5 per 100 000 people. The Vitality Open wants to help change that. Here's how you can get on board – and get rewarded for driving safely.
5 ways women can stay safer on the road
Discovery Insure data shows that women continue to be more cautious drivers than men are – but is that enough to keep them safe on the roads? Here are 5 tips for women to keep in mind.
Irene van Schalkwyk's line of work helps her to appreciate the immense value in preserving life - and this motivates her to prioritise her own and other people's safety on the road. Take a leaf out of her book this Women's Month.