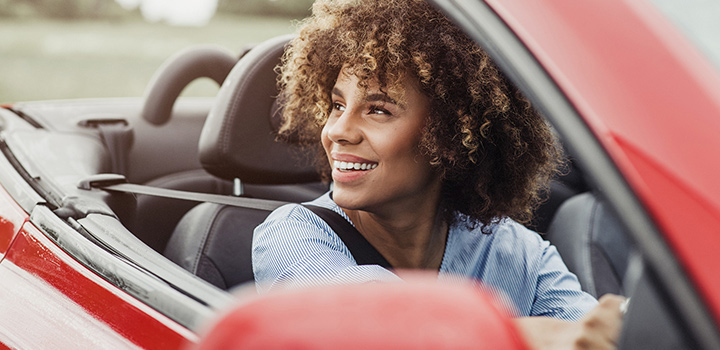 Discovery Insure data shows that women continue to be more cautious drivers than men are - but is that enough to keep them safe on the roads? Here are 5 tips for women to keep in mind.
The fact is, safe driving is made up of the consistent practice of a number of different driving behaviours. In 2015, Discovery Insure monitored over 30 000 South African road users through a campaign called the Discovery Insure Drivers Challenge.
"Results showed that women score better in driving areas like smooth acceleration, balanced cornering, and not speeding, while men score better in gentle braking and using their cell phones less while driving," says Precious Nduli, Head of Technical Marketing for Discovery Insure.
Women and children remain vulnerable on the road
These results resonate with the 2018 preliminary Easter road safety report, which showed that male drivers accounted for 71.1% of fatalities, compared to female counterparts who contributed 24.1%.
However, despite being more conscious of the way they use the roads, women and children remain vulnerable to road accident fatalities and injuries, as well as other dangers such as hijacking, sexual assault and intimidation.
Here are Discovery Insure's top 5 tips for keeping women safer on the roads:
1. Put that phone away
The National Highway Traffic Safety Administration in the United States estimates that people are distracted by secondary activities 30% of the time while driving. That's a lot, considering the potentially devastating consequences of just a few seconds of carelessness on the road.
80% of crashes and 65% of near-crashes involve some form of driver distraction that reduces driving safety.
"Having a cell phone in sight can also put women at a higher risk of opportunistic hijacking," says Nduli. "Resist the urge to browse or check your phone for updates when driving, even when momentarily stationary." Rather, keep your cell phone out of plain sight and invest in hands-free car kit if your car does not have a Bluetooth system already installed. Stay vigilant of your surroundings whenever waiting in traffic or at a robot.
2. Opt for a safe personal driver during dangerous hours
While women do not generally drive as late in the evening as men do, so using a safe personal driver service may be a smarter option at night or after consuming alcohol. Such services are offered by companies like Uber, Road Trip and Scooter Angels, who are available in Johannesburg, Pretoria, Port Elizabeth, Cape Town and Durban. Scooter Angels is also available in Bloemfontein, East London, George, Nelspruit and Pietermaritzburg.
"We try to encourage knowing your limits and not taking any unnecessary risks," says Nduli. "That's why we offer Discovery Insure clients access to discounted, safe personal driver services at any time of the day with our DriveMe partners."
3. Make sure your car is in tip-top shape
Each driver is responsible for the roadworthiness of the vehicle they're using, so identifying and addressing anything in your car that needs repair or replacement is key. "Women shouldn't assume that their father or husband will always ensure their cars are safe to drive!" says Nduli.
"You don't have to go far out of your way to take responsibility - simply drop your car off at a reputable service provider for an annual inspection. For example, Tiger Wheel & Tyre offers a MultiPoint check: a set of tests that assess your vehicle's service history and the working condition of various safety functions, such as your shocks."
4. Buckle up
Statistics have shown that seatbelt-wearing in South Africa remains a cause for concern when people are involved in motor vehicle accidents. According to Arrive Alive, 19% of drivers, 49.9% of front passengers and 92.4% of back passengers are not wearing seatbelts when stopped at a roadblock.
"No matter how short the trip, wearing a seatbelt can prevent fatalities and avoid serious injury when involved in an accident," says Nduli. Always choose the right safety seat and belt for your child's size and age.
5. Know what to do when you are in an accident or in danger
Staying calm and getting help fast is critical in an emergency. According to Netcare, the 'golden hour' is the first 60 minutes where appropriate pre-hospital emergency medical care following an accident can positively impact the medical outcome of the patient.
"Discovery Insure offers state-of-the-art safety features that immediately respond to a client in need to ensure they receive the necessary medical care within their golden hour," says Nduli. "If you send a panic signal or if your car experiences a large impact, we'll call you at once. If a call centre agent can't get hold of you on your mobile phone, we will immediately dispatch an emergency response team to assist with your vehicle emergency."
"Given the average response time for medical assistance is 21 minutes, the fact that Discovery Insure can dispatch help to drivers within 2.3 minutes could make all the difference in the world."
So this Women's Month, Nduli encourages, "Let's honour our nation's daughters by looking out for each other on the roads."
Your phone can now talk to us if you can't
With Discovery Insure's panic button, your phone can talk to us if you find yourself in danger and need help fast. Press your Android smartphone's power button at least five times in quick succession to alert us if you find yourself in an emergency situation. We'll be able to track exactly where your vehicle is and send a response team to help.
Discovery Insure's Impact Alert sends help when you need it most
Wish you had the technology to call for help when you most need it? Discovery Insure's Impact Alert feature can detect when you've been in an accident. If we can't get hold of you immediately, we'll send emergency assistance to your location, while our Vehicle panic button can be used to alert emergency services when you're in your car and need help.
How to practice mindful driving
Unnecessary cases will occur because stressed drivers will identify hazards in the road less frequently and be more impulsive in changing lanes without checking whether other vehicles are too close to theirs.