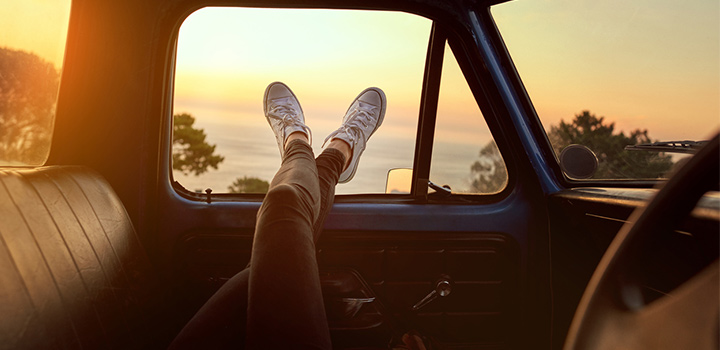 There's more to driving long distances than packing snacks and stretching your legs at a pit stop. Ensure you and your vehicle are up for the journey with these pointers, like how to best pack a trailer and stay alert on the roads.
Few things in life are better than the feeling of hitting an open road towards your holiday destination. It's understandable to want to get there as soon as possible, but by preparing well and treating the trip as part of your holiday (and not just a means to an end) you can arrive safely and more at ease.
Before you get going, here are some helpful tips and reminders:
If you can't watch this video right now, here are some key tips:
Do your research in advance
Putting a little research into your trip can make it both easier and safer.
Plan your route and any accommodation you might need along the way. If you have one, programme your GPS beforehand to see if you're comfortable with the suburbs and streets it follows - the most direct route is not always the best one.
Use the Road Conditions Report to check the conditions of the roads you plan to take or whether there are any detours on your route.
Consider traffic conditions and time of day - if possible, avoid travelling at peak times, like on public holidays.
Checklists to prep and pack your car
Ensure your vehicle is safe to travel. You can get this peace of mind by doing an Annual MultiPoint check at Tiger Wheel & Tyre for only R95.
If your vehicle is due for a service, leave plenty of time to fix any potential problems before you leave on holiday.
Check your windscreens are in good working condition and keep your mirrors clean for maximum visibility.
Also check your car's tyres, lights and various fluids.
Have the following in your car: spare fuses, a funnel, a tyre gauge, duct tape, scissors or a pen knife, a fully inflated spare wheel, a wheel jack, two reflective triangles, jumper cables and a basic tool kit, including pliers, screwdrivers, and a spanner set.
Other handy things to pack include flashing LED lights, an LED torch, a first aid kit, distilled water, emergency food, a phone charger, a reusable water bottle, hand wipes, a power inverter, a 12V battery, travel pillows and an emergency cell phone.
When packing the interior and boot, make sure all loose items are safely secured, as they can become dangerous projectiles in the event of an accident.
Keep that trailer tight
If you're using a trailer, follow these tips:
Load the front first, placing 60% of the weight forward of the axle, evenly distributed. If it's too heavy behind the axle, the trailer can sway.
Centre the luggage left to right and tie it down firmly to prevent shifting. It needs to be tied at several angles and not just straight, else the pieces can fall over if you change speed or direction.
Make sure both the vehicle and trailer have warning triangles.
Remember that your tyres will require a different tyre pressure to accommodate the additional weight of the trailer. The extra trailer weight may also lift the headlights of certain models of vehicles.
Podcasts, punk rock and pit stops - how to stay alert
Once you're on the road, do everything to stay alert. Boredom can cause fatigue, so listen to the radio, podcasts or an engaging audio book, play lively music and talk to your passengers. Also try these tips:
Keep air-conditioning moderate - an overheated or cold vehicle can make you feel tired more quickly.
Wear sunglasses if you're used to doing so while driving.
Avoid eating heavy foods, as these will make you feel lethargic.
Avoid driving during your body's natural downtime hours - between 1am and 5am.
If you have to drive alone, stay in contact with someone before you leave and during pit stops along your route. If something happens, this will make it easier to pinpoint your last known whereabouts.
Keep an eye out for signs of fatigue such as yawning, slowing reactions, daydreaming, or wandering across the centre line or towards the edge of the road. Pull over in a safe area if you need to take a break.
Once you've stopped somewhere safe, taking a quick nap can help refresh you. Exercise is great too - try skipping on the spot, jumping jacks, stretches and squats.
If you're stopping after dark, park in a lit area like at a rest stop. Make sure your windows are closed enough to prevent entry from the outside. Lock the doors, put on all the parking lights and turn all electrical equipment off. After you've rested, get out of the vehicle, walk around a bit and make sure you're completely awake before you start driving again.
At the end of the day it's pretty simple - be smart, stick to the rules and don't push any limits - be it the speed regulations or your physical capacity. Remember, long-distance driving requires extra special attention. Be smart, plan well and stick to proven guidelines and you will stay safe and sound until you arrive back home.
Recommended for you by Discovery Insure
We love to reward responsible drivers, so if you're going out on New Year's Eve, all Discovery Insure and Discovery Card members will get R200 off an Uber ride, on us!
A special New Year's Eve code will be sent to all Discovery Card and Discovery Insure clients. To claim this reward, simply enter the code when booking a trip on your Uber app. The code is valid from 12:00 on 31 December 2017 until 12:00 on 1 January 2018.
So enjoy the dawn of a New Year and stay safe with Discovery Insure!
Top tip: Fit your car with safety features from the start
Discovery Insure can take the stress out of planning trips and long journeys.
Through Direction Assist, we provide accurate directions within South Africa by telephone or email. And with Trip Monitor, we provide a 24-hour helpline to stay in touch throughout your journey.
Call us any time on 0860 751 751 to access this benefit.
The secret to staying safe on the road
Motor accidents are one of the leading causes of death in our country. Although you can't control other road users, you can control how you anticipate, identify and avoid hazards on the road.