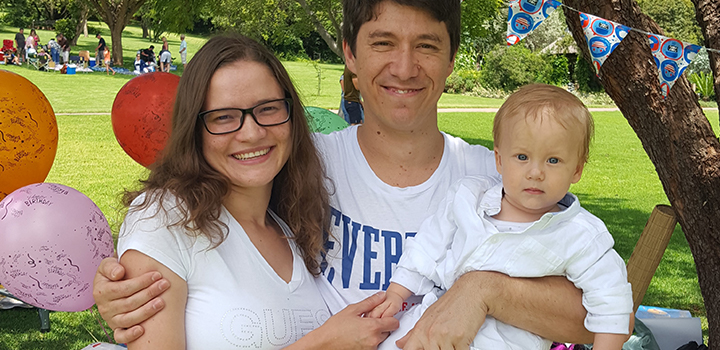 One of the most magical moments in 27-year-old Chantelle van Wyk's life took place on 25 January 2017, when her son, Jonathan, was born. Chantelle has cystic fibrosis, making a successful pregnancy a major undertaking.
Until Jonathan's birth, Chantelle's most ecstatic life moment had taken place when her pregnancy test came back positive. Finally, after so many negative test results, she was going to have the baby she and her husband had prayed for.
The likelihood of her falling pregnant was low, as for all women who have cystic fibrosis (CF). This inherited disease affects the secretory glands, including the mucus and sweat glands, impacting the lungs, pancreas, liver, intestines, sinuses and reproductive organs. In the long run, it causes extreme difficulty breathing, constant coughing up of mucous (that is thicker and stickier than in people without CF) and frequent lung infections. Chantelle, for example, has a 30% reduced lung capacity - a situation she describes as being like, "always breathing through a straw". Diagnosed as a toddler, this is all she has ever known. The illness also affects the digestive system, leaving people with CF unable to completely absorb nutrients.
Chantelle has daily routines that keep her life manageable. Her medicine armoury includes antibiotic nebulisers (saline and steroid) and meal-time pills to help her body break down food and absorb essential fatty acids. She takes vitamins A, D, E and K daily, two iron tablets, and nutritional supplements to help her gain weight. She struggles to keep from losing too much weight, as do all people with CF. She tries to maintain a healthy 52 kg, but has also weighed as little as 46 kg.
Chantelle and her husband, Rowan, tried oral fertility treatment for over two years, without luck, and eventually decided to stop this course of action towards falling pregnant. "We were heartbroken," says Chantelle. But then, miraculously, natural conception followed.
Bouncing baby Jonathan enters the world
Jonathan was born four weeks premature, at 34 weeks and 5 days into Chantelle's pregnancy. He spent 11 days in the neonatal intensive-care unit (NICU). As the surgeons stitched her up after Jonathan's birth by caesarean section, all Chantelle could feel was overwhelming gratitude and joy. "Once he was born, I wasn't concerned about anything to come. I was just relieved he was breathing, healthy and here," she recalls. Chantelle also spent time in ICU after the birth, as a precaution given her own reduced lung capacity.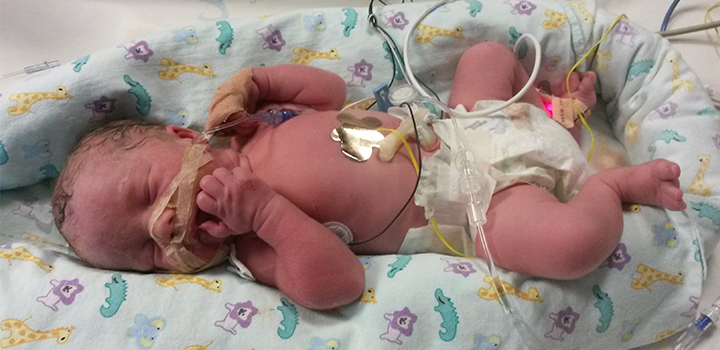 Jonathan Cassiel van Wyk, one hour after he was born
Facing the reality of life expectancy with CF
According to the UK Cystic Fibrosis Registry, only half of those born with CF will live to over 41 years old, although babies born with CF these days are expected to live longer, thanks to advances in treatment. The same medical advances make it reasonable for Chantelle to expect to see out her child's first 20 years. "I'm not unrealistic about what could happen, but I like to be positive and I think there's no reasonable limit to the age I might reach," she adds.
"Our genetic counsellor recommended my partner be tested for CF when we planned on having a baby, and fortunately my husband tested negative. We knew there was a possibility of passing the CF on to Jonathan. Thankfully, he has no CF symptoms. These would have presented by now, so there is no need to test for CF in Jonathan. I'd love to have 20 more children, but for financial and health reasons, we'll likely stop at two," she says.
Financial support on Chantelle's pregnancy journey
"Discovery Health Medical Scheme covered the majority of my hospital bills. What I really appreciated, was receiving a call from one of their staff members, asking how my baby was doing after he was born, and offering to help me add him as a dependant on our scheme membership. They also gave me a lovely baby box filled with all sorts of goodies, like an adorable pair of Winnie-the-Pooh socks," she says. "I am very grateful for the support I receive from the Scheme."
Did you know? You can activate the My Pregnancy and My Baby programmes on the Discovery app or website and gain access to immediate support, advice and personalised tools on your pregnancy journey.
Chantelle's advice to other moms
Chantelle believes in eating healthily and keeping her environment peaceful. She believes the way pregnant women care for themselves influences their children's temperament once they are born. And, she considers premature babies to be fighters. "It's stressful when a baby comes early, but don't worry, they're super strong," she says.
When it comes to advice for moms with CF, she adds, "Rest, and accept all the help you can get, before and after the birth. You need to focus on nurturing both your baby and yourself after the birth. If you're anything like me, you want to show everyone you can do it all but, in truth, that makes no sense – we all need help. While having a baby in spite of CF may not be the world's greatest accomplishment, for me it's a huge tick on the bucket list. When I look at my child, I'm nervous about the future, but mostly excited. It's no small thing knowing that when you leave this earth, you leave something spectacular behind!"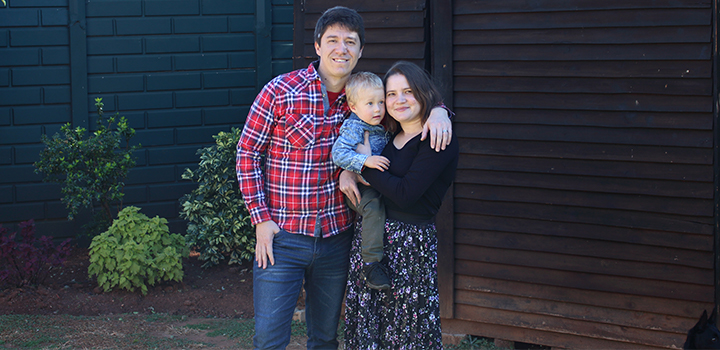 A July 2019 family photograph of Rowan and Chantelle van Wyk with two and a half year-old Jonathan
Looking forward to a healthy future
"As is to be expected, I have had some health challenges," says Chantelle. "Especially last year, when I was in hospital for most of the winter due to pneumonia, but this year is looking much better for me. Jonathan was hospitalised last winter with bronchopneumonia, but is also doing much better this year."
"He's now two and a half years old and he is thriving at crèche. He has received his first school report, which was very exciting for us as parents, and it showed he is doing very well. They say he is a very busy and shy boy. He loves to play and enjoys his friends very much."
Activate the My Pregnancy and My Baby programmes
Activate the My Pregnancy and My Baby programmes on the Discovery app or website and gain access to immediate support, advice and personalised tools.
The Discovery Health Medical Scheme is an independent non-profit entity governed by the Medical Schemes Act, and regulated by the Council for Medical Schemes. It is administered by a separate company, Discovery Health (Pty) Ltd, an authorised financial services provider.
Baby Simoné receives life saving pacemaker hours after birth
When baby Simoné Scott let out her first cry at birth, her parents' relief was indescribable. A pacemaker could now be inserted into her body, ending a 10 week wait during which time she could have had a heart attack at any moment, while still inside her mom.
Rare, life-changing drug saves little Matthew May
Without Discovery Health Medical Scheme, (DHMS), covering the estimated R3 million per annum cost of a life-saving drug to keep his ultra-rare degenerative disease at bay, Matthew May, now four-and-a-half years old, would probably not see his teenage years.
Opening hearts everywhere - Chris Truter's story
The Truters make some of Wellington's finest export wines. But their main claim to fame is winning an extended battle to save their son's life. Chris was diagnosed in-utero with Hypoplastic Left heart Syndrome, one of the most challenging of all heart defects.