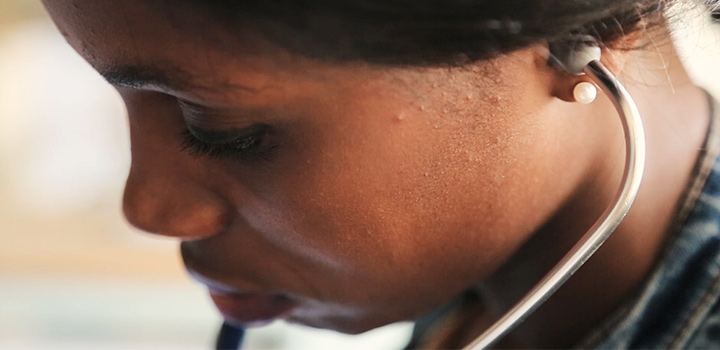 For almost two decades, the Umthombo Youth Development Foundation (UYDF) has given bursaries to rural youth to study medicine or health sciences. Once destined to herd cattle or work on the mines, these graduates come home uplifting communities served by the local hospitals and propelling economic growth.
Dr Sabelo Mngomezulu is a dentist. Soon to be married, he and his fiancée have two children. Dr Yvonne Ngobese is a GP. She has a young son. Themba Manzini, a dietician, is married to professional nurse, Nonduduzo - they have two little ones. Thokozile Phakathi is an occupational therapist and mother to twin girls. Her sister, Dr Thembelihle Hlope, a paediatric specialist, is married to Dr Derek Hlope.
They're young, dynamic people in their late 20s or early 30s. They're all building new homes for their immediate and extended families. They're also helping siblings pay for their tertiary studies, taking care of pensioner parents, giving their own children the best they can, buying cars and living fulfilled and happy lives. Perhaps this is how most medical professionals live. But these professionals are also part of a distinct group of 300-odd medical graduates with a pretty unbelievable story to share.

From herding cattle to heading up healthcare
"With unemployment rates rising well above 27.1%, most South Africans understand the need for economic transformation in South Africa," says Dr Andrew Ross, principal specialist in family medicine at the University of KwaZulu-Natal and founder of the Umthombo Youth Development Foundation (UYDF).
While based in Ingwavuma in the Umkhanyakude district two decades ago, Dr Ross planted the seeds of what would become the UYDF (named after the yellow-barked fever tree, literally meaning seen from afar) in northern KwaZulu-Natal. The area is one of the most socially deprived and educationally challenged in the country.
A Christian dedicated to his faith, Dr Ross was called to serve in areas of need. "Healthcare workers avoid rural areas due to the remoteness of location, lack of employment opportunities for spouses, poor schooling for children, and perceived lack of professional development opportunities and support," he says. Determined to swim upstream, Ross became Medical Superintendent at Mosvold Hospital in Ingwavuma between 1998 and 2003. This 246-bed district hospital serves 110 000 people from areas ravaged by HIV and AIDS, tuberculosis, and a devastating teen pregnancy problem, among other problems. These are exacerbated by poor water and sanitation services, poor nutrition and health education, poverty, poor preventive healthcare programmes and the remoteness of communities.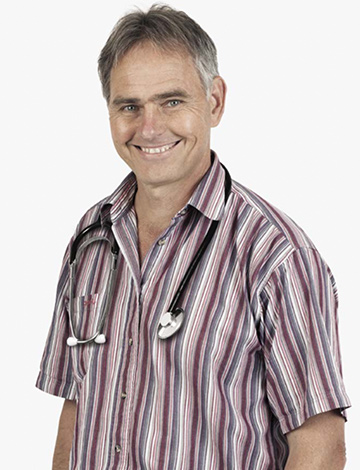 Dr Andrew Ross - principal specialist in Family Medicine at the University of KwaZulu-Natal (UKZN) and founder of UYDF

"One of the most immediate challenges at Mosvold – as in many South African rural hospitals – was finding and keeping qualified staff to meet the high disease burden," says Dr Ross. "When I arrived, there was no dentist or dental therapist and no pharmacist, and in 1992, three of the five doctors left the hospital, leaving only two of us to run the services," he adds. "Our only option was to develop local healthcare professionals from rural youth – who understood the language and culture and who were committed not only to providing a service in their communities, but also to staying put."
In January 1999, Dr Ross began to raise money to fund the first cohort of UYDF students. In 2015 he was awarded the highest citizen award in the land – the Order of the Baobab, Silver Award – by former President Jacob Zuma, in recognition of his work. UYDF has exceeded all expectations.
The UYDF process, in a nutshell
UYDF invests in rural youth who enrol for studies in 15 healthcare disciplines at 16 different academic institutions across South Africa. They return to work at one of 17 partner rural hospitals for the same number of years they were supported to study. Students who succeed in their applications receive full-cost bursaries, covering tuition, accommodation, books, food and minor equipment. All students receive academic and social mentoring support, assisting them to address the numerous challenges higher education poses for rural students. In addition, they do four weeks' holiday work every year at their local hospital, to learn how to integrate theory and practise. These interventions result in an annual university pass rate of over 90%. On graduation, they are employed by the Department of Health at their local hospital. And so, rural youth – who grow up without running water or electricity, learn at schools where teachers are absent and the learners often take over the teaching themselves, and are predestined to herd cattle or work on mines – achieve a palpably unlikely scenario.
"Rural students secure well paid, permanent, meaningful jobs at rural hospitals. We have seen the resulting transformation in them, their families and their communities. Imagine what could be achieved in South Africa if we really understood and implemented this approach to economic transformation," adds Dr Ross.
Fuelling a passion to change healthcare systems at the coalface
Dentist Dr Sabelo Mngomezulu grew up herding cattle, expecting to drop out of school and go to work on the mines like his father, Max. Today, a far cry from that life, Dr Mngomezulu has neat, uncluttered dental rooms at Mosvold Hospital where his patients can access dental care any day of the week.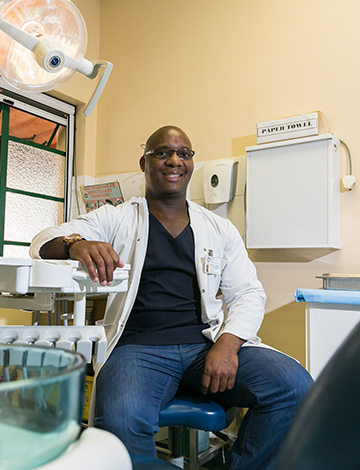 Dentist at Mosvold Hospital and UYDF graduate Dr Sabelo Mngomezulu
Studies show that 15% of poor rural households live more than an hour away from the closest clinic and 20% live more than an hour away from the closest hospital. "In the past, the few patients who could afford it, paid R200 for transport to Ngwelezane Hospital in Empangeni, or to King Edward hospital in Durban (400 km away) to access complex dental treatment," says Dr Mngomezulu. For most people, oral health simply declined. This is because the only option at Mosvold was tooth extraction by a dental therapist, with the patient sitting in a normal chair – even for teeth that could have been saved. "Unnecessary extractions are tantamount to medical malpractice," explains Dr Mngomezulu.

In 2017, he not only secured larger premises at Mosvold, but also convinced the state to pay for a new dental chair costing around R300 000. Dr Mngomezulu's outreach programmes teach preventive dental health in 32 nearby schools. He also runs a district dental forum with two other local dentists at Hlabisa and Manguzi hospitals, and visits and works at a number of rural clinics. In addition, he mentors school children who dream of working in medicine or healthcare.
Thokozile Phakathi is the first isiZulu-speaking occupational therapist to have a permanent post at Mosvold Hospital. She treats patients with conditions as varied as premature birth to strokes or cerebrovascular accidents, spinal cord injuries and fractures, and more. "Understanding patients and their context makes a significant difference when it comes to explaining treatment and getting patients' buy-in. We need parents to understand why they have to bring a child back to therapy repeatedly and carry out the home programmes we prescribe. This increases adherence to our programmes."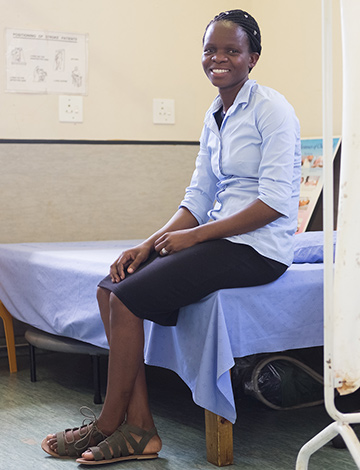 Occupational Therapist at Mosvold Hospital and UYDF graduate, Thokozile Mabuyakhulu Phakathi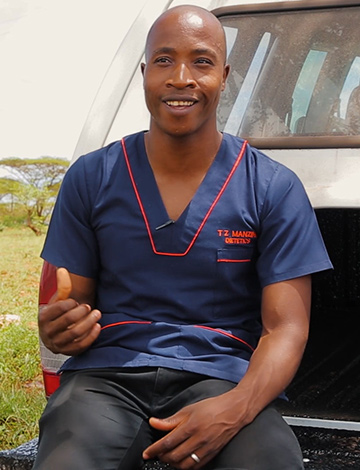 Dietician at Mosvold Hospital and UYDF graduate, Themba Manzini
Dietitian Themba Manzini's personal insight into poverty means his patients know he can relate to them. "Poor people don't understand the difference between healthy and unhealthy foods. I see a family of five buy five litres of cooking oil and finish it within a month – one litre per person – as they fry everything to improve the taste. We have a wave of type 2 diabetes mellitus in this area, as people don't realise the impact of eating foods with a high sugar content. We visit local clinics and talk about diabetes, risk factors for heart attack, hypertension and more." Themba also teaches his patients to save money by buying the right foods and eating only what their body requires, with food groups in balance. Cost-effective eating includes legumes, vegetables and even peanuts that are grown locally. "Poor people don't mind what food or how much food they take in. All they want is to feel full. A poverty mindset does this," he says.
Yvonne recalls starting out as a medical student and the challenges she had to overcome. Five years ago, she didn't speak English, the main teaching medium at university. "Other medical students thought I was stupid," she recalls. But thanks to UYDF mentoring rural students throughout their studies, she earned her five-year medical degree in the minimum time and returned home to work at Mosvold Hospital. The 26-year-old aims to specialise in psychiatry.
"Rural youth are poorly equipped for university in both an academic and social sense," says Dr Ross. "So, all new students are allocated a mentor who they have to meet with once a month for academic and social support," says Dr Ross.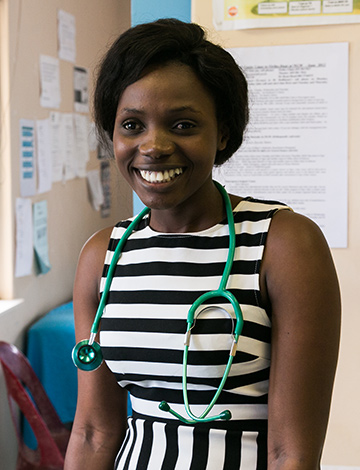 Medical Officer at Mosvold Hospital and UYDF graduate, Dr Yvonne Ngobese
Donor funders are a key part of UYDF's success
UYDF's focus on developing scarce healthcare skills found a parallel in one particular donor who has funded the project for 17 years. "Discovery has always been passionate about the health and wellbeing of all people, from our clients – who are members of the medical schemes we administer ­– to communities that need support in the area of healthcare. We see it as an opportunity and a responsibility to help build healthcare resources in our country and in this way, improve the quality of life of many communities in need," says Discovery Health Chief Medical Officer, Dr Maurice Goodman. "The Umthombo Youth Development Fund developed an innovative model that is changing the communities these graduates come from, expanding their access to healthcare and improving their economic future."
Between 2001 and 2017, Discovery supported UYDF with various financial grants that enabled the project to expand both its reach and impact. The Discovery Fund donated almost R8 million to UYDF. And, the Discovery Foundation's support to UYDF included a grant in 2006 valued at R1 million as well as a further R2.1 million towards student support in 2015. "The Discovery Foundation grant of R1 million was our biggest break," says Dr Ross. "It allowed us to employ Dr Gavin MacGregor as full-time UYDF director. He is largely responsible for the UYDF providing full bursaries to over 550 rural youth to date, (current student numbers plus graduates), and producing 336 graduates (32% of which are doctors)."
"In the past five years, UYDF students have achieved a 92% overall pass rate," explains Dr MacGregor. "Around 66% of graduates currently work at rural hospitals, while a further 3% work for rural NGOs and 14% at public urban hospitals." The UYDF has been responsible for raising the necessary funding every year (R22 million in 2016). "None of this would have been possible without our funding partners, including the Discovery Fund and Discovery Foundation," says MacGregor.
"Together with partner organisations, the Discovery Fund improves the provision of primary healthcare services in indigent communities that do not have access to mainstream healthcare," explains Ruth Lewin, Discovery's Head of Corporate Sustainability. "Grants disbursed through the Discovery Foundation also aim to address the critical need for training healthcare specialists for rural areas, developing academic medicine and research centres and increasing the number of super specialists in the country to adequately meet the country's healthcare needs." Over the past 10 years, the Discovery Foundation has invested over R189 million in grants to support academic medicine across South Africa through research, development and the training of medical specialists. "Our aim is to invest R300 million towards specialised healthcare services over 20 years," adds Lewin.
When Lewin visited Dr Ngobese in late 2017, they chatted about the sparse doctors' accommodation at Mosvold Hospital and the hospital's (and area-wide) dire water shortage. Says Lewin: "Dr Ngobese's reply will always stay with me. 'The accommodation is acceptable. I am happy. Sure, I may not have constant water but I have had this chance to become a doctor and come back to serve my people, rather than sit at home without work, water or electricity and with a child.' That's how we know that our investment in UYDF brings about important change. Poor health tends to trap communities and people into a cycle of poverty that is impossible to get out of. As soon as you create a virtuous cycle that addresses those issues, the multiplier effect really takes the whole society and community further."
Economic growth and stronger communities – the result of donor funding
In 2018, UYDF will publish their analysis: The economic implications of the Umthombo scholarship scheme, measuring the value of and return on investment made by funders. The report indicates that it cost R186 million to produce 254 graduates (2016 prices), and the lifetime earnings of these graduates would be in the order of R4 billion, while the income tax paid by these graduates would be R1,2 billion.
An example: Based on Umkhanyakude's population of 638 011, UYDF estimates that approximately 56 000 people (9% of the population) have one or more mental disorders. "This implies that presently, the district is able to manage about 29% of the expected level of mental disorders. This is thanks to the influence of UYDF graduate and psychologist, Sphamandla Mngomezulu, in recruiting psychologists to each of the hospitals in the district. The ramifications of the absence of this care can only be imagined," explains UYDF Director, Dr MacGregor. "This also translates to a benefit ratio of R281 per patient per year, which is cost-effective and well below the district's health expenditure of R974 per person." The total taxes on Mngomezulu's annual salary package of R570 000 are approximately R140 000 – a contribution to the national economy that would not have been possible if he had not qualified as a psychologist. "It's hard to believe that just before Sphamandla was about to leave to work in the mines, he received a call from Dr Ross saying he would be supported by UYDF to study psychology," explains MacGregor.
"In addition to the obvious economic benefits, I have seen many of these young men and women pursue and marry the love of their life, and cherish them," adds Dr MacGregor. "I have seen so many of our young men, whose own fathers were absent, become wonderful fathers. These profound changes contribute to a renewed social fabric, so desperately needed in our country."
What does it really take to transform rural healthcare?
Many South Africans living in rural areas don't have access to affordable, good quality and comprehensive healthcare. UYDF offers a sustainable solution to changing healthcare in such communities.
"Change cannot be achieved without massive injection of resources into training to provide skilled health professionals. Consideration must be given to the costs and efforts required to retain skilled personnel in rural areas, where the shortage is greatest," says Dr Ross.
"We commend UYDF's ability to attract the vast majority of these talented young healthcare professionals back to their environment of origin, to contribute to the community that allowed them the opportunity to study in the first place," says Dr Goodman. "Not only is it good for society, but it is satisfying for the individuals to come back and make a huge impact on the village or community where they grew up and be role models for other youth. Over time, a far-flung rural healthcare system becomes a pocket of patient-centered excellence we can all learn from. Private healthcare often sees doctors working in isolation. Resource constraints in rural healthcare force doctors to work in teams to optimise patient outcomes - an ideal, patient-centric scenario."
"UYDF is a tried-and-tested, innovative solution that addresses both rural youth unemployment and the lack of skilled healthcare workers in rural areas," adds Lewin. "It is scalable, can be replicated and could, if taken on broadly, potentially address skill shortages in any number of fields, from teaching to skilled trades, in South Africa's outlying areas," says Lewin. "Discovery's support of UYDF aims to ensure that UYDF reaches its highest potential, in this way transforming our society."
"Before I studied, I was a nobody," says Dr Sabelo Mngomezulu. "Now, people - youth in particular – see a Mandela in me and others like me. I tell them I know what it's like to grow up in a rural village, not knowing what will happen after matric," he adds. "We took one step towards UYDF and the world opened. We understood that we would get help from UYDF, but that getting good grades was our part to play."
Discovery Fund: improving primary healthcare services in indigent communities
Established 18 years ago, the Discovery Fund aims to improve individuals' quality of life through the provision of primary healthcare services in indigent communities that do not have access to mainstream healthcare. This aligns with Discovery's core purpose, which is to make people healthier and to enhance and protect their lives. The Fund has an annual spend of around R30 million and currently works with approximately 40 partner organisations. Focus areas include:
Maternal and child healthcare with the aim of reducing maternal and infant mortality
Community health interventions that enable access to healthcare services to those in under-resourced and marginalised communities
Human capital and skills development via in-service and pre-service training to enhance the quality of public health services and increase the number of qualified public healthcare workers.
A decade of investment in public healthcare: The Discovery Foundation Awards
Over the past decade, the Discovery Foundation Awards have secured significant investment in:
Cultivating skilled medical professionals in all areas of healthcare, especially in areas of greatest need
Training people and investing in medical education to support existing government programmes and address resource and skills gaps
Building experienced specialist skills in South Africa to ensure available skills to train the next generation of healthcare providers
Nurturing and keeping much-needed medical skills in rural communities
Improving environments and infrastructure that support training and development of medical professionals.
The Discovery Foundation has supported the training of 300 new medical professionals working in South Africa's public healthcare system. "There is a specific focus on producing talent to address under-resourcing in rural areas, to further academic medicine and to increase the number of sub-specialists in the country, particularly in areas of greatest need," explains Lewin.
The awards are allocated annually by the Discovery Foundation and offer financial support to talented academics and clinicians to enable further training, research and development in their field. "Hundreds of outstanding doctors and institutions have received grants from the Discovery Foundation over the past 11 years. Many have tangibly improved health outcomes for the people and communities they serve, while others have gone on to influence policy on a broader scale. The annual Discovery Foundation Awards represent Discovery's investment in promising medical professionals dedicated to excellence in the public sector, and to taking them forward in their academic and clinical ambitions to the benefit of all South Africans," adds Lewin.
Cancer diagnosis? Make a plan and take control!
Linda Greeff, an oncology social worker and cancer survivor herself, believes that a patient's long-term survival is most impacted by the first treatment intervention. She shares her insight from her own experience with being diagnosed with ovarian cancer.