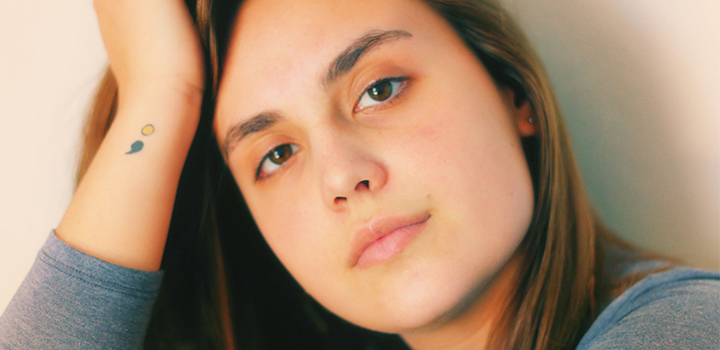 Sixteen-year-old Jenna Schubach was diagnosed with stage-three endometriosis when she was only 14 years old. Today, the brave high school student is determined to make a difference in the world by raising awareness about her condition.
Jenna Schubach is a voracious reader, has a curious mind and, according to mom Karen, is a brave and tenacious young woman. "She sometimes is almost bloody-minded when she sets her mind to achieving something," Karen says with pride. "She's determined to make a difference and she's making one every day."
When Jenna was 14 years old, she was diagnosed with stage-three endometriosis. Two years later, the Fields College student from Rustenburg says it's her life's mission to raise awareness about her condition.
This condition affects about 176 million women worldwide (around 5 to 10% of women) and it has no cure.
"Endometriosis is a condition whereby the endometrial tissue of the uterus begins to attach itself to other organs in the body. Common symptoms include severe and heavy menstruation, nausea, fatigue, back pain, headaches and ovarian cysts," Jenna explains.
The long road to acceptance
Jenna has had two laparoscopies and many visits to the ER and is on chronic medicine because of her condition. It started two years ago when she suddenly felt a severe pelvic pain after a Physical Education class at school. Her GP referred her to a gynaecologist who spotted growths in Jenna's uterus on a sonar scan. She had her first laparoscopic surgery to remove the growths in November 2017.
"To be officially diagnosed with endometriosis, you have to have an operation and the growths have to be removed surgically," she explains. "My gynaecologist, Dr HJ Hölscher, handled my second laparoscopy in September 2018 – and he's been a superhero to me."
"For a very long time, I was angry, because my life wasn't the same as it was before. I couldn't do things I was able to do before and I blamed my endometriosis," Jenna reflects. "I kept on asking: Why me, why now? Why did this have to happen? Couldn't it have waited until I was ready? I didn't realise that it was a step that would push me into getting ready."
In time, Jenna's anger turned to acceptance: "I noticed that all my friends and family still looked at me like I was completely and utterly myself. I realised that I could do the same, and I could build myself in a way that I was happy with, so I could love myself as much as they love me."
Now, she sees her diagnosis as an opportunity to help others. "Ultimately, I would like to raise awareness of endometriosis," she says boldly. "I want people to understand what it is and who it affects and about the strength that it takes to cope with this condition. I want to teach all women what a healthy monthly period should feel like and what to do if it theirs differs, as did mine."
"It takes a warrior to handle this condition day in and day out"
"Endometriosis is a condition that affects so much more than your physical health, it affects a person's mental and emotional health too," she says. "It takes a warrior to handle this condition day in and day out, so those who have it should never forget their strength even in the moments when it wavers. I know that the diagnosis feels like the end of the world…but it's not."
When Jenna graduates from high school, she wants to pursue medicine, particularly nursing. "I've always noticed that it's the nurses who take care of you, keep you company and who are with you through the pain. Their companionship is what makes your hospital stay a lot more bearable and I want to do that for other people."
The start of a better story
"I believed that my story ended when I was diagnosed, but it turns out it was the start of a better story," Jenna says. She reflects on all the people who helped her through this trying time:
"I'd like to thank my parents for the patience and encouragement, Aunty Greer for her advice and love, and Granny Sharon for the love and for reminding me how to laugh, even in the moments when I forgot how to do so. Thank you to the Gilmore family, the Richards family, the Saloojee family, the Majuja family, the Mokgatle family, the Eva family, the Francisco and the Badenhorst family – and to the teachers who always made sure that I was okay: Tanya Kleynhans, Nicolene Boshoff, Genevieve Claassen, Christine Joubert, Nadine Joubert, Cindy Hales and Adriaan Bester. They offered me strength when I didn't have any, and I would like them to know how much I appreciate that. If it hadn't been for them, I might not be the person I am today."
Karen says she admires her daughter's resilience. "She is in so much pain that she winces getting out of bed but she gets up, she puts a brave face on and she gets going. I don't know how she does it. She also has an innate ability to make me laugh whenever I'm stressed about her being sick," she says. "I hope that eventually the cure for endometriosis is found or at the very least, medicine that makes a real difference to the reality of living with this condition. And I hope Jenna never forgets how amazing she is. She
can
conquer the world."
The Discovery Health Medical Scheme is an independent non-profit entity governed by the Medical Schemes Act, and regulated by the Council for Medical Schemes. It is administered by a separate company, Discovery Health (Pty) Ltd, an authorised financial services provider.
You are young and healthy. Why do you need medical aid?
Everyone needs some form of medical aid cover. Not many of us could afford the costs of long hospital stays or care for serious injuries, surgery, or chronic illnesses. Medical schemes help us finance life's curved balls when we can't do it alone.
Early detection with the Vitality Wellness Assessment
Preventative screening is important to make sure that medical conditions are detected early. As a Discovery Health Medical Scheme member, you have access to screening and prevention benefits at any one of our wellness providers.
Health and longevity for the modern woman
For most of the previous century, there was a severe lack of attention on women's health. Fortunately, this is changing, and the focus on women's health is increasing worldwide.
Sisters fight Cervical Cancer together
It's hard to imagine that cervical cancer affected the lives of two sisters in the same year - and how differently. Alrita Groenewald, 41, was given less than 30% chance of survival, while her sister Tessa Supra, 46, chose to silently carry the burden of her subsequent diagnosis.