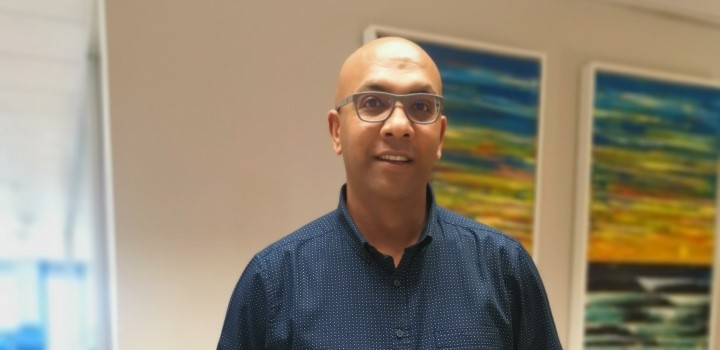 37-year-old Rakesh Mithal was diagnosed with type 2 diabetes in January 2020. He has since made every effort to live more healthily and prevent the progress of the disease. Joining the Discovery Diabetes Care Programme has ensured he and his doctor work in partnership to manage his condition.
"My mom, dad, gran and one of my sisters have diabetes," says Rakesh. "High cholesterol and hypertension also run in my family. However, I don't want my three-year-old daughter to develop all of these conditions that we seem to be predisposed to. I want to get healthier and be an example to her of what it means to avoid developing chronic illness."
Rakesh lives in Johannesburg and works as a business consultant in Sandton. He played a lot of sport until 2014 when he snapped his Achilles tendon and had to slow down. "I wouldn't say that I am a couch potato, I hardly watch TV, but I'm not as active as I once was. I indulge in the odd session of PlayStation; that's my happy place."
Small warnings of the risk of diabetes in Rakesh's future
"A few years back I did a health check and was told that I was insulin-resistant, but didn't take it seriously. I have worked in sales for a long time and so lead a busy life, always on the road and travelling to see clients, and this meant that health and wellness wasn't always something that I could focus on. I don't consume much alcohol, but am an occasional social smoker."
In 2018 Rakesh had minor surgery and was warned that his blood sugar looked high. "The doctor said to watch it. But I didn't take it too seriously then either. I don't really eat much sweet stuff. However, my family history of diabetes was on my mind."
What puts a person at risk of developing type 2 diabetes? Risk factors include a family history of diabetes, being overweight, having an unhealthy diet, being physically inactive, having high blood pressure and more.
According to the International Diabetes Federation, type 2 diabetes accounts for around 90% of all diabetes cases.
When we eat, we break down carbohydrates into simple sugars (glucose) that are absorbed into the bloodstream to be sent to cells throughout the body to fuel their work and keep us going. Insulin is the hormone that removes glucose from the bloodstream after we eat. When insulin cannot work properly, blood glucose levels keep rising (which is very dangerous and can cause damage throughout the body). So, the body releases even more insulin. For some people with type 2 diabetes this can eventually exhaust the pancreas, resulting in the body producing less and less insulin, causing even higher blood sugar levels.
Rakesh begins to experience symptoms of type 2 diabetes
Leading up to December 2019, Rakesh began to experience symptoms typical of diabetes, including:
Excessive thirst and a dry mouth that led to his craving cold, sweet drinks – especially fizzy drinks
Waking up at odd hours of the night to urinate, which was unusual for him
Night sweats
Excessive sugar cravings
"In January 2020 I noticed that when I would chat to a person for 5 to 10 minutes, my mouth would be totally dry," he says. "I needed to drink something and craved ice-cold fizzy drinks and juice, and also chocolate and sweets. I decided to be proactive about getting help and on 23 January this year went to our family GP, who is also a diabetes specialist. Dr Makan did a range of blood tests and also examined my body for signs of damage relating to diabetes, like nerve damage that causes a lack of feeling in the feet. He took a urine sample and there was glucose in my urine, which showed there was likely a problem. We waited for my blood tests. I left his rooms at 11:00. He called me at 15:00 as I was driving to a client. He said, "Go directly to the pharmacy, I am sending you a prescription to fill immediately." My blood sugar was at 29.6 mmol/L."
A healthy (non-fasting) blood sugar reading should be under 7.8 mmol/L two hours after eating.
Rakesh goes onto medicine to help to control his blood sugar
Rakesh was prescribed injectable insulin and oral medicine to control high blood sugar. "I was also told to drink at least two litres of water that evening, to flush the excess glucose from my system."
Since then he has injected himself with insulin morning and evening. He also takes Forxiga, a medicine that helps the kidneys to remove glucose form the blood. By September 2020 he was doing much better. "My blood sugar is now within the prescribed range. I am also on medicine for high blood pressure and my cholesterol has lately been slightly elevated so we are watching that."
Rakesh joins the Discovery Health Diabetes Care Programme
"A week after I was diagnosed with type 2 diabetes in January, Dr Makan called and asked my consent to subscribe me to the Discovery Health Diabetes Care Programme," says Rakesh.
Once Discovery Health Medical Scheme members have registered their condition on the Chronic Illness Benefit, their Premier Plus GP can register them on the Diabetes Care Programme, which is designed to offer additional cover and support for people who have diabetes. This includes cover for:

One additional consultation with a dietitian each year (in addition to the consultation covered through the Chronic Illness Benefit)
One consultation with a biokineticist a year
A diabetes coach (for qualifying members)
And, on the Discovery app:
Rakesh hasn't yet seen a biokineticist. He sees Dr Hemant Makan regularly and they are working together to ensure his diabetes remains controlled.
"I met with a dietitian at my doctor's rooms and she provided me with an eating plan, but it's not always easy to follow as I am mostly out seeing clients or on the road or on business trips," he says. However, Rakesh has become very conscious of what he eats and drinks. He takes vitamin supplements in the morning, ensures he has whole, unrefined carbohydrates and avoids high-sugar foods and drinks.
Rakesh's diabetes diagnosis coincided with the global COVID-19 pandemic
Some people are at high risk of severe illness if they contract COVID-19. High-risk individuals are people who are possibly immunocompromised (such as those who have HIV or TB, are cancer survivors and are transplant recipients), those who have chronic illnesses (like diabetes, heart disease and high blood pressure) and those over the age of 60.
Rakesh and his wife remained housebound throughout March, April and May 2020. He and his neighbours set up a system through which one person who would shop for the group and they all took turns doing so to limit their trips to shops.
He continues to see clients daily, but ensures he wears his protective face mask at all times, uses his own pen, and avoids sharing of paperwork or other items. He washes and sanitises his hands frequently and has remained healthy.
Rakesh's goals for the future are focused on his health
He says, "My biggest goal is to increase the amount of physical activity that I do and to teach my daughter that this should be a way of life. I want to lose a little more weight and also continue to eat healthily. I am grateful that my diabetes is under control and will do all I can to support my health and wellness going forward."
Discovery Health Medical Scheme, registration number 1125, administered by Discovery Health (Pty) Ltd, registration number 1997/013480/07, an authorised financial services provider and administrator of medical schemes. Vitality is a separate wellness product, sold and administered by Discovery Vitality (Pty) Ltd, registration number 1999/007736/07. Limits, terms and conditions apply.
Here for you, here for your health
Feel reassured that you're not alone if you are living with diabetes. The Diabetes Care Programme gives you access to enhanced support and additional benefits to best manage your condition.
To learn more about the Diabetes Care Programme watch this video.

Diabetes Care gives you extra help for diabetes
If you have diabetes, you have to keep measuring your blood sugar and taking your medicine. The Chronic Illness Benefit helps with the basics, but Diabetes Care gives you and your Premier Plus GP access to more tools and benefits to give you the best support and health outcomes.