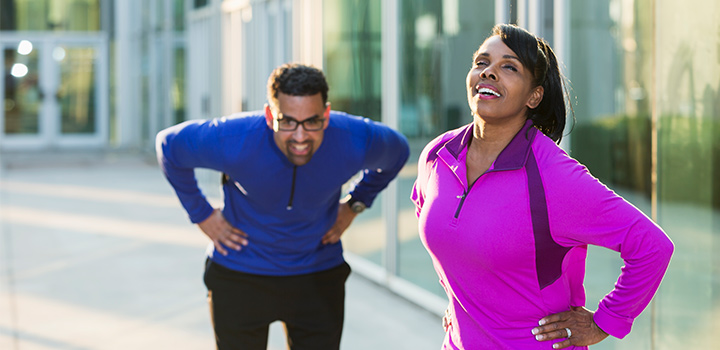 The global prediction for developing countries is that respiratory diseases will account for more deaths and disability-adjusted life years. A lung specialist and a dietician offer these tips on how to keep respiratory disease at bay.
On average, a person at rest takes over 23 000 breaths a day - inhaling and exhaling a total of about 11 000 litres of air a day. And every day, non-stop, your lungs perform the invaluable task of passing life-giving oxygen into your bloodstream. That's a significant reason to treat them well!
But respiratory infections and lung disease are still major health concerns among South Africans, says pulmonologist Dr Omolemo Kitchin. Conditions like pneumonia, asthma, tuberculosis, lung cancer and chronic obstructive pulmonary disease (COPD) can be far less damaging and severe through preventive measures, early diagnosis, and careful, holistic management and care.
"Deaths are avoidable with proper care and patient education"
For example, although it's common knowledge that smoking is injurious to health, the practice of this harmful habit is far more prevalent than it should be - and the consequences are significant. Data from Discovery Health reveals that the risk of claiming for COPD among patients who used to smoke is 40% higher than among patients who have never smoked. This risk jumps to 80% among patients who currently smoke. These rates are consistent over time.
In addition, pneumonia is still one of the three leading causes of death in South Africa, and there are 3.9 million asthma sufferers in SA with an annual mortality rate of 1.5%, says Dr Kitchin, who received an academic grant from Discovery Foundation to specialise further in paediatric pulmonology and allergology. "No one should die of asthma. It is a controllable condition, and you should be able to enjoy sports and quality of life if it is managed well. These deaths are avoidable with proper care and patient education."
We asked the doctor for his top tips on how to improve lung health, and here's what he had to say.
"Avoid smoke, exercise, and eat healthy"
When it comes to caring for your lungs, the most obvious caution is to stay as far away from smoke and other pollutants as you can. This includes cigarettes, vapes, hookahs and wood smoke. Smoke makes it harder to breathe because it narrows air passages and causes swelling in the lungs, which can lead to chronic bronchitis. Over time, smoke destroys your lung tissue and can activate changes that grow into cancer.
Good quality sleep and regular physical activity are also important in improving overall organ health. Aerobic exercise, like walking, running, swimming and cycling, can increase your lung capacity. "Specific breathing exercises can also help improve your lung function," adds Dr Kitchin.
In addition, a healthy, balanced diet is essential to a strong immune system. "Eat plenty of vegetables that are high in antioxidants, carotenoids and lycopene, as well as foods that are high in omega-3 fatty acids. These can help lower inflammation, which helps to maintain good lung health."
How to tell if your lungs need attention
If your lungs are damaged, you may experience one or more of these symptoms:
Shortness of breath during simple activities
Pain in your airway or when breathing
Dizziness with a change in activity
Wheezing when exercising
A persistent cough
If you have any of these symptoms, visit your GP. They can run tests to find out the cause and will refer you to a specialist if necessary. Common lung diseases like pneumonia, tuberculosis and asthma can be treated by most healthcare professionals, but there are a few lung diseases that require help from a sub-specialty.
"Always give your GP a proper medical and family history," reminds Dr Kitchin. "If you currently or have ever smoked, ask your doctor how often you should have your lungs checked. For a while, lungs are able to recover from the damage, and if you quit, you'll be able to track your progress at ongoing check-ups."
Learn whether vaping is any better than cigarette-smoking here.
Read Dr Kitchin's journey to specialising in lung health here.
The Discovery Health Medical Scheme is an independent non-profit entity governed by the Medical Schemes Act, and regulated by the Council for Medical Schemes. It is administered by a separate company, Discovery Health (Pty) Ltd, an authorised financial services provider.
Free doctor advice is just a click away
Do you have a niggling medical concern that you're not sure warrants a trip to the doctor, but you wish you could consult one anyway? With Discovery DrConnect, you can access to trustworthy, high quality medical information. Through the Discovery app and website, you now have access to:
Ask a doctor: a growing library of over 5 billion doctor-created answers to medical questions - or you can get a personalised answer from a doctor, at no additional cost to you.
Health goals: Doctor-created tips and checklists to help you meet your health goals and manage your chronic conditions.
Your doctors: Virtual follow-up consultations with participating doctors who you have seen in the last 12 months, using voice, video or text, paid from your applicable day-to-day benefits.
If you are already a Discovery Health Medical Scheme member, you can access this functionality here or download the Discovery DrConnect app now.
Put your health first with OncologyCare
If you're diagnosed with cancer and once the Discovery Health Medical Scheme has approved your cancer treatment, you are covered by our Oncology Programme. We do not limit your cancer treatment costs, and cover the first part of your approved cancer treatment over a 12-month cycle in full.
Members with cancer also have access to a comprehensive palliative care programme through the Advanced Illness Benefit. This programme offers unlimited cover for approved care at home. Learn more about cancer treatment here.