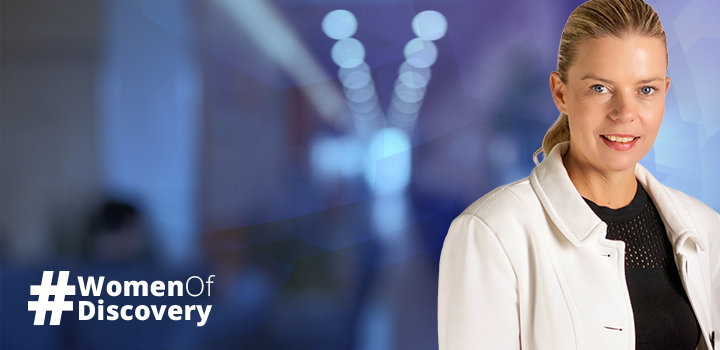 Karren Sanderson's career journey started in the Discovery Health call centre twenty years ago. Today, she is Chief Operating Officer.
As a B. Comm graduate with a student loan to pay off, Karren Sanderson took the first job she could find – as a call centre agent for Discovery Health. "I had no idea where I would start my 'real' career, or what that might be. Call it a mix of great timing and a bit of divine intervention, but I seem to have arrived at an organisation that was really exciting, growing and changing every day. And actually, it has never stopped."
From working in a number of customer-facing environments, to leading and managing those teams, Sanderson progressed to helping build new aspects of the Discovery Group. "I enjoyed using technology in the financial services industry. It allowed us to roll out a sophisticated offering, which customers would love," she says.
Sanderson says those varied skills, used across different divisions of Discovery, gave her an all-round set of insights of the business. "That experience created a stable foundation from which I was able to operate. Being flexible enough to work just about everywhere, being able to connect dots, means that twenty years later, here I am as the COO of Discovery Health."
A changing corporate space - but what about outside?
"What encourages me in corporate South Africa is that we can see evidence of authentic change around diversity, including gender diversity. Yet, there are South African cultural norms that detract from equality when it comes to women," she says.
"Although corporate spaces may be gender-equal environments, there is still a lot of work to realign what happens outside – in society. We can't be in a world where one set of rules applies when we come to work, but when we get home, there is another set of rules. It detracts from any woman's ability to succeed," says Sanderson.
She says the mindset change is urgent. "I am also a mother. If it was left to the old ways of thinking, it would be my job to sort out the children, the home, and have a successful career. A man would just have to attend to his career. That isn't fair, is it? These norms are old-fashioned and outdated, and need to be rethought."
Forget work-life balance - you need shared value
Sanderson says for women to succeed, work and life should not be at war, but in synergy. "My belief in a greater purpose of being is to condition yourself to believe that work and life are not two different things. I see them as one. At certain times, one will take up more of my time, but I have built up a support structure, to step in for me so there is no sense of loss to the other. It isn't perfect. Balls will still fall, but in the down time, you make up for it. Then, when you look at the month or year as a whole, it should balance."
Sanderson says that despite her support structure, she has a 'small rule'. "That is that I will drive my children to school every day. It is my time with them. Just 30 minutes in the car where we can't get away from each other. I may hand over the rest of the day to other people, but their day begins with me in their lives," she says.
One key is needed for all this to work, Sanderson says. "In the home, it is pivotal that my husband takes on equal responsibility. You cannot be the provider at home as well as at work, on your own. That is advice I would give anyone, that their partner takes an equal role. For women, think carefully about the support structure outside of work, and not just inside, to gear you for success."
In a way, Sanderson has created a shared-value ecosystem for herself and her family. It comes from the system instilled at Discovery over two decades. "Shared value is a fundamental foundation to true success. In life, everything is an ecosystem and every piece of that ecosystem needs to function well for it to work."
Similarly, she says, Discovery is not a business, but an entity to create shared value. "That means a successful thriving ecosystem of which we are just one part, our customers are another, our partners and stakeholders are another. When we build a business model, we consider that we must help others thrive, because if they thrive, we will too."
"I have found a meritocracy at Discovery. If you are delivering, demonstrating value, if you have new, cool ideas, Discovery wants to hear them. But gender is a complex issue, as are most matters of discrimination. In the country, and globally, gender bias – and many other biases – are a real issue. My view is to not be naïve about it. Be aware of it. However, you can't let it consume your thought process. By focusing on the job at hand and doing it well, we can overcome bias," she says.
A short message to women in SA
"I always say that I am at the University of Discovery. The pace is exceptionally fast, and as an industry leader, we always have to break barriers. I keep on par with it by self-learning, all the time. I have to constantly research and learn about the latest data, digital and analytical trends. If you dedicate the time to learning, in any field, you will get great value from it."
Discovery for Business
Employers benefit significantly from a healthier workforce. Find out more about our comprehensive Employee Benefits for businesses.
Are your people dying for a paycheck?
The South African workforce is amongst the most stressed in the world, according to a Bloomberg Business survey which rated our stress levels second, only to Nigeria.
Is presenteeism damaging your business?
It is important that employers understand the cost of present but disengaged employees on business and ultimately the impact of poor health on a company's bottom line.