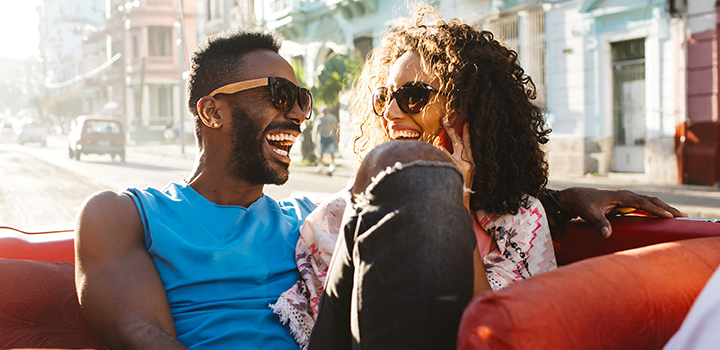 It may be the holidays, but it's peak season for criminal activity too. Avoid having to look over your shoulder while you're holidaying, by being travel-smart when it comes to your money.
Put a safety net around your hard-earned cash
We call December and the beginning of January the silly season. It's hot, it's the holidays and it's time to relax. Unfortunately, criminals don't take a break from trying to hack your accounts or steal your bank cards and cash just because you're in holiday mode.
Here are 10 tips for keeping your cash and cards safe this holiday season
You might want to consider changing your PIN before you leave on holiday. Make it difficult to guess your PIN. Choose a PIN that's unique and don't use consecutive (1234) or duplicate numbers (0000) or your date of birth.
If you have more than one card, don't choose the same PIN for all of them.
Move your money around. Consider keeping your card and money separately, so you don't risk losing it all at once should you have an unfortunate incident.
We tend to ease our mindset on security while traveling. To prevent card skimming, don't let your card or your technology out of your sight. Card skimming is when someone uses a handheld device to copy your card information. They can then buy items using your card. If your phone is stolen, all your security information goes with it. Make sure you install malware and digital security locks.
Make sure you get notifications when you use your card, even if you're out of the country. Activate SMS roaming, just for your bank to stay in touch. This not only helps you see how much you've spent, but it's also the quickest way to find out if someone has stolen or copied your card.
Be alert to your surroundings when using ATM's. Do not use the ATM if there are loiterers or suspicious people nearby. If your card is swallowed by an ATM, block it immediately by logging onto the Discovery Bank app, and going to the Card Management screen to pause your card while you're still at the ATM. This will temporarily block your card until you know it is safe. You can also call Discovery Bank immediately on 0860 11 2265 (BANK) for help.
Use websites with secure payment (for example, 3D Secure) when you shop online for gifts or holiday gear. You can manage your card limits on the app, for example, to increase your limit only when you need to make your payment online. Never disclose your card PIN on any shopping website and always log out after you've completed your purchase.
Make sure your deliveries are legit. You should get an SMS before delivery and a time estimate. Be careful if the delivery time or courier is unexpected.
Be wary of strange calls, texts or website links that may be attempts to steal your banking info. Double check suspicious messages with your bank or the "sender" who may not be authentic.
Call us on 0860 11 2265 (BANK) as soon as you realise your card is missing or you notice a suspicious transaction.
It's time to bank healthier
Discovery Bank won't be changing just one thing, it's changing everything – which means there are exciting times ahead! Keep track of the latest developments as we ready ourselves to go public in March 2019.
Find out more about the world's first behavioural bank that motivates and rewards you for banking well.
How Vitality Money and boosted Vitality rewards work
In 2019, Discovery Bank - the world's first behavioural bank - will be available to the South African public. Simply put, it's a bank that will guide, motivate and reward you for getting financially healthier. Here's how.
Why South Africans need to bank healthier
Discovery Bank has done the research, and it boils down to this: If South Africans, as individuals and as a nation, want to move forward socio-economically – we desperately need to reduce our debt and foster a healthier savings culture. Here's why.
Five questions to ask your financial adviser
Choosing a financial adviser means choosing someone you can trust to understand you as an individual and help you achieve your long-term financial goals. It is helpful for you to know that financial advisers are required, by law, to meet certain minimum requirements.