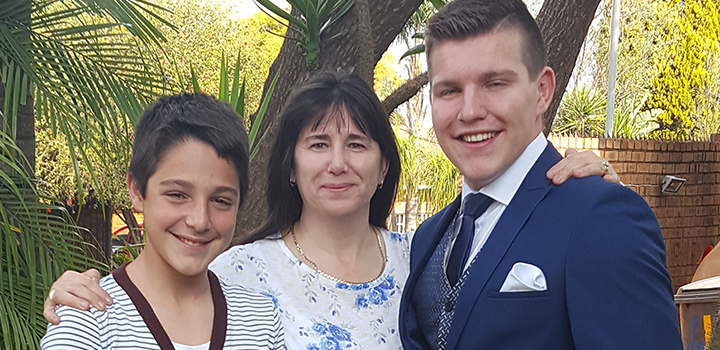 When Zybrand Lombaard set up a private business, he and his wife sat down with their long-time broker in late 2007 to adjust and expand their Discovery policies. When Zybrand's business kicked off in mid-2008, they had one less thing to worry about.
Zybrand Lombaard, a highly-skilled Telkom technician from Pretoria, decided he wanted to quit being a salaried man and set up a private business. He and his wife Yvonne, a Telkom Product Manager at that time, sat down with their long-time broker in late 2007 to adjust and expand their Discovery policies
One of their top priorities was to protect and insure the education of their two children, Zybrand Junior, 19 and a first-year civil engineering student at the University of Pretoria, and Ryno, 15, in grade nine. Disability and income protection policies were their other priorities.
As life would have it, it was the best thing they ever did. Says Yvonne: "When we were planning Zybrand's new business, we spoke to our long-time broker, Herman Visser, who said that before Zybrand resigned, he should make sure he had things in place. Because Zybrand's hands, arms and shoulders were his livelihood, Herman advised that we take disability and the income protector. Luckily, I already had the Global Education Benefit and a dread disease policy, both with Discovery, so we just checked on those and let them run on."
After nearly three years Zybrand became a successful entrepreneur, his expertise much in demand. Then in late 2010 his left shoulder suddenly began to cause him excruciating pain which resulted in eight separate operations and procedures, none of which improved the pain.
At one stage he was on 28 pain killer and anti-inflammatory pills a day. A panel of physicians was appointed to evaluate him. It proved a fascinating case study in which bone was shown to have grown back abnormally and his acromioclavicular (AC) joint at the top of the shoulder malformed, permanently disabling him and causing ongoing inflammation.
In 2012 he was declared a Category C disabled patient and paid out R1.5 million, with a second R1.5 million in 2013. His Income Continuation Benefit policy today gives him an added R14 900 per month. Zybrand's policy was also linked to the Premium Waiver Benefit and thus he also no longer needed to pay the monthly policy premium.
In 2016, Zybrand was declared Category A, full disability and Discovery Life's Global Education Benefit came into effect. "It's a life changing policy," says Zybrand. "It would have been very bad news had we not had both this and my disability policy. Basically, our kids wouldn't have studied. It is helping us a lot. The broker said they were the best policies for us to take and they certainly were. Our policy premiums cost quite a bit and we often worried whether we could keep up the monthly payments. Luckily, we did," he adds.
Discovery Life broker made all the difference
Yvonne reckons the critical success factor was their broker, Herman Visser, who also facilitated all their claims. His advice and pre-planning proved invaluable. "He allowed us to grow our cover based on what we could pay. It was a lot of money per month but we wanted to make sure we got the best and most appropriate policies if anything happened to Zybrand. It proved to be our bread and butter," she adds.
Zybrand is today a stay-at-home dad and Yvonne says without their Discovery Life policies they wouldn't have been able to sustain the lifestyle they'd become accustomed to. She says she has enough worries in her life: "I probably would have been able to buy the basic things, but giving my kids what they deserve would not have been possible without this cover."
She says the moment Zybrand works with his arms, his shoulder immediately becomes inflamed and he has to start all over with his medication.
She says they are so happy with Discovery Life that when Zybrand Junior turned 18, he took his own Discovery Life policy, which they will pay for until he earns a salary.
This endorsement does not constitute financial advice.
Discovery Life Limited is a registered long-term insurer and an authorised financial services provider. Registration number 1966/003901/06. Product rules, terms and conditions apply.
Fund your child's future with the game-changing Global Education Protector
Considering the current pace of education inflation, how important is an offering that helps you comprehensively protect your children's actual costs of education?
Discovery Life's enhanced Global Education Protector is designed to meet the growing challenge of funding education. It does this not only by ensuring that your child's education (whether local or international) is protected if you or your spouse suffers a life-changing event, but, in a game-changing move, also funds up to 100%* your children?s tertiary tuition fees, even if you don?t claim, when you simply lead a healthy lifestyle.
The three Global Education Protector benefits on offer (the Core, Private and Dollar options) provide the same key benefits at different levels of cover. Find out more about this ground-breaking new offering here.
*subject to the limits set by Discovery Life. Discovery Life Limited. Registration number 1966/003901/06, is a registered long-term insurer, and an authorised financial services and registered credit provider, NCR Reg No. NCRCP3555. Product rules, terms and conditions apply.
Kids' education secure despite dad's Parkinson's
For Gavin and Colleen Clackworthy, of Vredehoek, Cape Town, a quality education for their children is a non-negotiable. So, they set about putting their beliefs into action. Read their story here.