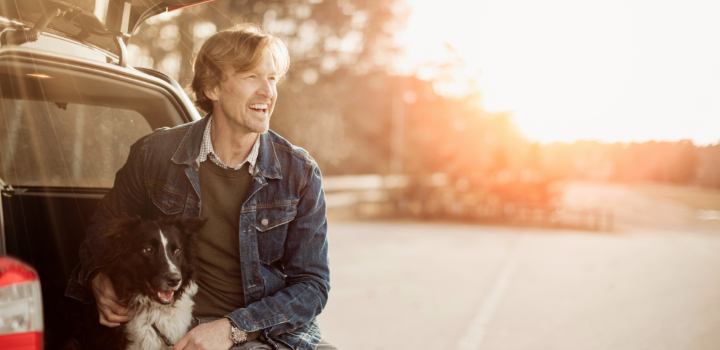 Dr Freddie van der Colff, a Registrar in Ophthalmology at one of the largest hospitals in the country, realised he may have contracted COVID-19 at the beginning of June – a time when the Western Cape would begin to experience a surge in infections.
At the beginning of May 2020, the Western Cape province had over 3 000 confirmed cases of COVID-19. At the time, healthcare personnel began to prepare for a potentially significant increase in infections through the winter months.
Tygerberg Hospital in Parow, where Dr Van der Colff works, was one of the first in the country required to prepare for patients with suspected or confirmed COVID-19 infections.
Little did he know that while he and colleagues were preparing to handle suspected and confirmed cases of COVID-19, he himself would require a test and experience this disease first-hand.
By the time Dr Van der Colff had himself tested, the number of confirmed infections in the province had risen to over 12 000.
"I tested positive for the virus on 8 June"
"My symptoms started approximately one week prior to that. I experienced headaches, tiredness, fever (especially night sweats), and myalgia (body pains). I never developed any throat or lung problems."
"Fortunately, my symptoms were mild and episodic – to such a degree that I was unsure as to whether I should get tested or not."
"Five days after the start of my initial symptoms, I noticed that I could no longer smell or taste anything."
He was well aware that such symptoms had been documented already as a potential early sign of a viral infection. "I did not realise just how prominent these symptoms could be. I literally could not smell or taste anything!"
"It was at this point that I was fairly certain I'd contracted the virus and promptly had myself tested."
Sure enough, Dr Van der Colff received a positive test result on the morning of 8 June 2020, now himself one of the 12 000-odd confirmed cases in the province, and 32 048 in the country at the time.
"I immediately notified my Head of Department and was advised to self-isolate for a period of 14 days. The 14 days went by without any further problems worth mentioning. My symptoms fortunately remained mild and I started feeling better during the second week of my self-quarantine period."
"On the second day of my self-quarantine period, I contacted my financial adviser"
"My financial adviser, Mrs Claire-Leigh van Wyk instinctively seemed to know why I was contacting her that day. She immediately asked me if I had tested positive for COVID-19 and enquired as to whether my wife and I were doing okay."
"Claire has been my financial adviser for nearly 10 years and knows my Discovery portfolio off by heart." In fact, Claire and Dr Van der Colff updated his portfolio at the beginning of this year, making it simple to take the next appropriate steps.
Now in self-isolation, Dr Van der Colff was unable to perform his usual work responsibilities. This meant that he could request a claim for financial support from his Discovery Life Plan. On his plan, he has the Income Continuation Benefit that protected him against financial loss while he was safely recovering from his illness.
Dr Van der Colff was able to receive a financial payout to supplement his income within seven days of submitting his claim. This way, he could comfortably fund any necessary personal expenses while taking the necessary time to recover from his illness.
"The fact that Claire and I updated all of my Discovery products at the start of the year definitely helped in this regard. She immediately started my Income Continuation Benefit claim process.
"I received the confirmation of my claim a few days later and the money was paid into my account soon after. No further questions asked. This was by far the easiest claim process that I have ever experienced."
"I am very grateful to have completely recovered from the infection"
"I returned to work after two weeks and have not had any symptoms since. I am very grateful to my financial adviser Claire and Discovery Life for the support I received during a stressful time for myself and my family."
"We often wonder if the money we spend on having insurance cover is really worth it. I no longer have any doubts on the matter and will always make sure that my income, finances and health are protected. Thank you, Discovery!"
Discovery Life's Income Continuation Benefit is a tailorable product that ensures that you have automatic protection when you need it most. Optional features aim to provide full lifestyle cover, protection for annual bonuses, and the ability to increase your cover by 20% without additional underwriting every three years. The Income Continuation Fund is available as part of the product and encourages improved overall health and wellness with incentivised mechanisms to earn additional income during retirement. You can even receive premium PayBack during a policy term as added value for living well.
With COVID-19 being a new health crisis for populations around the world, providing up-to-date, well-referenced and medically reviewed information has been paramount for the business to make available for its members, policyholders and the general public. A dedicated hub of information has been created and is regularly updated for this purpose. Learn more about COVID-19 and how to cope through such uncertain times on our website.
This article does not constitute financial advice. Discovery life limited. Registration number 1966/003901/06, is a registered long-term insurer, and an authorised financial services and registered credit provider, ncr reg no. Ncrcp3555 no liability will be accepted for the effect of any future legislative or regulatory changes. Product rules, terms and conditions apply.