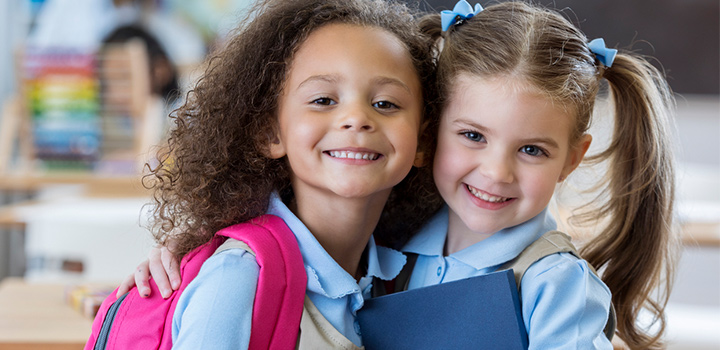 Investing for your children's education is looking more and more like a necessity. By empowering the youth of today with a good education, you're helping to set them up for a future full of opportunities.
A 2016 report from City Press* indicated that education for a child starting grade R in 2016 and matriculating in 2028 would cost approximately R253 000 at average fee-paying schools, R676 000 at upper-income former Model C schools, and R3.7 million at private schools. And that's just the bill before tertiary education.
Depending on the education choices you make for your children, it's likely you might feel some financial stress once your children start school.
4 savings options for parents to consider
Remember that any saving or investment should align with short-, medium- and long-term goals. And know that these goals change over time. Paying for a child's secondary or tertiary education would be a long-term goal when they're a baby, says the US Financial Industry Regulatory Authority, but becomes a short-term goal when they are in their final year of high school. The various savings options available to parents include the following:
Unit trusts
Unit trusts, either bought directly from the asset manager or through a linked investment service provider, offer a simple and generally cost-efficient way to get exposure to equities.
If you have a long-term saving goal, you would want to look at asset classes that have the best chance of outperforming inflation over the long-term (education inflation is much higher than consumer price inflation: it's no use keeping your savings in cash because you will underperform against inflation over time). Equities have historically proven to be the best option for beating inflation.AT the same time, you must remember that past performance is not always an indication of future performance.
Tax-free savings accounts
A tax-free savings account can be opened in the name of a child, who will have their own R33 000 annual limit. And with the power of compound interest, this investment of R2 750 monthly could significantly contribute towards the cost of your child's education.
Education saving plans
Education plans on offer from most financial services companies and insurers are typically endowment policies. With endowment policies, a monthly contribution is made for a specified period and a lump–sum amount is paid out at the end of the period. The minimum investment term is generally five years. For higher-income earners, endowments potentially offer greater tax efficiency because they are taxed at a flat rate of 30%.
Life cover
Life Cover is important because you want any investments you make for your children to continue in the event of your death. Discovery Life's Global Education Protector will cover the cost of education* (including tertiary studies globally) in the case of your disability, severe illness or death.
Make sure your children are part of the process of saving for their education (especially as they become older and more mathematically and economically literate).This is an invaluable teaching tool and is a real opportunity to instil lessons such as the value of money and the importance of saving.
This article is meant only as information and should not be taken as financial advice. For tailored financial advice, please contact your financial adviser.
Discovery Life Investment Services Pty (Ltd): Registration number 2007/005969/07, branded as Discovery Invest, is an authorised financial services provider. All life assurance products are underwritten by Discovery Life Ltd. Registration number: 1966/003901/06. An authorised financial service provider and registered credit provider, NCA Reg No. NCRCP3555. Product rules, terms and conditions apply.
Limits as determined by Discovery Life Limited will apply.
Convert unused life cover into tax-free income in retirement
The Discovery Retirement Optimiser allows Discovery Life clients to convert unused life cover into tax-free income when you retire through a benefit called the Life Plan Optimiser. With this offer, your Life Plan Optimiser is multiplied by 1.2, which gives you even more income in retirement.
This offer applies to the Life Plan Optimiser for the full term of your policy. It is only available for new investments that are activated and completed by 30 June 2018, so hurry to take advantage this month! Find out more here.
Get up to 50% of your premiums back in cash for living a healthier life
By simply linking your Discovery Life Plan with your other Discovery products and for managing your health and wellness you can receive a percentage of your premiums back every five years. Integration allows you to receive up to 50% of your qualifying premiums back every five years. FIND YOUR LIFE PLAN.
Kids' education secure despite dad's Parkinson's
For Gavin and Colleen Clackworthy, of Vredehoek, Cape Town, a quality education for their children is a non-negotiable. So, they set about putting their beliefs into action. Read their story here.
Top-grade education secured for my daughter
Arie Roos's leg was severed below the knee after a traumatic 2005 motorbike accident. Here is his story about how having the Discovery Life Global Education Protector benefit ensured his daughter's private school education.