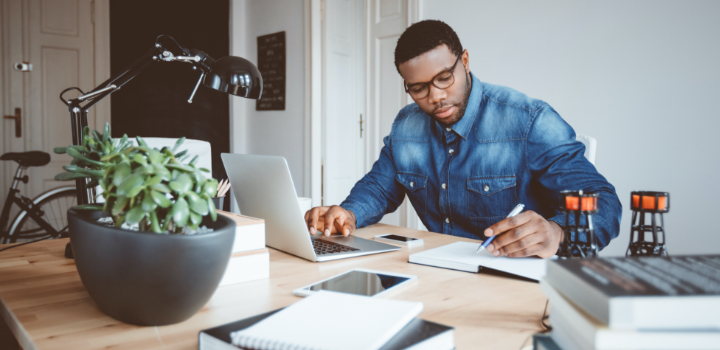 For South Africans keen to spread investment risk through diversification and gain access to well-performing sectors, investing abroad is generally a no-brainer. But some investors are particularly suited for global investing… find out if you're one of them.
For many South Africans, it may be a good time to rethink what portion of their portfolio they need invested offshore.
Offshore exposure through the Johannesburg Stock Exchange (JSE) is often not enough to achieve many investors' financial goals. Not only does the JSE account for just 1% of investment opportunities worldwide, this 'pool' is shrinking, with 601 stocks listed in 2001 falling to just 344 stocks listed in 2020 (a 40% drop).
Given (among other reasons) that domestic investment choices are limited, reconsidering your local versus global investment 'split' is a task every able and responsible investor should look into.
Global investing is becoming more accessible and appealing
Many people assume global investing in hard currency is only for wealthy people, but the minimum capital investment for many offshore investment products is the equivalent of 10 000 US dollars. This is generally somewhere under R170 000, depending on the exchange rate – a savings goal much of the middle class can work towards over time by setting modest amounts aside each month.
For example, there are recurring offshore endowment products available on the market for as little as $200 a month (just over R3 300 a month). By starting early with this goal in mind, the benefits of global investing become accessible and appealing to more people with the risk tolerance to bear with global market volatility and wait for a long-term offshore investment to bear fruit.
Now may be the right time for you to invest globally
For some investors, it's particularly prudent to start an offshore investment sooner rather than later. This is likely the case for you if:
1. You want to preserve your purchasing power globally
Through geographical and currency diversification, global investing can help protect your wealth against the significant concentration risk of investing too much in one region and currency. Global investing balances out losses caused by the structural depreciation of the rand: even if the rand gets weaker, any investments you have in hard currency (like dollars or sterling) can make up of it.
Importantly, moving money to a tax-neutral International Finance Centre (IFC) can spare your hard-earned savings from undue taxation. This is an important consideration when investing globally, as different rules (with significant implications) apply depending on where your money resides and the investment vehicle you use to take your wealth abroad.
2.You foresee any international expenses
Having assets in currency other than rand is especially handy if you plan regular overseas holidays; if you want to educate your kids abroad; if you plan to live between South Africa and another country; or if you are likely to emigrate one day. When you're sure you'll have future liabilities in another currency, it doesn't make sense to save for those liabilities in rand, which is a volatile currency prone to high inflation.
In such cases, it's wise to externalise your money as early as possible so you can save for your goals in the currency of your destination country, or at least a less volatile hard currency. This avoids a scenario where you don't actually know what your wealth is worth in the currency that you'll eventually need it in.
3.You want to build capital over the long term
Global investing should not be your go-to strategy if you need short-term liquidity. However, if you're prepared to wait at least five, if not 10, 20 or more years, you stand to profit handsomely from positive global growth trends and compounding. Once you've saved enough 'buffer' to cover short-term expenses in rand, global investing offers access to great offshore options to build your capital over time.
Take, for example, sectors like technology (which makes up 20% of the S&P 500); utilities (which outperformed the S&P 500 by 10% over the year); vehicle manufacturing (Tesla was up 170% over one year); healthcare; and renewable energy. These sectors have been performing strongly, but more importantly – because global investing is strictly a medium- to long-term strategy – they are primed for overall growth. In addition, you can earn returns in hard currency, making your wait worthwhile.
This article is not financial advice. Please consult with a financial adviser for financial advice.
We've shortlisted some of the world's best investment choices
Discovery Invest recently launched South Africa's first international shared-value investment offering. We offer a wide range of options that have been researched and analysed by a global team of highly skilled investment professionals with more than 250 years of combined investment experience.
The Global Alpha Investment Choices range consists of a curated list of 73 investment choices that covers multiple asset classes and geographies, managed by some of the world's best asset managers. Ask your financial adviser about us today.
Discovery Life International, the Guernsey branch of Discovery Life Limited (South Africa), licensed by the Guernsey Financial Services Commission under the Insurance Business (Bailiwick of Guernsey) Law 2002, to carry on long-term insurance business. Discovery Life Limited is a registered long term insurer and authorised financial services provider. Registration number 1966/003901/06. Discovery Life Investment Services Pty (Ltd): Registration number 2007/005969/07, is an authorised financial services provider. The views and opinions expressed in this article are for information purposes only and should not be seen as advice as defined in the Financial Advisory and Intermediary Services Act. Discovery shall not be liable for any actions taken by any person based on the correctness of this information. For full details on the products, benefits and any conditions, please refer to the relevant fact file. For tailored financial advice, please contact your financial adviser.

Shop safely with Discovery Bank's contactless payment options
Retailers, shopping malls and most services are open for business. With COVID-19 around, we all have to be more mindful. And, at least for some time ahead, it will change the way we interact and shop. Fortunately, Discovery Bank makes contactless banking and payments easy for our clients.
Don't let lockdown leave you vulnerable to cybercriminals
While self-isolation will keep you safe from the dreaded COVID-19 virus, it is up to you to keep yourself, your family and your company safe from digital scammers and hackers who will be looking for any opportunity to take advantage of you during this time.