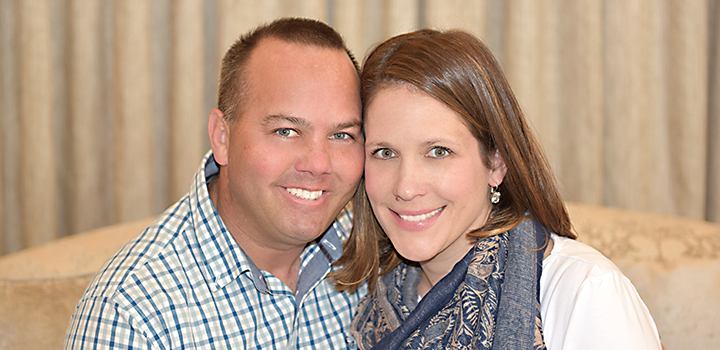 Darren Robertson thought he was too young to get cancer but his annual health checks showed stage 1 prostate cancer. But, early detection means better outcomes and his Discovery Life cover gave him and his family peace of mind.
Most people would be stressed and upset about a cancer diagnosis, but 41-year-old Darren Robertson, from Harfield Village in Cape Town, says he wants to shout from the rooftops. "I never dreamed that I would be diagnosed with prostate cancer at the young age of 41 and I never expected it to have been such a positive experience," he said.
It sounds like a strange perspective to have of a severe illness, but the financial adviser, who recently lost his father to a brain tumour, and who has an eight-month-old baby girl, said the positivity comes from feeling prepared, because of his early diagnosis and knowing that his financial affairs are in order.
Planning and screening made all the difference
"I started my business in August 2017. In December 2017, I moved my life, disability and severe illness cover to Discovery Life, and this year we got the Global Education Protector for my daughter. We are on Vitality, so my wife and I do our bit to get our points, the annual screenings, parkrun etc. In September 2018 I said to my wife that we need to get our points going, so we visited our doctor for screenings. She suggested I do the tests for prostate-specific antigen (PSA) but I said 'Doc, you're crazy, I'm only 41.' She said the best case was that if there's nothing to worry about you do your test again next year, but if there is anything going on, we catch it early," he says.
The good doctors
"My PSA levels were elevated, but not off the charts, so I was referred to a urologist," says Darren. He then went for an MRI which showed a 10mm Grade 4 lesion on his prostate. On the diagnostic scale, a Grade 1 lesion is the least serious, while Grade 5 is the most serious. A further biopsy confirmed Stage 1 prostate cancer.
"The amazing thing is, between our doctor and the urologist, I knew what I was dealing with. They were such great doctors for helping me through it and understanding each step. Regardless of the potential outcome I wasn't that worried. It was scary but a surreal experience; a bad experience which we made the best of," he adds.
And then, the silver lining
Darren is scheduled to have his prostate removed in January 2019. Early detection means the procedure can prevent the cancer from spreading.
Meanwhile, he submitted his Severe Illness Benefit claim to Discovery Life. "Considering I only had the policy in place for 11 months, even as an adviser I was surprised that my claim was submitted and processed in full after just five days. That means so much to me personally, but also for my clients. The claims experience with Discovery Life was amazing, and Vitality's incentives to get my health checked, saved my life. If I had left it a few years, I would have been in a lot more trouble. Early detection saves lives. If you put the plans in place, even if something doesn't go well, everything is taken care of."
"I don't know what is going to happen tomorrow but I am comfortable with the journey and I have had the difficult discussions with my wife about what the outcomes could be. Either way, I know I'm taken care of and that my family is taken care of," adds Darren.
Now Darren has additional advice for his clients. "Get check-ups, if something doesn't feel right, get it checked. Take it from me: an early cancer diagnosis is immeasurably better than leaving it too late."
The Discovery Health Medical Scheme is an independent non-profit entity governed by the Medical Schemes Act, and regulated by the Council for Medical Schemes. It is administered by a separate company, Discovery Health (Pty) Ltd, an authorised financial services provider.
Discovery Life Limited. Registration number 1966/003901/06, is a registered long-term insurer, and an authorised financial services and registered credit provider, NCR Reg No. NCRCP3555. Product rules, terms and conditions apply.
Protect your life with cover
With Discovery Life, you can make sure that you and your family will have funds available to help with any lifestyle changes that may occur in the event of a severe illness.
Discovery Life's Lifetime Severe Illness Benefit includes:
• A minimum payment of 100% of their insured amount for Standardised Critical Illness Definitions Project (SCIDEP) conditions.
• Whole-body coverage that is traditionally reserved for tiered severity products.
• Cover for 17 in-situ cancers to help you receive the care you need to prevent cancer from progressing.
• Financial protection following a severe illness in the form of a payment up to 215% of your sum assured.
• A cancer relapse benefit, a market-first feature, which allows you to claim up to 365% of your sum assured for a series of related cancers.
I'm interested in…
Taking care of business when a loved one passes away
Planning a funeral could see seen as a way to celebrate the life of the person who's passed on, but it can also add strain to an already emotional and stressful time. Here are some guidelines on what to do when a loved one passes.