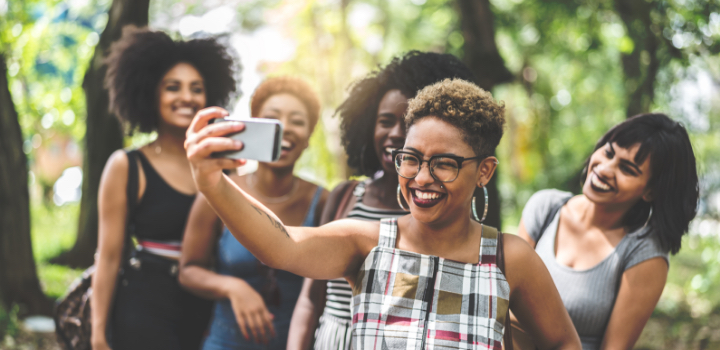 If you're on a saving mission and your friends are spending like there's no tomorrow, it can get pretty awkward. But what's more important to you - keeping up today or securing your future?
Not everybody earns the same salary and even if they do, they won't have the same spending (or saving) habits. When you've decided to make the switch to being a saver, it may feel like your friends and family are spending more money on clothes, socialising, entertainment and holidays than you. It's not easy, and you will be tempted to try keep up. But if your financial goals are important to you, you will have to be ruthless and make a few sacrifices in your social life.
Here are six tips for dealing with the social aspects of being a super-saver:
1. Fight the FOMO
If you're serious about saving, you will have to decline a few invitations to weddings (especially out-of-town ones), concerts, festivals, weekends away, lunches, dinners and drinks. All it means is becoming more selective about the social events you attend. Go out less, and you will spend less. But you don't need to become a hermit. Simply discipline yourself to keep the entertainment and social expenses down as much as possible and then fight the FOMO. You could also spend time with like-minded friends and family.
2. Plan in advance
It might help to decide on the big events you want to attend over the next few months, and buy early-bird tickets. Have a 3- or 4-month planner somewhere visible, and add these events (weddings, festivals, concerts, weekends away) to your calendar. You can see your upcoming fun at a glance and properly budget for each occasion. It means being less spontaneous for a while, but once you're up and running in super-saver mode you'll be able to make room and easily afford to be more spontaneous.
3. Shop where it's cheapest, not trendiest
So you may not be seen in the aisles of the most upmarket grocery store or the trendiest boutique – that's ok. If your weekly grocery shopping trip at your least favourite store saves you R145, then it's another R145 saved, not spent. Do a comparison and shop where you will save. If there's something that really makes you feel warm and fuzzy, treat yourself to this one thing, but for the rest you should shop cheaper.
4. Give the gift of time
Of course you want to give a decent gift when you arrive at the birthday celebration of someone you care about, but it doesn't have to set you back a few hundred rands every time. It's always the thought or time that goes into something that means the most, so rather than splashing out with your wallet, spend time thinking about what the most important things are in this person's life, and then create or find something inexpensive, but meaningful. Don't spend R40 on gift wrapping and then another R40 on a card. Rather make or print something yourself for an extra-special personal touch.
5. Socialise on a budget
This is perhaps the most potentially-awkward social aspect of saving, but spending less when you do go out will save you a lot of money in the long run. To start with, order cheaper options. For example, order local beer instead of expensive imports or craft beer; the second cheapest bottle of wine on the menu instead of the most expensive, cheaper meal choices, and so on. On top of that, make sure that you only pay for what you have. Don't agree to split an enormous bill equally when you've ordered frugally, and others are splashing out. Do tip fairly, but only pay for what you enjoyed. This might also mean not buying rounds when you're drinking a R23 beer and your friends are savouring whiskies at R50 each. To avoid any weirdness when the bill arrives, agree upfront on how to split at the end so that everyone knows what they're in for, especially you.
6. Value quality over trends and brands
Even if your best friend is sporting the latest designs from the most popular brands, resist the urge to spend money on brands just because they're the current trend. Rather buy items you really need and purchase the very best quality you can afford – that way you won't need to replace the item again in a year or two. Whenever you want to buy something, whether a book or a pair of boots, give yourself a purchase 'time-out'. Walk away and give yourself a few minutes (or even a few days) to think about whether you really need it. Our biggest fear when it comes to shopping is 'what if it's not here when I come back?'. Fight the feeling. If it's not there, then that's just too bad.
Forget about keeping up. Set your own pace and stick to your goal. You never know, you might serve as a saving inspiration to the people around you.
This article is not financial advice. Please consult with a financial adviser for financial advice.
Discovery Bank can help you become financially healthier
Wouldn't it be helpful to keep track of the money you spend and see whether you're meeting your savings goals? With Vitality Money, Discovery Bank's behaviour change programme, we'll help you understand your financial health and how to improve it. You'll get a full understanding of where you are financially and where you need to be. Then, you'll be guided on how to improve with a range of personal goals and tools to help you get there. Plus, you'll be rewarded along the way, like getting up to 75% off flights and cash back of up to 75% on HealthyFood.
Start your journey to a healthier financial future. Learn more about Discovery Bank.
Discovery Bank clients do not have to visit an ATM to draw cash too often as there are a number of easy and safe ways to pay with our banking app.
Shopping online – keep your money safe
In today's fast-paced, digital world, shopping online is not only easy, but also convenient. But how safe is your money and personal information really?
How to choose your passwords…and keep it safe
The first step in cyber security is to choose strong passwords. They protect your identity and your money, so you need to think about them carefully. Ideally, they shouldn't be written down and they need to be changed often and remembered.