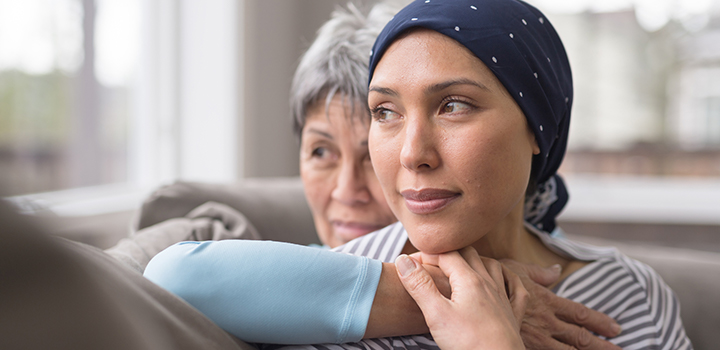 Finding your cancer voice is extremely empowering and will keep you in the know every step of the way. And if you're not getting all the answers you need, go for second, third or even fourth opinions until you do!
Although every cancer journey is unique, there is one common certainty that every cancer patient will discover: having had cancer, life will never be the same again. As tough as it is to be given a diagnosis, it's essential that you speak up for yourself right from the start, to help you to regain some form of control and to assist you in developing coping mechanisms for your new reality.
Professor Carol Ann Benn, a surgeon with a special interest in breast cancer, offers the following guidelines to finding your cancer V-O-O-I-C-E:
Verbalize: silence is not golden when you're confronted with a cancer diagnosis. Ask questions about your treatment options, the order of treatment, the experience of the specialist, and whether the specialist works in a multi-disciplinary team along with many independent specialists.
Questions to ask about your diagnosis:
What kind of cancer do I have?
Where is the cancer at the moment? Has it spread to other parts of my body?
How common is my cancer?
Are there any further tests that I need to have?
What will I experience when having the test/s?
Questions to ask about your prognosis:
How bad is this cancer and what is it going to mean for me?
How likely is it that the cancer will spread to other parts of my body?
What is the aim of surgery? Is it to cure the cancer, or to control it and manage symptoms?
What is the expected survival for people with my type of cancer?
Is the surgery going to improve my chance of survival?
Ownership: It's your body so it's important that you're involved in every aspect of your journey. Never be passive and allow others to make decisions for you – it's vital to remain actively involved.
Optimism. Cancer doesn't only just attack your body, it also attacks your mind. A positive attitude plays a vital role in every diagnosis. So, wake up each day bearing the 4 Ps in mind:
a Plan
a Positive attitude
Pride
and Peace of mind. Remember that, 'This too shall pass'.
Internet. The most accurate description of 'Dr Google' – heading to Google for medical information - is that it's a minefield of information and misinformation. There's a lot of good content out there but finding it is the hard part. So never get roped in by all the online 'medical doctors'. An important part of every diagnosis is the 'physical' which as the name implies requires an actual doctor's presence. The Internet is a place for sensational stories in a public forum, and the ones you find most easily are always the weird and wonderful tales. Remember that you are unique; your circumstances are unique and your story will be your own to write.
Conquer. Cancer is a battle. It's a war on a cellular level but it can be beaten! You have your allies (family and friends); you have your armies, (doctors and medicine) and by finding your cancer vice you'll know your enemy. Never forget that cancer can be conquered! Run like crazy from those incredibly insensitive people who tell you about their gran, auntie etc. dying of cancer during chemo; avoid all those know-it-alls who tell you about the latest cure, sprinkle spray, powder or poultice that cure all cancer (mysteriously there are no big international trials on these!) and always avoid people who ask with big eyes if you are in remission (life is remission!).
Energy: Don't let your life change! It's natural to want to curl into a ball and hide. But don't. Meet this hurdle by jumping higher than ever, to surpass it. There's good data to show that people who exercise have better long term results, and don't forget those mind-, body- and soul-boosting endorphins!
All medical information found on this website including content, graphics and images, is for educational and informational objectives only. Discovery Health publishes this content to help to empower cancer patients and their families by promoting a better understanding of a cancer diagnosis. The views expressed by all of the contributing healthcare providers are their independent, professional medical opinions, aimed at supporting patients. These views do not necessarily constitute the views of Discovery Health.
Severe illness can be life-changing. Discovery is here for you
At Discovery, we understand that an illness like cancer affects many aspects of your life. If you're a Discovery Health Medical Scheme member who is diagnosed with cancer, you are covered by a comprehensive Oncology Programme. You'll also have access to a palliative care programme, which offers unlimited cover for approved care at home.
To protect you financially, Discovery Life offers the best dread disease product in the market for cancer cover, as awarded by the Independent Clinical Oncology Network. Our award-winning LifeTime Max 200% Severe Illness Benefit offers coverage across the full spectrum of severities and coverage for remission of a cancer. Contact us to learn more.
The Discovery Health Medical Scheme is an independent non-profit entity governed by the Medical Schemes Act, and regulated by the Council for Medical Schemes. It is administered by a separate company, Discovery Health (Pty) Ltd, an authorised financial services provider.
The importance of support and how to ask for help
A cancer dignosis is a heavy load to bear alone which is why you need support to help you through it. Emotional support can not only help you to cope with a more positive outlook, but to better adjust to the changes cancer brings to your life.
Technology has become an integral part of our daily lives today with nearly everything you can think of having an app or gadget to make your life easier. Cancer, of course, is no exception.