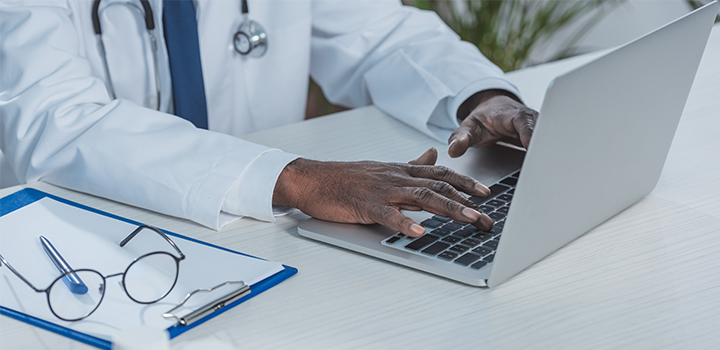 Veteran urology chief, Professor Shingai Mutambirwa is passionate about getting men to be proactive about their health, screen regularly to nip illness in the bud and to adopt healthy lifestyle habits.
"The most common, significant cancer in men in South Africa is prostate cancer which is generally not preventable but can be diagnosed early via a simple blood test and sometimes supplemented with a simple anal examination - the insertion of a gloved finger into the anus enabling a doctor to feel for an inflamed or enlarged prostate, which often indicates cancer," says Prof. Mutambirwa, Head of the Urology Department at George Mukhari Hospital in Ga-Rankuwa, northern Pretoria.
Listen to Prof. Mutambirwa share his experience in detecting male cancers early on here.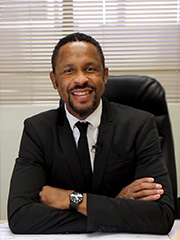 Veteran Urologist, Professor Shingai Mutambirwa is passionate about getting men healthier.
"For young guys, under age 20, the commonest cancer is leukaemia which often presents with vague symptoms like fatigue and an elevated temperature. Their care-givers, mainly their mothers, often get them diagnosed. Once older than 20 or 30, men are at risk of many more uncommon cancers and you need to regularly check your blood sugar levels and also check for any inflammation. In the age group 30 to 40 and onwards the commonest cancer in white males is testicular cancer, with black men having a high risk of colon cancer. Symptoms for colon cancer can again be very vague. So, if you have any funny changes in bowel habits around age 30 or so, you should immediately have them checked out," adds Prof. Mutambirwa.
"In the black population we actually see very little testicular cancer as they have a ten times lower risk of this than white men. In fact, in my 20 years as a urologist here at George Mukhari Hospital, (seeing mainly black patients), I've only encountered 30 or 40 testicular cancers, whereas my colleagues in hospitals that serve majority white patients may see that number in a single year. The cause may be genetic or linked to environmental risk factors. The pattern is the same the world over," he adds.
He stresses that penile and testicular cancers are far easier to pick up simply by self-examination or palpation, after which early treatment becomes viable. He also notes that where circumcision is done before puberty, this can prevent penile cancer - though exposure to sexually transmitted diseases such as Human Papillomavirus (HPV), can predispose men to penile cancer.
Screening tests key to preventing male cancers
"A lot of our pathology at our hospital is related to the socio-economic situation of our population. They come in late, lacking information and knowledge and so we see a lot of prostate and penile cancer," says Prof. Mutambirwa.
He knows first-hand that men simply don't take their health and preventative screening test as seriously as women. Up to 80% of males will wait for medical symptoms to become advanced before having them checked out. Guys are also more likely to take all manner of lifestyle risks from smoking and excess drinking to fast driving and risky sexual encounters.
"This has a lot to do with attitude – you know, even a guy on a high-end medical aid often doesn't act on sexual organ symptoms for reasons of pride or shame. If a man doesn't get treated early for penile cancer, his penis will wither away and he could lose his entire organ. They sometimes think they've contracted a sexually transmitted disease. Also, if prostate cancer is not picked up early and spreads, the main treatment is to get rid of the testicles because the main driver for metastatic prostate cancer is testosterone. So, regular check-ups are definitely worth having!" he adds.
HPV – nearly everyone has it
Prof. Mutambirwa flies a bright red flag around human papillomavirus, (HPV), a virus with subtypes that cause diseases in humans ranging from common warts to cervical cancer as well as head and neck cancers. "Almost everyone has it. It's the most common sexually transmitted disease. Both sexes can get genital warts which predispose them to cancer, but the risk via HPV for cervical cancer is far greater for females. In Africa it's up there with breast cancer in prevalence, unlike the rest of the world."
Lifestyle is key to preventing illness – even cancers - in men
Prof. Mutambirwa says men in South Africa (and elsewhere) commonly ignore regular check-ups and screening. This is a particular problem as many cancers have vague symptoms or are even asymptomatic until it's too late to treat them successfully.
Prof. Mutambirwa says that as men get older, their caregivers cease to have as much influence and they see their physicians five times less than women. Also, their life overall expectancy is seven years lower than women. He refers to the World Health Organization citing robust evidence from African studies revealing that notions of masculinity not only increase the risk of infection with HIV but also inhibit men from getting tested for HIV, coming to terms with their HIV positive status, taking instructions from nurses and engaging in health-enabling behaviours. Health Minister, Dr Aaron Motsoaledi has regularly bemoaned this, saying men only account for 30% of people testing for HIV in South Africa.
"When it comes to preventing illness in men, good lifestyle habits are fundamental," asserts Prof. Mutambirwa. "Men should remember that the most common cause of illness is a poor lifestyle. Exercise is key as it can decrease the risk of heart disease by 80% and cancer by 30%. There's no drug that can do that. Small changes in your lifestyle patterns and an emphasis on healthy choices can make a huge difference long-term," he emphasises. "Also remember; treatment is like running the Comrades Marathon – the fitter you come in the fitter you'll come out," he adds.
Men also needed to keep their calories down and ensure they are eating for their true energy needs, and if they are overeating, then work towards eating smaller portions and doing some exercise. High intensity exercise for a short time, every second or third day, can make a huge difference. Obesity can also lead to problems in the bedroom and that often gets patients in to see us."
The Discovery Health Medical Scheme is an independent non-profit entity governed by the Medical Schemes Act, and regulated by the Council for Medical Schemes. It is administered by a separate company, Discovery Health (Pty) Ltd, an authorised financial services provider.
What is holistic cancer survivorship care all about?
One of very few doctors of her kind in South Africa, "Survivorship Care" GP, Dr Inge Kriel, works at the Netcare Milpark Breast Care Centre of Excellence in Gauteng, set up and headed by breast cancer specialist surgeon, Professor Carol Benn.