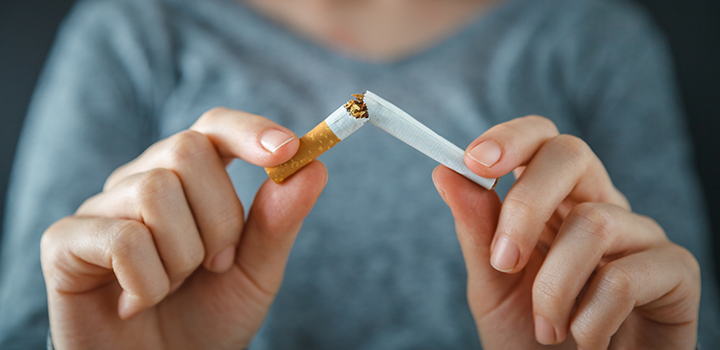 Tobacco-use is the single-most avoidable risk factor for cancer. The good news is that your lungs start recovering as soon as you kick the habit. Yet, tobacco-related diseases kill over 44 000 South Africans and 6 million people worldwide every year.
Smoking is a leading cause of cancer and cancer death. Studies show that smoking only 10 cigarettes a day doubles your risk of dying prematurely while smoking more than 25 increases your risk of dying four-fold compared to those who have never smoked.
Remember that all forms of tobacco are harmful and addictive. The International Agency for Research on Cancer confirms that there is no safe tobacco product and this includes smokeless tobacco (also called chewing tobacco, snuff, and snus), pipes, hookahs (waterpipes, also known as hubbly-bubbly or shisha). Some people believe that hookah smoking is less harmful and addictive than smoking cigarettes, but evidence (such as studies published in Paediatrics and the American Journal of Health Behaviour) suggest that waterpipe smoke is at least as toxic as cigarette smoke.
What impact does smoking have on the body?
Smokers are estimated to die an average of 10 years earlier than non-smokers because smoking harms every organ and system in your body. It causes cancers of the lung, oesophagus, larynx, mouth, throat, kidney, bladder, liver, pancreas, stomach, cervix, colon, and rectum, as well as acute myeloid leukaemia. In addition to cancer, smoking causes heart disease, stroke, aortic aneurysm, chronic obstructive pulmonary disease, bronchitis, emphysema, diabetes, osteoporosis, rheumatoid arthritis, age-related macular degeneration, cataracts and aggravates asthma. It contributes to infertility in women, and pregnant women who smoke are at higher risk of miscarriage, ectopic pregnancy, and premature birth, as well as giving birth to a low birth-weight baby. Smokers are at higher risk of developing pneumonia, TB, and other respiratory infections and this habit also causes inflammation and negatively impacts your immune function.
What's effect does second-hand smoke have on you?
A non-smoker sitting in a smoke-filled room for eight hours will breathe in as many cancer-causing chemicals as if he/she had smoked 36 cigarettes. We now know that passive smoke inhalation, or taking in second-hand smoke, poses similar risks to a person as does active smoking. The US Surgeon General estimates that living with a smoker increases your chances of developing lung cancer by 20 to 30%. Non-smokers who are exposed to second-hand smoke have a higher risk of obesity and diabetes and increase their risk of heart disease by 25 to 30%, according to the Surgeon General's report. Exposure to second-hand smoke also increases your risk of stroke by 20 to 30%, according to a report: The Health Consequences of Smoking - 50 Years of Progress from the National Centre for Chronic Disease Prevention and Health Promotion, Office on Smoking and Health.
Second-hand smoke is particularly dangerous to children because their bodies are still developing. In children, second-hand smoke can lead to ear infections, respiratory infections (e.g. bronchitis, pneumonia), respiratory symptoms (e.g. coughing, sneezing, shortness of breath), more frequent and severe asthma attacks and a higher risk for sudden infant death syndrome (SIDS).
Quit now for better health
As soon as you quit smoking, there are immediate and long-term health benefits, even if you already suffer from smoking-related health problems. The sooner you stop the more you benefit. Here's WebMD's timeline showing what happens to your body when you stop smoking
20 minutes after your last cigarette, your heart rate and blood pressure drop and your body temperature rises towards normal
8 hours after quitting, the level of carbon monoxide in your blood begins to decline (carbon monoxide reduces your blood's ability to carry oxygen), and your oxygen level rises to normal
24 hours after quitting: your nerve endings start to re-grow and your ability to smell and taste improves
Within a few weeks, your circulation improves, walking becomes easier, your lung function improves, you produce less phlegm and don't cough or wheeze as often
Within several months you can expect substantial improvements in lung function: less coughing, sinus congestion, fatigue and shortness of breath
After a year, your risk of coronary heart disease drops to half of that of a smoker
After 5 years your stroke risk is reduced to that of those who have never smoked
After 10 years your risk of lung cancer drops to half of that of smokers and your risk of other cancers decreases
After 15 years your risk of coronary heart disease is now similar to that of people who have never smoked and your risk of death returns to almost the level of people who have never smoked.
Long-term benefits of quitting tobacco
Data from the US National Health Interview Survey show that people who quit smoking, regardless of their age, are less likely to die from smoking-related illness than those who continue to smoke. Smokers who quit before the age of 40 reduced their chance of dying prematurely from smoking-related diseases by about 90%, and those who quit by age 45 to 54 reduced their chance of dying prematurely by about two-thirds, reported a New England Journal of Medicine review.
You can also expect to add a few years to your life when you stop smoking. Those who quit between the ages of 25 and 34 lived about 10 years longer; those who quit between ages 35 and 44 lived about 9 years longer, those who quit between ages 45 and 54 lived about 6 years longer and those who quit between ages 55 and 64 lived about 4 years longer (according to the NEJM study).
Quitting
Quitting successfully has a lot of do with understanding your reasons for starting and the triggers for maintaining the habit. These may be physical, psychological or habitual. There may be many factors that have produced a smoking habit. Among the strongest psychological triggers is stress. Often people who smoke need to find alternative ways to manage stress in a healthy way. Your trigger factors need to be addressed before you can effectively and permanently quit. Explore which cessation method suits you best and commit to following the steps.
Stop smoking today!
Earn up to 25% HealthyCare cash back when participating in the GoSmokeFree programme available through participating Clicks or Dis-Chem stores. Vitality members can still enjoy a saving of 80% off their Standard rate for participating in the Allen Carr's Easyway To Stop Smoking programme.
All medical information found on this website including content, graphics and images, is for educational and informational objectives only. Discovery Health publishes this content to help to empower cancer patients and their families by promoting a better understanding of a cancer diagnosis. The views expressed by all of the contributing healthcare providers are their independent, professional medical opinions, aimed at supporting patients. These views do not necessarily constitute the views of Discovery Health.
Severe illness can be life-changing. Discovery is here for you
At Discovery, we understand that an illness like cancer affects many aspects of your life. If you're a Discovery Health Medical Scheme member who is diagnosed with cancer, you are covered by a comprehensive Oncology Programme. You'll also have access to a palliative care programme, which offers unlimited cover for approved care at home.
To protect you financially, Discovery Life offers the best dread disease product in the market for cancer cover, as awarded by the Independent Clinical Oncology Network. Our award-winning LifeTime Max 200% Severe Illness Benefit offers coverage across the full spectrum of severities and coverage for remission of a cancer. Contact us to learn more.
The Discovery Health Medical Scheme is an independent non-profit entity governed by the Medical Schemes Act, and regulated by the Council for Medical Schemes. It is administered by a separate company, Discovery Health (Pty) Ltd, an authorised financial services provider.
Cancer: the complex world of a life-changing illness
Cancer is a complex, life-changing illness affecting millions of people around the world. Being diagnosed is a devastating blow that signals the start of an extremely challenging journey and the best way to navigate it is to ensure you're well informed.
Common cancer myths and misconceptions
There's so much misinformation out there about cancer and cancer prevention that it's easy to feel overwhelmed when it comes to making healthy lifestyle choices. We've separated the facts from fiction here to assist with your risk-reducing decisions.
What you need to know about cancer risk factors
While some cancers aren't preventable, certain factors may increase your risk of developing the disease. Knowing these factors can help you to make wise lifestyle choices that boost your health and protect against illness.