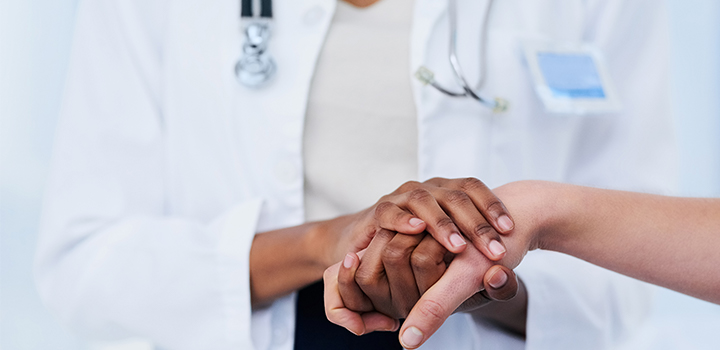 Sister Nonhlanhla Duba has spent decades learning what it means to give patients the best possible care and support. Her vast expertise means she is ideally placed to give input to patients on all manner of challenges that are unique to the cancer journey.
Listen to our podcast on emotional support for people affected by cancer, for a fascinating discussion between Nonhlanhla Duba and Norma Moller (a cancer survivor and counselling psychologist) here.
Nonhlanhla, aged 62, is married to Daniel, a retired life insurance manager and is mother to 28-year-old son, Luvuyo. She is the daughter of a domestic worker who later became a self-taught expert seamstress. Nonhlanhla matriculated during the 1976 Soweto schools' uprising, a seminal achievement. She was denied a career as a social worker by her family's meagre income and chose nursing, training initially at the Natalspruit Hospital near Katlehong in the East Rand. "In my time, nursing and teaching were the two professions black people could get into," she says. "I was drawn to people. I moved between the radiotherapy department and chemotherapy wards. I fell in love with the profession and I gained qualifications. There was the satisfaction of helping and training other people and dispelling patient myths about cancer and the connotations of death it evokes."
Sister Nonhlanhla Duba, CANSA's Clinical Health Specialist.
Later qualifying in oncology nursing science, she studied part-time through UNISA, securing a BA Cur Nursing Science degree in 1990 and specialising in hospital management and community health nursing while working at the Hillbrow Hospital. In 1994 she gained a nursing education qualification from the University of the Witwatersrand. She later added a business management degree to her qualifications.
"In 1997 during the height of the HIV pandemic, Professor Selma Browde, (a health activist and Radiation Oncologist who founded the Palliative Medicine Institute under the Wits Health Consortium), asked me to join her on the nursing education side. Already with some experience of palliative care, I finally got the formal palliative care training I needed and began teaching nurses and doctors. I was based at the Chris Hani-Baragwanath Nursing College, and taught with the objective of integrating palliative care into the mainstream of medical care through undergraduate training," she adds.
Between 1998 to 2003, HIV/AIDS threatened to collapse the healthcare system, coming as it did on top of an already-heavy disease burden. AIDS patients were being discharged to go home and die. Nonhlanhla began training, mentoring and coaching the community healthcare worker cohort, spending much of her time in the field of supervising other nurses and even counselling herself. The healthcare crisis was gradually alleviated from April 2004 when life-saving antiretroviral drugs were introduced.
The Discovery Health Medical Scheme is an independent non-profit entity governed by the Medical Schemes Act, and regulated by the Council for Medical Schemes. It is administered by a separate company, Discovery Health (Pty) Ltd, an authorised financial services provider.
On cancer treatment? Here's how to exercise safely
If you're currently a cancer patient, regular weekly exercise will help you live longer, and if you're a cancer survivor, it will help prevent a recurrence of the disease. In both cases, getting active each week will improve your quality of life.
Not active? It's not too late, says a new cancer study
A new study has found just how much longer cancer patients who engage in regular physical activity can live. Whether you're currently a patient, you're in remission or you want to lower your risk of ever getting cancer, exercise can help you.
Coping with side effects from chemotherapy
One of the most difficult parts of dealing with chemotherapy is how to cope with the varying side effects that occur when the treatment affects the healthy cells in your body.