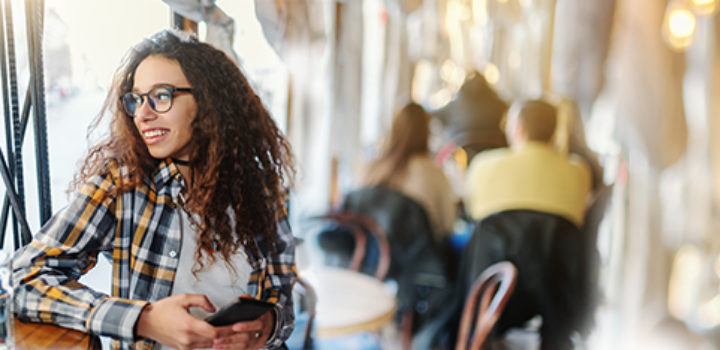 Transacting from your mobile device can be tricky, but when used on a secure connection, the Discovery Bank app has built-in safety features which maximise safe banking.
Banking on an app can be one of the safest ways to do it, because you have control of your transactions in real-time, in your hands. This means you always know what's happening on your account, as it happens, and you can update your settings as and when you need to. For example, you can temporarily increase your cash withdrawal limit or online purchase limit. But there is state-of-the art technology behind the app, too. Along with powerful encryption and fraud detection, you're protected by these advanced security features on the Discovery Bank app:
Hassle-free secure registration which can use your barcoded ID, Smart ID or driver's licence as verification.
A digital ID that gives you one secure log on for all Discovery platforms.
Multifactor authentication means we'll identify you using your biometrics,for example your fingerprint or facial recognition, and as a back-up will ask you to put in a One-Time PIN, while you're transacting, just to be sure your account has not been compromised.
Security self-service means whatever safety nets you have in place on your device, such as password storage, antivirus and backups, can be used with the app.
In app secure messaging between you and the bank means your conversations are 100% safe.
A secure inbox with enhanced encryption safely stores your documents, statements, letters, etc.
Your security and the privacy of your personal information are our priority. If you suspect irregular activity on your Discovery Bank account, please call our Fraud team on +27 11 324 4444.
It's time to bank healthier
Discovery Bank is the world's first behavioural bank. Our main goal is to improve your financial health by helping change how you work with your money. Through Vitality Money, you'll learn more about what it means to be financially healthy and you'll get rewarded for managing your money well. Track your progress easily on our app and steadily improve your Vitality Money status. You'll get rewarded as you get financially healthier. How much you get out is up to you.
Join the world's first behavioural bank that motivates and rewards you for banking well.
Discovery Bank clients do not have to visit an ATM to draw cash too often as there are a number of easy and safe ways to pay with our banking app.
Shopping online – keep your money safe
In today's fast-paced, digital world, shopping online is not only easy, but also convenient. But how safe is your money and personal information really?
How to choose your passwords…and keep it safe
The first step in cyber security is to choose strong passwords. They protect your identity and your money, so you need to think about them carefully. Ideally, they shouldn't be written down and they need to be changed often and remembered.