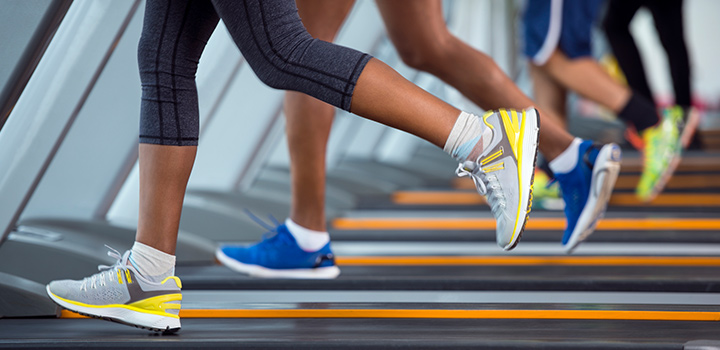 We can all think of a reason why we just can't fit a workout in today. But understanding how we justify it can help to break down barriers to exercise. Here we list some common excuses for avoiding exercise, and tips to get you going.
The benefits of physical activity are well-known: it can prevent a host of diseases, strengthen your body and lift your mood. Yet at the moment of truth, why do we so often still reach for the TV remote rather than a pair of trainers? We all have reasons why we can't exercise today - ones which seem relevant and valid! But, once analysed, these perceived barriers to exercise can be overcome.
Here are some of the most common reasons we give ourselves to avoid exercise, and Discovery' tips to get you into action.
#1. I'm too busy (Perceived barrier - lack of time)
Tips to overcome
Rather than devoting an entire morning, afternoon or evening to exercise, get in small chunks of physical activity during the day. Schedule 5 to 15-minute exercise sessions into your diary and give them high priority, as you would something like brushing your teeth.
Help from Vitality
With Vitality Active Rewards, you can use a Vitality-linked fitness device or app to earn points for any kind of activity you do in a day - it all adds up!
#2. I'm too tired (Perceived barrier - fatigue)
Tips to overcome
Remember that rather than draining your strength, exercise increases your stamina to give you more energy. If you feel tired in the evenings after a busy day, try to exercise in the morning or over lunch breaks, or at a more moderate intensity.
Help from Vitality
Fight energy dips with regular small meals, and pair healthy foods that release energy slowly. For example, whole grains eaten with protein can help prolong an energy high. Plus, you can get up to 25% cash back on HealthyFood items with Vitality.
#3. I'll hurt myself (Perceived barrier - fear of injury)
Tips to overcome
Get advice from a biokineticist or another healthcare professional when choosing an exercise programme.
Help from Vitality
Vitality members earn 1 000 points for their first visit to a biokineticist in the Vitality Wellness Network each year. The more points, the higher your Vitality status and the bigger your rewards!
#4. I look terrible in Lycra (Perceived barrier - being overly self-conscious)
Tips to overcome
Just wear any clothing that makes you feel comfortable. Sportswear that you like can help, but don't forget, most people are far more concerned about their own looks than with yours!
Help from Vitality
Get up to 25% cash back on snazzy new sportswear at Sportsmans Warehouse and Totalsports with Vitality's HealthyGear benefit.
#5. I can't afford it (Perceived barrier - cost)
Tips to overcome
You don't need to purchase expensive equipment or a gym membership to become physically active. The only thing that's truly necessary is a good pair of training shoes.
Help from Vitality
With Vitality Active Rewards Shoe Booster, you can get up to 100% cash back on a brand new pair of running shoes ? so there?s no reason not to get started today!
How many times have you told yourself you were going to start exercising?
A significant quality that sets us humans apart from animals is the ability to trick ourselves. That's what usually happens when we want to justify an inactive lifestyle. As author Brian Tracy once said," "You can make excuses, or you can make progress," so pick yourself up and make a healthy choice today!
Wayde van Niekerk sprinted to a world first and new SA record of 19.84 seconds in the 200m half-lap in Jamaica. We celebrate his extraordinary 19-second (or so) achievement with 19 key insights shared during our most recent interview with him.
AVOID TEMPTATION WHEN EATING OUT
Ever scan a menu and visualise all your good intentions of sticking to a healthy diet fly out the window? We?ve come up with seven handy ways to stay on track when temptation abounds.
SWEAT, BUT NOT THE SMALL STUFF
While some people claim to be immune to stress, it is a normative condition. Without it, humans would not thrive or succeed in life. Dr Craig Nossel, Head of Vitality Wellness: The Sunday Times, 25 June 2017