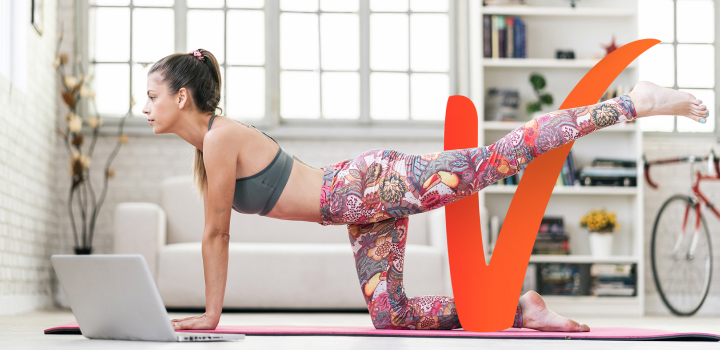 To help support our president's call for our nation to
stay home

, we will be making adjustments to our wellness programme to encourage you to stay healthy and keep you rewarded while at home.
Vitality brings you #VitalityAtHome so you can continue with your fitness and nutrition goals. We are pulling out all the stops and helping you stay healthy and rewarded over the next 21 days. Vitality at Home enables you to challenge yourself to be active, eat healthily and take care of your mental wellbeing, and supports you with double cash back and discounts on our rewards.
How to stay healthy with Vitality at Home
To start off, we have dropped the Vitality Active Rewards weekly maximum goal to a maximum of 300 points (instead of the original 700 points we previously communicated) for all members. To help achieve your goals, we have also introduced a digital Vitality Home-Workout channel with a daily schedule of high-intensity workouts, yoga, surprise fitness challenges and more. These will be free to all South Africans and available at home through the Vitality section on Discovery's website and social media channels from Monday, 30 March 2020.
Keep in mind, you can earn 50 Vitality fitness points for tracking between 5 000 and 9 999 steps a day or 100 points for tracking 10 000 or more steps a day on your fitness tracker or smartphone. Just link your Apple Health app or Samsung Health app to Discovery. Because the lockdown rules prevent our retail fitness partners from operating, we have had to cancel our previously communicated fitness device special offer.
There are still many other ways one can achieve your weekly goals:
Wake up to a FREE, high-intensity workout starting at 08:00 every morning with Johno's eFitness Faculty powered by Vitality, and come back every day at 14:00 for a tailored fitness programme just for kids.
We have created a daily multi-slot Vitality Home Workout channel that can be accessed across our digital channels on YouTube, Facebook, Twitter and Instagram. Expect up to four FREE specialised fitness training sessions to be shared daily, including tutorials from Vitality Ambassadors Caster Semenya, Wayde van Niekerk, Chad le Clos and Lucas Radebe for #fitspiration, along with Virgin Active's top instructors.
Can't get enough? Look out for our live Facebook Q&A sessions with the Vitality wellness team – dietician Terry Harris, biokineticist Mari Leach and Dr Seranne Motilal – on how to stay healthy and happy at home.
Become the master of your own kitchen
With meals needing to be prepared at home for these 21 days, it's important to eat healthily. You can get double your regular cash back over the stay at home period on HealthyFood at Pick n Pay or Woolworths with the Vitality HealthyFood benefit. Vitality members can get up to 50% back, and Discovery Bank clients will be able to get up to 100% back on healthy food items. Vitality members will also get a free Pick n Pay delivery voucher to use on their next Pick n Pay online shopping. The voucher is valid until 30 April 2020.
Vitality HealthyFood Studio Executive Chef Dereck Nair will be providing biweekly online masterclasses on the Vitality Home-Cooking channel and guest celebrity chefs cooking demos to share inspiration for healthy meals that are easy for families to cook together. You'll also get regular nutrition advice from Vitality dietitian Terry Harris and healthy recipes from the Vitality HealthyFood Studio.
Earn boosted rewards at home
Enjoy great discounts on select Vitality Active Rewards online shopping and home entertainment rewards. You can now watch BoxOffice and Netflix movies for fewer Discovery Miles. What's more, we've just added Sony PlayStation Store and Steam vouchers to our rewards partners. Game on!
Practising social distancing comes with its own personal care needs, so we're also giving you double your HealthyCare rewards on essentials, including items to help you stop smoking. Vitality members get up to 50% back on all HealthyCare items from our partners Clicks or Dis-Chem during the stay at home period.
Staying at home means more time with your kids. To ease with home schooling, get free access to customised digital learning support for Grades 4 to 12 from MyTopDog. Look out for more details in the upcoming newsletter.
Given the current context, Vitality has paused all physical health and fitness checks. However, you can still earn Vitality points by going online to find out your Vitality Age. Plus, kids can complete an online Vitality Kids Health Review.
Paying it forward
Next week, Vitality members with Vitality Active Rewards can donate their Discovery Miles to two new Vitality MoveToGive campaigns to curb the spread of COVID-19 in areas without adequate access to sanitation, and to support needy communities with food. To donate, you can select MoveToGive as your reward on the Discovery app. You can choose to donate to UNICEF's 'Little Hands Matter initiative' to help build handwashing stations in South Africa's informal settlements, or to FoodForward SA to help feed children, the elderly, or people living with HIV/AIDS who are in need. The Discovery Fund has committed to match all member donations towards these campaigns.
For more information around COVID-19, please visit Discovery COVID-19 information hub. Follow us on Facebook and Twitter for the latest info on #VitalityAtHome
If you have any questions during this time, please contact us.
Stay home. Stay healthy. Stay rewarded. #VitalityAtHome