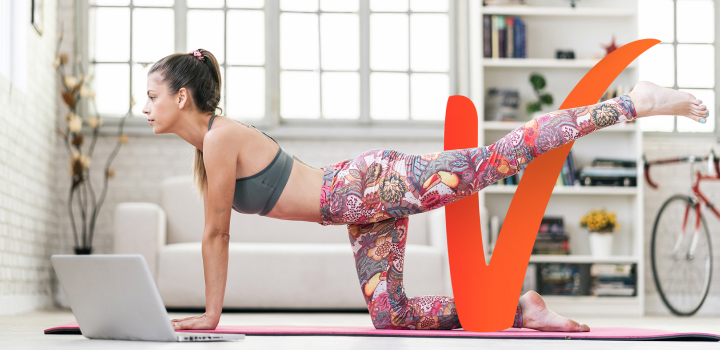 Regardless of the lockdown level, we're here to keep you healthy and rewarded with Vitality at Home
With the adjusted Level 3 lockdown you can still remain healthy and rewarded, as gyms, restaurants, cinemas and travel restrictions ease. We've got you covered with the following updates while we are in lockdown level 3. Plus don't forget to visit Vitality at Home for expert advice and tips on how to stay physically and mentally well amidst the pandemic.
Vitality Active Rewards goals capped at 600 Vitality points
In line with current level 3 lockdown restrictions, Vitality Active Rewards exercise goals will slowly start to return to a maximum of 600 Vitality points. This increase will start from Saturday 31 July 2021.
Online workouts and the gyms
The gyms are open, but you can still visit the Vitality Home-Workout channel or your online gym partners to earn Vitality points for doing online workouts. Plus, we will continue to top up your gym visit so that you continue to maintain your current discount.
Keep tracking your workouts to earn Vitality points
You can continue to earn points for working out with your Vitality linked-fitness device, or tracking 10 000 steps on your smart phone.
Don't forget, you can also use the new Vitality Active Gear benefit to save up to 75% on a fitness device should you want to start earning up to 300 Vitality points for your workouts when tracking your heart rate. You can get a NEW fitness device online from Sportsmans Warehouse or Totalsports.
HealthyDining and the HealthyFood Studio
You can still get up to 25% back on healthier meal choices with HealthyDining Please do support our partner stores, restaurants and Uber Eats.
The HealthyFood Studio is open and ready to host you once again. Book a class online and join us at 1 Discovery Place in Sandton. Choose from a range of seasonal, inspirational healthy cooking classes, from spring curries and Asian cuisine to healthy kids' cooking classes and more. Book your class today.
Travel and entertainment
Please contact the specific airline, hotel or car hire company directly to discuss your bookings.
Most importantly, stay safe
Continue to wear a mask that covers your nose and mouth, and wash your hands. Practice social distancing and avoid gatherings. If you, or any of your loved ones, are eligible for the COVID-19 vaccine, register now.