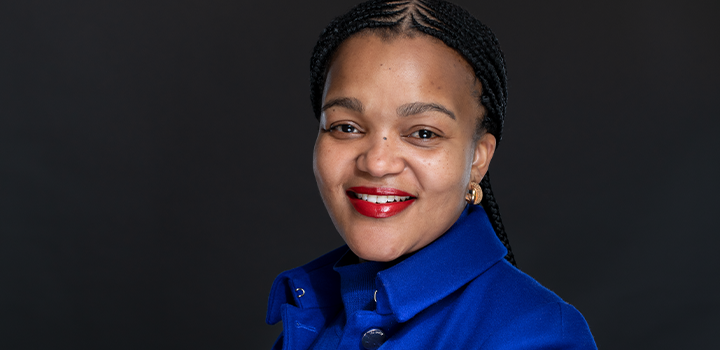 Obstetrician and gynaecologist Dr Patricia Sebola initially self-funded her studies, but with her 2019 Discovery Foundation Sub-Specialist Award, she can sub-specialise in maternal and foetal medicine at the University of Pretoria in two years instead of four.
Were it not for her determination to sub-specialise in maternal and foetal medicine against major odds, Pretoria-based obstetrician and gynaecologist Dr Patricia Sebola's newly acquired scarce skills would have been lost to the healthcare sector. She is now doing her two-year training, rotating between Tembisa, Kalafong and Steve Biko Academic hospitals.
The world needs more sub-specialists
The South African healthcare sector is experiencing a critical shortage of healthcare resources. The Discovery Foundation aims to address the shortfall by providing funding and support to develop and train more healthcare workers. One of its objectives is to increase the number of medical specialists and sub-specialist in rural and urban areas.
Dr Sebola's new sub-specialisation in maternal and foetal medicine answers the call of the third UN sustainable development goal – to make people healthy and promote wellbeing for everyone at all ages.
By 2030, to reduce the global maternal mortality rate to less than 70 in 100 000 live births.
By 2030, to end preventable deaths of newborns and children under five years old.
Determined to sub-specialise in mother and child health
Dr Sebola is a mother of three young children. She began her initially self-funded sub-specialist training in October 2018. After deciding she needed to differentiate herself as part of her academic growth, she applied to the Gauteng provincial health department for an unpaid fellowship post. In December 2018, she felt relieved when her application for a Discovery Foundation Sub-Specialist Award was successful. She now divides her days between the Netcare Pretoria East Hospital where she has worked as an obstetrician and gynaecologist since 2013, and her state sub-specialty training duties.
Thanks to the Discovery Foundation funding, she could convert her post from four years to two years. For Dr Sebola, each week day begins early in the morning with academic reading or preparing for cases.
"I try to go to bed by 21:00. I also do overnight hospital calls for two week days a month, so weekends are precious times to spend with the family," she says. Her working day at the state hospitals usually ends at 13:00 before she drives to her private practice in Pretoria East, which is luckily close to her home.
Dr Sebola and her younger brother grew up in Phalaborwa, Limpopo, with their nursing sister mother and businessperson father. Her early education started in Rethabile Primary School in Namakgale informal settlement. She then attended the large Frans du Toit High School from 1993 with two other black children. "I have good memories of the education, but not the social part. Some of the schoolchildren were mean. The kind of thing that wouldn't survive in this day and age," she says.
Dr Sebola studied medicine at the University of Pretoria, where she later specialised, and became one of the first black doctors at Netcare Pretoria East Hospital.
Choosing posts by heart
Dr Sebola did her internship and community service at the Polokwane Mankweng Academic Hospital Complex in Limpopo where she continued as a medical officer. She stayed on at the hospital because she loved working in the department of obstetrics and gynaecology, having fallen in love with the world of mothers and babies as an intern.
"Looking after pregnant women and bringing life into the world is a miracle of creation. I remember reading for the first time how a human being gets formed. I found it miraculous, God's work," she says.
Her biggest dream, she says without hesitating, is to "fully capacitate state hospitals. If we could just manage our state hospitals properly. I'd also love not to worry about resources and doctors being unable to get jobs. I never thought in a million years that a doctor or specialist would struggle to find a job."
And in her personal life? "I try and do something with my kids every weekend. It's not an easy task but I find a balance between studying, resting and spending time with the family."
About the Discovery Foundation
Since 2006, the Discovery Foundation has invested over R256 million in grants to support academic medicine through research, development and training medical specialists in South Africa.
The Discovery Foundation is an independent trust with a clear focus – to strengthen the healthcare system – by making sure that more people have access to specialised healthcare services. Each year, the Discovery Foundation gives five different awards to outstanding individual and institutional awardees in the public healthcare sector.

Hlokomela Women's Clinic – a safe haven for women
Where do rural women go when they need a pap smear, a mammogram, or suspect they may have breast cancer? In the town of Hoedspruit in Limpopo, they go to the Hlokomela Women's Clinic, where professional nurse Sonja Botha welcomes them with open arms.