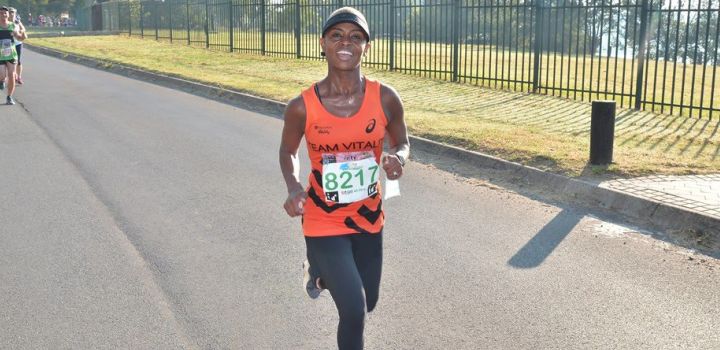 ASICS has chosen one Team Vitality member, Khomotso Mokgonyana, to be its next FrontRunner. We chatted to the avid runner about what winning the prize means to her.
ASICS has chosen one Team Vitality member, Khomotso Mokgonyana, to be its next FrontRunner. We chatted to the avid runner about what winning the prize means to her.
"Being an ASICS FrontRunner is a dream. It's a big honour and privilege to be an ambassador for such a global brand and to be part of the ASICS family," Khomotso said. "I am a movement addict and as FrontRunner, I will have a broader platform to support, motivate and inspire more people to start running and exercising."
Earlier this year, ASICS announced that the brand is looking for 120 new members to join its national teams all over the world. As a FrontRunner, Khomotso will be part of a global team with more than 700 members in over 30 countries.
"I am looking forward to being part of this diverse community and meeting other FrontRunners, both local and international, and share their knowledge, training and interests." Khomotso shared what went through her head when she heard the news that she had won the competition: "Excitement does not even begin to express the way I felt. I was ecstatic, I still am. I felt like wearing my running shoes and going for a celebratory run."
Running has been a huge part of Khomotso's life for a very long time. She explains how she fell in love with running again after taking a hiatus: "I used to run back in school but when I started a family and work, I stopped. A friend tried to get me running a few years back but I thought my children were still too young to catch up with me. Towards the end of 2017, another friend asked me to run with her for fitness and I was on the road. My first race was in June 2018. It was not planned and I had an injury but I fell in love with running on another level after that race. That's when I really started running."
Now there's no stopping her. "I love running because it makes me feel completely empowered, liberated and happy," she said. "Running helps me focus in all the aspects of my life. I can think and put things into perspective while running."
Khomotso usually runs in the afternoon and she loves exploring new places to run. "I can run anywhere in the world," she says. "I am always looking forward to discover new routes and places. One of the things I am planning to do is travel and run. That will be a dream."
When it comes to running, she enjoys a mix of solo and group running activities. "Solo runs allow me to just run, be adventurous and play with my pace, routes, times and distance. It allows me focus on myself and to do training that works for me and doesn't compromise my workout. I can also find some peace and time to myself," she said. "However, group runs are sociable and enjoyable. They are powerful and a game changer. They help me find new ways of training that intensify my level of performance."
Khomotso explains why she loves being a member of Team Vitality. "I enjoy the benefits and the support I get from the team. Team Vitality basically inspires me to keep moving – the points system, the VIP hospitality at races, the cash back and many more healthy benefits I get through being part of this dynamic team. I look forward to wearing that vest almost every Sunday."
Get up to 75% cash back on your Vitality-linked heart rate fitness device
Achieve your monthly Vitality Active Rewards goals to get cash back on a brand new fitness device. Activate Device Booster and get up to 75% total cash back on your qualifying heart rate fitness device purchased from your preferred HealthyGear partner: Sportsmans Warehouse or Totalsports.
Couch potato to marathon runner and MND fundraiser
Running helped Illona Meyer, 27, reclaim her life when her mother Chamara Meyer passed away from Motor Neuron Disease (MND) in June 2017. Today Illona is on the verge of becoming a multiple marathon runner and is raising funds for victims of MND.
Catapult your cycling with 3 simple exercises
Want to take your cycling to the next level this year? Instead of spending more hours training in the saddle, achieve the endurance you need by strengthening your core muscles. Here's how.