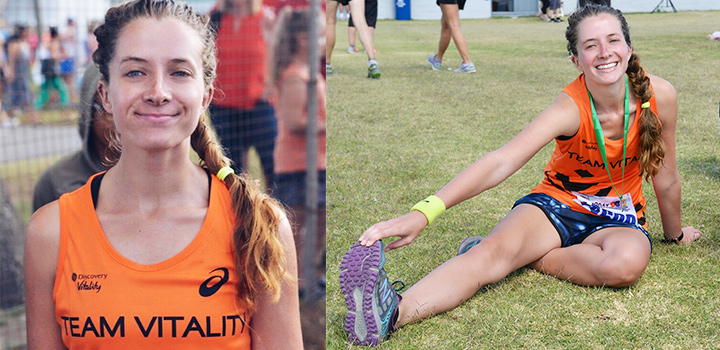 Team Vitality member Illona Meyer went from zero exercise to completing marathons in six months. Her running has helped her through the grief of losing her mother, Chamara Meyer, to Motor Neuron Disease (MND) in June 2017, and inspired her to run for a purpose: raise funds for others diagnosed with MND.
Illona shares six tips to help you off the couch and working towards your fitness goals:
Level up with interval training: when you are starting out, it can be difficult to do a consistent run of 30 to 45 minutes. Sure, you can push yourself through a quick 5km, but you'll likely end up hunched over the nearest couch. Instead, start by running for 2 minutes and then walking for 1 minute. Repeat this pattern several times. Decrease your walking intervals and increase your running intervals (as well as your overall time spent training) as you get fitter.
Strengthen your core: you need to be doing abdominal work at least twice a week. Core strength helps with your training - including running.
Get some gains: still on the topic of complementary training, it is vital to do resistance training to strengthen and support your muscles and joints. For runners, you should particularly focus on the muscles that support your knees - your quadriceps and hamstrings. And, if you're trying to lose weight, increased muscle mass burns more calories!
Yoga: not only Is yoga good for relaxation and meditation, it is also an excellent way of stretching out your tired muscles after a long training week. If you are new to yoga, look for a 'Hatha' class. 'Ashtanga' and 'Iyengar' are a bit more strenuous and not as beginner-friendly.
Join the club: joining a running (and cycling) club, such as Team Vitality, is required by Athletics South Africa for marathons, and is more affordable than buying a temporary license every time you want to run a half marathon or 10km. Plus, running is a hugely social sport, and race day support is invaluable. You can use your weekly parkruns to get ready for your races.
Float like a butterfly, eat like a caterpillar: One reward for training hard, aside from increased fitness and wellbeing, is that you can eat healthier food. It is important to ensure that you take in a good complex of carbohydrates a few hours before and something high in protein within half an hour after training.
To learn more about how Illona went from not exercising to running a marathon in six months, click here.
Are you a runinng enthusiast, or keen to become one?
Team Vitality is South Africa's most popular running and cycling club, and it can help you get fit, save money and connect with like-minded people. Join Team Vitality and get up to 50% cash back on registration entry fees for selected events.

You'll also receive a great Team Vitality starter pack with race gear and vouchers worth over R1 000. Plus you'll have access to our VIP hospitality at certain events on the Team Vitality race calendar!
Great minds... run alike! How 3 members are championing parkruns
Invigorating, addictive and healthy, parkruns have taken South Africa by storm. Best of all, these outdoor events take place weekly, so act as a regular prompt to integrate fitness into your lifestyle. Thousands of people take part in parkruns, but three passionate Vitality members stand out.
How to become a morning exercise person
You don't have to catch worms to enjoy the merits of being an early bird. Exercising in the mornings has many advantages, so it's worth rearranging your daily schedule to fit it in. Here's why and how to give it a go.