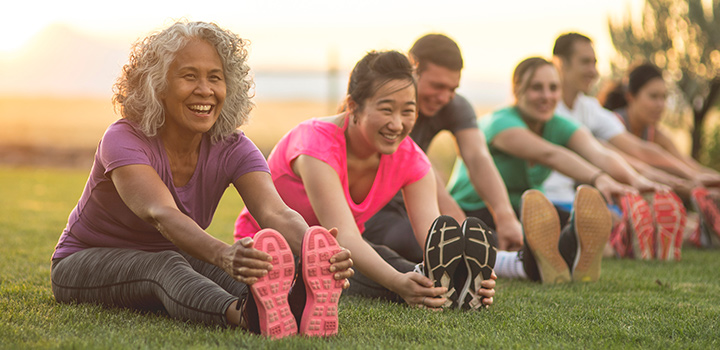 "As soon as I ran it I saw the magic" - Bruce Fordyce reflects on the tremendous success of parkrun.
parkrun South Africa is set to hit a monumental milestone – one million registered runners. It could be you!
Bruce Fordyce, parkrun South Africa CEO and nine-time Comrades Marathon champion, ascribes the success of parkrun to its accessibility. "It's all-encompassing; it really is a run or a walk for people of all abilities," he says.
Fordyce started parkrun SA in 2011, after his friend Paul Sitton-Hewitt invited him to run a parkrun in Bushy Park, London. "As soon as I ran it I saw the magic," Fordyce says.
From 26 to one million runners
"We just had no idea what it would become," he reflects on the first-ever South African parkrun which took place in Delta Park, Johannesburg, in November 2011. "There were 26 people who arrived to run and a handful of about four or five volunteers who did the scanning, the timing and the marshalling."
"It has been mind-bogglingly exciting and so rewarding," Fordyce says of his job as parkrun SA CEO. "When you think we had 26 people and this week we will have 1 million people who've registered for parkrun - and we're only seven-and-a-quarter-years old. What will we be when we're a teenager? How big will we be when we turn 21?"
Why is parkrun so popular?
Fordyce explains that 5 km is a distance that most people can do. "If you're unfit you can walk 5 km and if you're an elite athlete you can use it as a very good fast training run," he says. "Then of course, it's free! And if you're a Vitality member you get your 300 points, so that is without a doubt a lure for a lot of people to come along and have a run and get points."
In June this year, Discovery Vitality will celebrate six years of partnering with parkrun to help Vitality members get more active and healthier. Fordyce says that people also like to measure their performance using parkrun's intricate statistics system. Runners can view their course record, age group percentage and accumulate parkruns to reach milestones. "We already have three or four people in SA heading boldly to 500 parkruns," he exclaims.
parkrun is about community
Fordyce says he realised early on that parkrun is not just about the exercise. "It has much more to do with community, wellbeing and people getting together and looking forward to seeing each other on a Saturday morning," he says. "Every single Saturday we will have photographs of South Africans hugging each other, South Africans laughing together, of all colours, all creeds, all ages," he says. "parkrun is doing an amazing job of bringing people together."
Fordyce reflects on the road so far: "I think the most rewarding part of the journey is when a total stranger comes up to you, hugs you and says 'thank you for parkrun, you've changed my life'. There's no amount of money that can buy that."
Getting the continent buzzing on parkrun
Last Saturday, Fordyce launched another parkrun in Graaff-Reinet and next week, he will take parkrun to Louis Trichardt in Limpopo and Meyer's Farm in the south of Johannesburg. "I'm going to Louis Trichardt on Saturday to run their inaugural parkrun and it will be wonderful to see that part of the country and to meet new parkrun people." He also plans to run a parkrun in Moscow, Russia, in July this year. "It's part of the addiction, you see."
What's next for parkrun? "To keep on going, to get to 200 venues, which will come fairly soon, and to aim for 300 and then when the time is right to look at moving up into Africa. It would be extremely exciting to get the whole continent buzzing on parkrun."
Get up to 75% cash back on your Vitality-linked heart rate fitness device
Achieve your monthly Vitality Active Rewards goals to get cash back on a brand new fitness device. Activate Device Booster and get up to 75% total cash back on your qualifying heart rate fitness device purchased from your preferred HealthyGear partner: Sportsmans Warehouse or Totalsports.
Zero exercise to running marathons: Illona shares her six top tips
Team Vitality member Illona Meyer went from zero exercise to completing marathons in six months. Her running has helped her through the grief of losing her mother, Chamara Meyer, to Motor Neuron Disease (MND) in June 2017, and inspired her to run for a purpose: raise funds for others diagnosed with MND.
Catapult your cycling with 3 simple exercises
Want to take your cycling to the next level this year? Instead of spending more hours training in the saddle, achieve the endurance you need by strengthening your core muscles. Here's how.