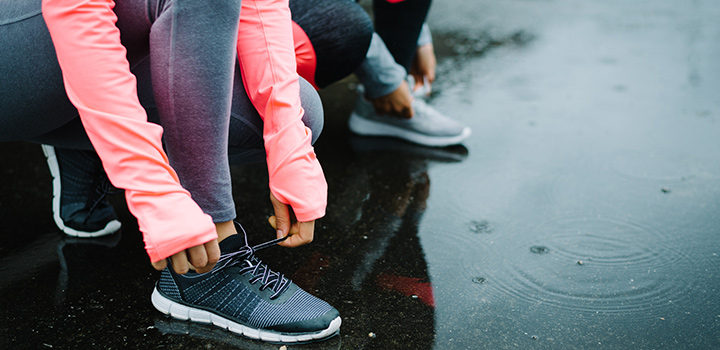 Humans are made to move. Our bodies are hard-wired to be active and fluid. This explains why we feel so triumphant after a 5am run, even if we were tempted to rather sleep in. We have more energy, we may lose some unwanted weight and even our mood improves.
According to Prof Martin Schwellnus, Director of the Institute for Sport, Exercise Medicine and Lifestyle Research at the University of Pretoria, humans are genetically programmed to be physically active every day. "If we don't stay active, we quickly feel the detrimental effects on our overall health and physiology. The benefits of physical activity in the scientific and medical literature are at this point absolutely undisputed as a vital component of health," he says.
But winter has a way of messing with our plans to stick to an exercise routine, especially if it involves exercising outside. Discovery Vitality, South Africa's leading wellness programme, typically sees a drop of 9% in gym visits during winter. Craig Nossel, Head of Wellness at Discovery Vitality remarks, "Winter makes it understandably harder to keep to an exercise programme. But it is so important to stick to it. Globally, one in four adults is not active enough and more than 80% of the world's adolescent population is insufficiently physically active. Multiple studies, including the World Health Organisation's fact sheet, shows that regular exercise is a critical element in overall good health."
In addition to lowering our risk of getting a serious chronic illness like heart disease, diabetes and even some cancers, regular exercise can also help boost our immune system, which helps to keep colds and flu away. Also, as we tend to eat more in winter, staying active can help us maintain our weight.
Here are 10 top tips from Discovery Vitality to stay active and healthy during winter:
Plan your exercise

sessions ahead and put it in your calendar to make sure you allocate time for it. Change up your schedule if you can - go to work earlier and leave earlier to get some sunlight if you prefer exercising outdoors.
Set up a

support group

with friends or family where you can keep each other accountable and have a "fine" system when you are missing workouts and a rewards system when meeting your goals.

Get the family involved

, and make the most of the change of season. Winter offers a good opportunity to explore hiking trails in your area as it won't be too hot to be outside for a few hours. Go for a walk or run while the kids ride their bikes or take the dog for a walk.

Enter a fun race

that you can do with your friends, and remind each other that you are training towards a goal. A great event to enter that not only gets your heart pumping, but also allows you to socialise with other runners.
When time is a limiting factor,

split your workouts

into 2 - 3 sessions throughout the day of 10 - 15 minutes at a higher intensity level.
Try

stay in your exercise routine

, even when you really don't feel like it. Make sure you have your exercise clothes in your car or close by and tell yourself that you will do at least 10 minutes. You will find that after 10 minutes the laziness has gone and you will feel more energised to do a full workout.
The recommended amount of exercise is a minimum of 150 minutes a week of light to moderate intensity exercise, or 90 minutes a week at a vigorous intensity. Try being more active during the day by taking the stairs, parking further away, walking further or longer in the mall, and play active games with your kids.
If after 10 minutes you still feel flat or tired,

pick a less strenuous workout

like a brisk walk or any other workout at a light to moderate intensity.

Get a fitness device

to monitor the progress you are making.
Join a programme that helps push you to reach your goals. Discovery Vitality's data shows an increase of 78.5% in activity levels one year after members joined the Vitality Active Rewards programme. And, this trend is particularly apparent among members with chronic diseases such as high blood pressure or diabetes. These members increased their physical activity levels by a substantial 78% after joining Vitality Active Rewards, substantially impacting their health for the better.
They say that summer bodies are made in winter. This may be true, but we like to say that a healthy body is made every day - come rain or shine.
Pushing limits and shedding pounds: How Dumi found a sport she loves
Spring brings a scurry of activity as the earth bursts into life. Use this season to fall in love with a fitness activity that keeps you coming back for more. Dumisile Mthalane did just that. By finding a sport where she can soak up the sunshine, she's transformed the way she looks, thinks and feels.
5 excuses not to exercise (but are they good enough?!)
We can all think of a reason why we just can?t fit a workout in today. But understanding how we justify it can help to break down barriers to exercise. Here we list some common excuses for avoiding exercise, and tips to get you going.
Wayde van Niekerk sprinted to a world first and new SA record of 19.84 seconds in the 200m half-lap in Jamaica. We celebrate his extraordinary 19-second (or so) achievement with 19 key insights shared during our most recent interview with him.