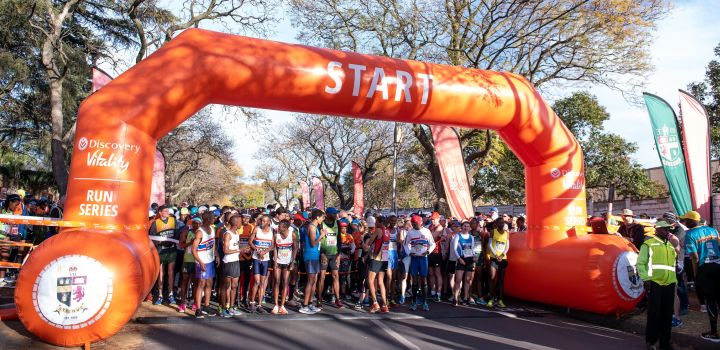 You asked, we're answering. Get ready for the most popular racing series on the Joburg (and soon the Pretoria!) calendar: the Vitality Run Series.
Dust off your running shoes, start getting winter fit at parkrun or myrun, and get ready for the Discovery Vitality Run Series - Gauteng edition.
Entries to the Vitality Run Series in Johannesburg and Pretoria will soon be open with the most iconic races awaiting you in Joburg and now, for the first time, Pretoria too.
If you haven't taken part yet in one of our VRS events, don't miss out this year. The runs are open to everyone, whether you're running for fun or training to beat your personal best. With your choice of distance (5 km, 8 km, 10 km and 21.1 km), not only will you enjoy getting out on the road with friends and family, you'll also be rewarded with bonus Vitality points and a limited edition medal at each race.
The VRS kicks off in August with the Old Eds Road Race in Johannesburg, and in October - when the Jacarandas are in full bloom - the series will debut in Pretoria with the CSIR Half Marathon.
Keen to know more? Here are all the race dates:
Johannesburg
Old Eds Road Race (11 August 2019): Virgin Active Old Eds Sports Club
Wanderers Aucor Property Road Race (25 August 2019): The Wanderers Club, Illovo
FIBO Africa Challenge (1 September 2019): Randburg
Rockies Gerald Fox Memorial Race (15 September 2019): Johannesburg Zoo
Pretoria
CSIR Half Marathon and 10 km (19 October 2019): CSIR North Gate
CSI Irene Farm Race (26 October 2019): Irene
BDS Unlimited Road Race (2 November 2019): Karenpark
Tom Jenkins Challenge (16 November 2019): Union Buildings
If you're a Team Vitality member, you get the added perk of 50% cash back for each race in the series PLUS discounted access to our exclusive Coach Parry online training programme.
Entries for the series will open soon. Keep an eye on our latest updates page for full entry details.
See you there!
Get up to 75% cash back on your Vitality-linked heart rate fitness device
Achieve your monthly Vitality Active Rewards goals to get cash back on a brand new fitness device. Activate Device Booster and get up to 75% total cash back on your qualifying heart rate fitness device purchased from your preferred HealthyGear partner: Sportsmans Warehouse or Totalsports.
Zero exercise to running marathons: Illona shares her six top tips
Team Vitality member Illona Meyer went from zero exercise to completing marathons in six months. Her running has helped her through the grief of losing her mother, Chamara Meyer, to Motor Neuron Disease (MND) in June 2017, and inspired her to run for a purpose: raise funds for others diagnosed with MND.
Catapult your cycling with 3 simple exercises
Want to take your cycling to the next level this year? Instead of spending more hours training in the saddle, achieve the endurance you need by strengthening your core muscles. Here's how.