Wayde van Niekerk triumphs in international comeback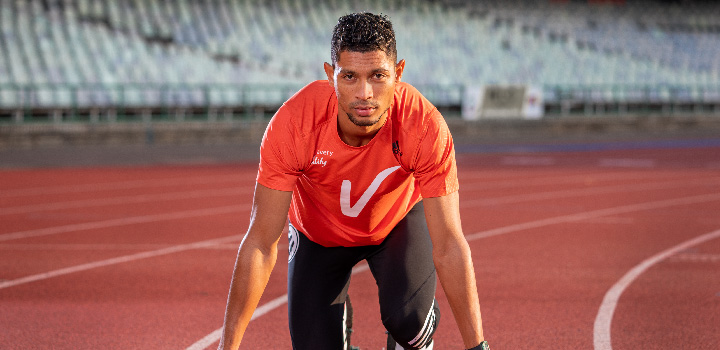 The Discovery Dreamer is back! Wayde van Niekerk overcame a series of setbacks to make a triumphant return in his first international race in three years, winning the 400 metres sprint at a track meeting in Bellinzona, Switzerland.
The Discovery Vitality Ambassador's last international race was three years ago when he won silver in the 200 metres sprint at the 2017 World Championships in London. Two days earlier, he further cemented his place as one of the world's greatest one-lap sprinters when he successfully defended his 400 metres global title.
Wayde sent out a strong statement in his global comeback by winning his specialist one-lap event in a season's best time of 45.58 seconds. He ran a measured race, going into the final 100 metres in fourth place before pulling away for a comfortable win. His time is the 15th fastest in the world this year and his best since 2017.
Although the time is two-and-a-half seconds slower than his world record of 43.03, he will view it is a significant step towards reaching stellar heights once again.
It was a remarkable comeback for the 400 metres world record holder, considering he had to overcome both physical and mental barriers. A devastating knee injury had effectively sidelined him for more than two years and he received surgery to his right knee to mend a torn anterior cruciate ligament (ACL) at the end of 2017. Wayde took a cautious approach to his rehabilitation, which saw him miss out on defending his world title last year in Doha.
The sprinter made an emphatic local comeback from the career-threatening injury earlier this year, posting an impressive 10.10 seconds in the 100 metres and 20.31s over the 200 metres in Bloemfontein. Wayde looked in superb shape in what would have been the build-up to the Tokyo 2020 Olympic Games before the COVID-19 pandemic struck. Measures implemented by countries around the world to curb the spread of the virus resulted in the suspension of local competition and the postponement of the Tokyo Olympic Games.
In July, Wayde returned to his base in Gemona, Italy, where he could take advantage of the European summer to train and get back into a racing environment.
The two-time world champion's planned international comeback in Trieste, Italy last month was thwarted due to a positive COVID-19 test on the eve of the meeting. He was withdrawn from the race, spending 25 days in self-isolation before returning to training.
"I am using this European season to get my body used to, I guess, the trauma of competing again and getting the body to feel the shock and the experiences of lactic acid, tiredness and soreness that comes with competing at a higher level," Wayde said last month. "So, it is just to get my body used to high-tempo competition and getting it strong for 2021, where the main goal is to go into the Olympic Games healthy, strong and confident."
The setbacks may have deferred his dream of becoming the first man to break through the 43-second barrier, but have done little to dampen his moonshot ambition.
"The main focus is to get back to that [sub-43]... I'm so close, so I need to invest everything to get back to it," he said earlier this year.
In the meantime, Wayde stressed the importance of people doing their bit to protect each other by adopting behaviours that would stem the spread of COVID-19.
"I am trying my best to get my family and everyone close to me to stay healthy and stay out of danger," he said. "At the same time, I am trying not to let life go by and let us lose out on what we are destined for and continue to work towards our goals and dreams while doing it responsibly."
Why Wayde wants to get your family moving this winter
It's easy for adults to become more sedentary over the cold season, but if your kids are feeling bored and cooped up, here are fun ways you can encourage each other to stay active - plus inspiration from Vitality Ambassador Wayde van Niekerk.
Chad le Clos' Decade of Greatness
Highlighting a decade of greatness, Chad le Clos emerged as the most decorated South African swimmer of all time by stepping onto the podium at major events each year since making his international debut.