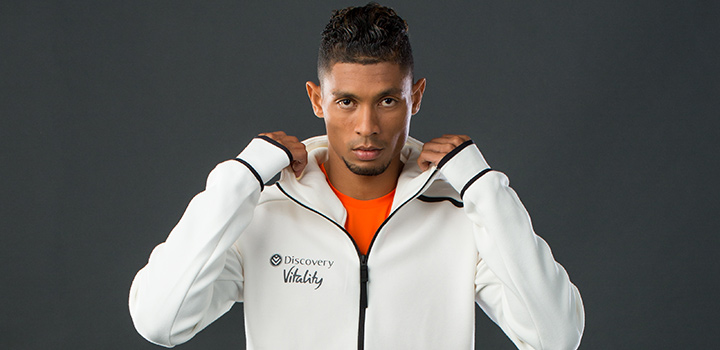 It's easy for adults to sit more over the cold season, but if your kids are feeling bored and cooped up, here are fun ways you can encourage each other to stay active. Plus, get inspired by Vitality Ambassador Wayde van Niekerk.
"Ever since the Olympic Games in August 2016, and the gold medal and world record that were part of that special time in my life, I have been asked about my childhood," says Wayde van Niekerk, current 400 m record holder and Discovery Vitality Ambassador.
"Was I sporty at school? When did I start showing the promise of being a future Olympian? I remember sport being part of my everyday life. I have a massive, sporty family. We all loved sports and took part in everything from football to cricket and rugby. I was fortunate and blessed to grow up with that focus on an active and healthy lifestyle, something which I'm very passionate about today."
Wisdom from Wayde
Wayde's words from the latest Healthy Kids South Africa Report Card are aimed at motivating parents and other adults to lead the way in promoting good health.
The HAKSA report reflects the best available scientific evidence from the last few years concerning physical activity and healthy eating in South African children and youth. It found that less than half of children play sport, and few do physical education at school; often because environments aren't conducive to it. In addition, South African children watch TV for an average of three hours and day, with significant numbers watching five hours a day.
Health guidelines state that children and adolescents need at least an hour or more of physical activity daily. Ideally, activity needs to be aerobic, muscle-strengthening and bone-strengthening. So, if you're looking for active things to do with your kids in winter, look no further. Here are some ideas:
6 ways to keep your family active in winter
Dress warmly and go for a walk, trail run or bike ride in a nature reserve or park nearby. Take the dogs for a walk or just explore the beauty of nature in winter. To set yourselves a fun 'goalpost' to aim for, sign up for a parkrun or myrun and make a family day of it!
If it's too cold to be outside, take the kids out for a fun day at an indoor play centre such as indoor wall climbing, ice skating, trampolining, ten pin bowling, indoor swimming, indoor soccer, etc.
Motivate your kids to participate in winter sports either at school or a club to keep them active throughout winter. Find more tips to staying active this winter here.
Have a dance party at home: put on music and get them to move to the beat with slow and fast songs, running on the spot, skipping and jumping to the beat. You can also download videos online for guidance on fun moves and exercises.
Shuffle the furniture around in the house or garage to create space to play indoor games, such as:

Balloon soccer or volleyball
An indoor treasure hunt or hide and seek
Bean bag throws to practise their juggling skills and hand-eye coordination
Sock tennis, soccer or cricket
Hula hooping (swing around the hips, climb through or jump through on one leg)
Use tape to mark out and play hopscotch
Build an indoor obstacle course using pillows, blankets, table and chairs to go over, under and around.

Try incorporate more physical activity into your day by taking the stairs, parking further away, walking further or for longer in the mall, and physical play with your kids.
"As children, we all have dreams to live a successful life. Being healthy plays a massive role in that. And as parents, teachers, and role models, we should be the first to lead by example," Wayde says.
Find more inspiration from him here and commit to #WinningWinter this season!
Balls and bats, bands and mats - get brand new sports gear for less!
Exciting new surprise rewards: become a winner by getting fitter!
Vitality Active Rewards encourages you to work out more frequently in a variety of ways, by giving you weekly rewards for meeting personalised physical activity goals. Now the stakes have been upped with a host of exciting new surprise rewards! Achieve a goal streak with three fitness goals in a row to earn a surprise reward.

Thousands of surprise rewards have been won so far - including grand prizes of local and international holiday packages, and hundreds of retail rewards from partners like Cape Union Mart, Nando's, NetFlorist, Sorbet and Yuppiechef.

Become a winner by getting fitter: join Vitality today and then activate Vitality Active Rewards on the latest version of the Discovery app.
Wayde van Niekerk sprinted to a world first and new SA record of 19.84 seconds in the 200m half-lap in Jamaica. We celebrate his extraordinary 19-second (or so) achievement with 19 key insights shared during our most recent interview with him.