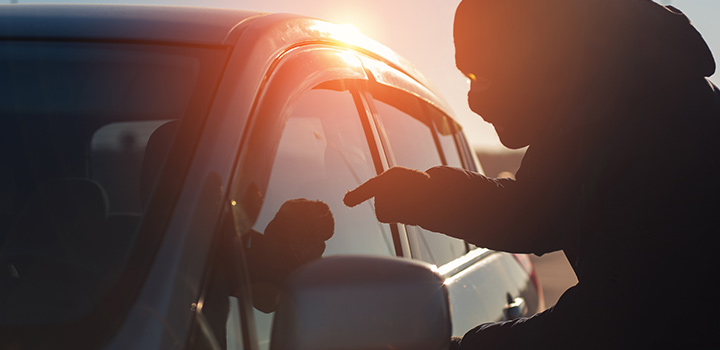 It's September, which means it's Child Passenger Safety month in South Africa. Unfortunately, one of the realities of caring for yourself and your passengers on the road is learning how best to respond in the event of a hijacking. Clue yourself up here.

The thought of being targeted in a hijacking is frightening; it's a situation you hope you'll never be in. While there are a few measures we can take to reduce the chances of being hijacked, it's always useful to be prepared in case we find ourselves in a sticky situation. This is especially the case if you have children in the car.
Follow these steps if you are being hijacked
The most important rule is to not antagonise the hijackers. Show them you are unarmed and not a threat by holding up your hands.
Stay calm and indicate that you want to remove your seatbelt.
Place your right arm under the seatbelt and unclip the buckle.
Stay calm, look down and try not to make eye contact with the hijacker.
Indicate that there is a small child in the car and you want to get them out. If you have more than one child, the eldest child should always be seated behind the driver and the younger child to the left.
Lean over the driver's seat and proceed start removing your young child from the car seat.
Reach to the back and unclip the child, grab them by their clothes and hold them close to your chest.
If your child is older, use an emergency password you've previously agreed on to alert them to climb over the seat to the front of the car with you.
Ensure your child is safely secured in your arms. If you first get out of the car aiming to walk around, open the back door and retrieve your child, you might not get the chance – and you don't want the hijackers to drive away with your child still in the vehicle. Do not get out of the vehicle until you are carrying your child or they are holding on to you, and you get out together.
Open your door, swing both legs out of the vehicle and walk away, presenting your side as the smallest target. Do not turn your back on the hijackers as your organs are most exposed from the back.
Watch this video as a demonstration:
Always keep your vehicle doors locked and windows closed, and keep valuables out of sight at all times. Keep cellphones discreet and pack bags in your boot.
Stay focused as you drive and don't let yourself get distracted by your phone, your passengers or anything else that may make you less vigilant of what's happening around your car.
Be especially alert near driveways, gates, traffic lights and garages. Keep an eye out for suspicious people, vehicles and loiterers when you leave or arrive at any destination. Do the same at stop signs or traffic lights, or while driving in city traffic, especially in quiet areas or at night.
Beware of people asking for directions, especially in parking areas.
As far as possible, drive away quickly if someone suspicious approaches your stationary vehicle.
If someone indicates there is something wrong with your vehicle while you are on the road, don't respond. Drive to the nearest garage or safe place, such as a police station, before you check.
If you suspect there's something wrong with your car, drive to a safe place. Don't wait for other motorists to come to your aid. Use your phone to call emergency services for help.
Check to see whether you are being followed, and if you think you may be, go to the nearest police station or place where there are many people. Avoid quiet streets or areas.
Remember not to lose your temper, threaten or challenge the hijacker, especially if they have a weapon. Do exactly as told by the hijackers. Whatever your car or possessions are worth – your life is worth more.
Once you are out of the car, put as much distance between yourself and the hijackers as quickly as possible and contact emergency services as soon as you can.
Remember, if you are ever in an emergency and are able, you can press the panic button linked to Discovery Insure. This will send an instant signal once the alert is activated. Discovery Insure will also pick up impacts and drastically different behaviours in driving, and can dispatch emergency services straight away if it's clear something unusual is happening. Wishing you safe journeys this Child Passenger Safety month!
References
Earn weekly rewards for driving well
Vitality Drive Active Rewards is a unique programme that allows you to earn weekly rewards – like a coffee, smoothie, popcorn, airtime or discounted car wash – for driving event-free for 100 consecutive kilometres. Active Rewards is available to all Vitality Drive clients.
Discovery Insure's Impact Alert sends help when you need it most
Wish you had the technology to call for help when you most need it? Discovery Insure's Impact Alert feature can detect when you've been in an accident. If we can't get hold of you immediately, we'll send emergency assistance to your location, while our Vehicle panic button can be used to alert emergency services when you're in your car and need help.
Rely on Discovery Insure when it counts: Find out more about this benefit here.
What does event-free driving look like?
South African roads are among the most dangerous in the world, with a road death toll of 22.5 per 100 000 people. The Vitality Open wants to help change that. Here's how you can get on board – and get rewarded for driving safely.
5 ways women can stay safer on the road
Discovery Insure data shows that women continue to be more cautious drivers than men are – but is that enough to keep them safe on the roads? Here are 5 tips for women to keep in mind.
Irene van Schalkwyk's line of work helps her to appreciate the immense value in preserving life - and this motivates her to prioritise her own and other people's safety on the road. Take a leaf out of her book this Women's Month.