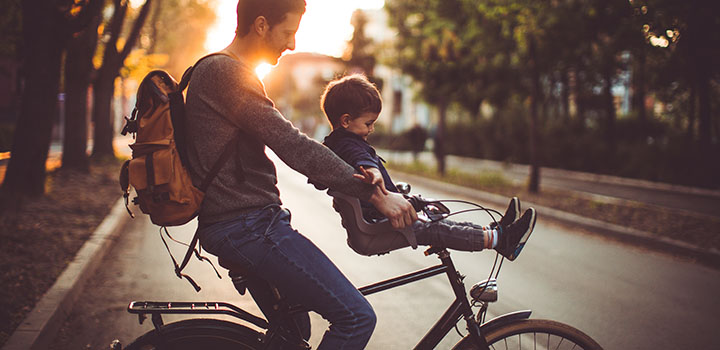 A Discovery Life member woke up one day, unable to walk. Tests revealed a debilitating, degenerative nervous disorder. His life cover has helped him seek therapy, and to cope.
A young father, husband and business owner from KwaZulul-Natal became inexplicably ill, experiencing shortness of breath and increasing stress.
"My business was under strain. I was stressed and this made me more ill. I saw so many doctors, who misdiagnosed me several times," says the member.
"A month later, I woke up in the morning but I could not walk. I was admitted into hospital on a Sunday. I saw a neurologist who did tests and an MRI, which showed my cerebellum function was decreasing."
The cerebellum, in the back of the brain, receives information from the sensory systems, including the spinal cord, to regulate motor movements. Actions like posture and balance, coordination and speech are controlled here.
The tests revealed that the member has Spinocerebellar Ataxia, a genetic disorder that causes the slow incoordination, particularly of gait, hand, speech and eye movement.
"My blood was sent to Cape Town for genetic testing, which confirmed the results. There is no cure or treatment for this disorder. It affects all aspects of my movement, speech and fine motor skills," says he says.
Impaired functioning means he must see a speech therapist, an occupational therapist and a biokineticist for assistance. "However, this helps to a certain degree. The disease is slowly degenerative," he says.
The blow of a difficult diagnosis, softened by support from Discovery
"My Discovery Income Continuation, Severe Illness and Disability Benefits all paid out immediately once I was diagnosed. Discovery was very helpful and sympathetic to my needs," he says.
"I have full faith in my Discovery products and will recommend them to anyone, but I also feel my financial adviser, Lennon Pillay, made the correct recommendations when I was signing up. The manner in which I was treated by my financial adviser most definitely made all the difference. The payment was effected accordingly, but he was very helpful and understanding of my needs. Everything about the process was handled professionally," he says.
The man's adviser, says the claims process and that of other clients, renewed his faith in his products. "It is really an amazing accomplishment when we see policies come into effect. At the end of the day, we sell promises to clients, in the form of a product, which will protect them in any eventuality. The experience with Discovery has been exemplary and I can continue to advise clients with confidence that whatever unexpected events may arise in their lives, they are covered. It really encourages me to want to continue to do this for my clients."
Discovery Life Limited. Registration number 1966/003901/06, is a registered long-term insurer, and an authorised financial services and registered credit provider, NCR registration number NCRCP3555. Product rules, terms and conditions apply.
Get up to 50% of your premiums back in cash for living a healthier life
By simply linking your Discovery Life Plan with your other Discovery products, you can receive a percentage of your premiums back every five years for managing your health and wellness. Integration allows you to receive up to 50% of your premiums back every five years
Discovery Life offers affordable funeral cover from as little as R53 a month
The passing of a loved one is never easy, but you can ease the financial burden during this difficult time with a Funeral Plan from Discovery Life. The Discovery Life Funeral Plan offers you and your family funeral cover with a lump-sum payout, as well as additional benefits.
Read 10 reasons why you should consider funeral cover from Discovery Life, and call us on 0860 00 54 33 for more information or a funeral cover quote.
Dr Ronel Smit reflects on surviving two unrelated cancers
Ronel Smit has bravely faced both chronic myeloid leukaemia in 2008, and stage 2 breast cancer nearly ten years later, in 2017. Here, she shares her remarkable story of survival, and offers advice to others on a similar journey.
Surviving three cancer diagnoses to marry the love of her life
Since 2013, Anneke Stocker has hung onto her seat in a rollercoaster ride with cancer. She has survived Stage 4 Non-Hodgkin's B-cell lymphoma cancer of her digestive tract and a bone-marrow transplant in 2018. And, in May 2019, Anneke got married!
Bone marrow transplant saves Thinus' life
Bone-marrow stem cell transplant recipient, Thinus Janse Van Rensburg, has survived Non-Hodgkin's Lymphoma – twice. Discovery's cover gave him both top medical care and his salary in full for two years - giving him time to focus on healing.