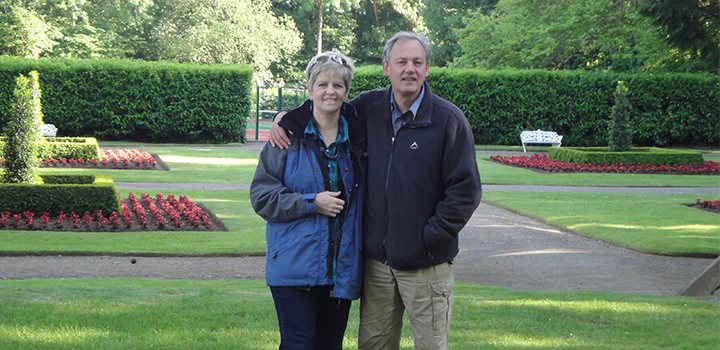 Ronel Smit has bravely faced both chronic myeloid leukaemia in 2008, and stage 2 breast cancer nearly ten years later, in 2017. Here, she shares her remarkable story of survival, and offers advice to others on a similar journey.
Besides fatigue – which she put down to parenting her three daughters while running a busy medical practice – Dr Ronel Smit, a 58-year-old GP – experienced no warning symptoms before her diagnosis of chronic myeloid leukaemia (CML, a serious form of blood cancer) 12 years ago.
Her initial blood cancer, discovered through a routine annual blood test, was treated with Gleevec, a medicine that mends the cancer-causing chromosomal defect. In March 2010, the treatment put her into sustainable remission after 18 months of treatment. But, she had to continue taking it to keep the disease at bay and prevent a possible relapse. "Discovery Health Medical Scheme (DHMS) funded the R30 000 per month drug treatment cost, and my Gleevec was delivered to my front door," she says.
Financial peace of mind for Ronel
Ronel's Discovery Life policies helped her mitigate against loss of income and allowed her to focus on her treatment. In order to undergo treatment and recover, Ronel had to put her practice on hold and stopped her twice-a-year locum visits to Ireland, where she'd spend two months at a time working, building contacts and boosting her retirement income. Thankfully, her Discovery Life cover provided her a Severe Illness Benefit, which paid out R1.1 million for the CML in 2008. This helped to mitigate her major loss of income while in treatment.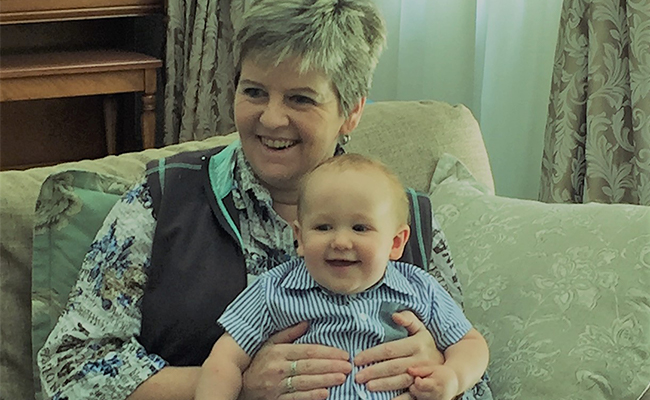 Ronel enjoys time with her grandson after her first chemo session
Mammogram finds another cancer
Once in a position to return to her work, Ronel continued to see patients, and picked up on her twice-a-year locum visits to Ireland. She did this until 2016. With the support of her husband Paul, a life coach and corporate relationships consultant, she later changed her overseas work destination to the city of Baku in the Republic of Azerbaijan. There she worked at the SOS International clinic in rotations of six weeks on and six weeks off, tending to an expat community employed by various major gas and oil companies.
With a diploma in obstetrics and gynaecology, Ronel has tailored her practice towards women and she is very aware of the benefits of routine check-ups for breast cancer and other cancers. "From age 41, I had developed small fluid-filled cysts in my breasts, but they went away as I got older, although I continued with annual check-ups. I had no lumps, but I'd been doing routine mammograms for the past 15 years," she says. In November 2017, just one week before she was due to once more fly out to Baku, she went for a routine mammogram. "When the radiologist saw increased calcifications in one of my breasts, he ordered a biopsy as a precaution. The next day I was told that I had intra-ductal carcinoma and needed immediate surgery," says Ronel.
Second diagnosis a hammer-blow
"This was a bigger shock to me than the first cancer. I was really furious and even doubted God cared about me. I'd just got this really well-paid job in Baku and now my husband had to work harder to keep the retirement wheels turning, which was very stressful for me. It felt like a Hiroshima or like being in a tumble-drier, or on a rollercoaster," she says. Her husband bought her a book entitled Disappointment with God, which she says helped her, as a Christian, to make sense of what she felt was the random nature of her two cancers.
Due to her earlier breast cysts, she chose to have a double mastectomy, which happened on 4 December 2017. The decision was vindicated when the post-mastectomy biopsies came back positive for both breasts, although miniscule in one. "Also, I've seen so many patients relapse," she says of her decision. One gland was slightly affected, putting this cancer in early stage 2.
With the risk of her Gleevec medicine (for the CML) interacting with her first three-month post-mastectomy chemotherapy, she had to stop taking it altogether. In early April 2018, near the end of her chemotherapy, she was given daily Neupogen injections to stimulate her blood marrow into making more white blood cells to reduce infection risk. "That first week in April was one of my worst, with skeletal and muscular pain, headaches and tummy pain as side-effects," she admits.
Meanwhile, she received a further payment of R50 000 from Discovery Life in January 2018, related to her breast cancer.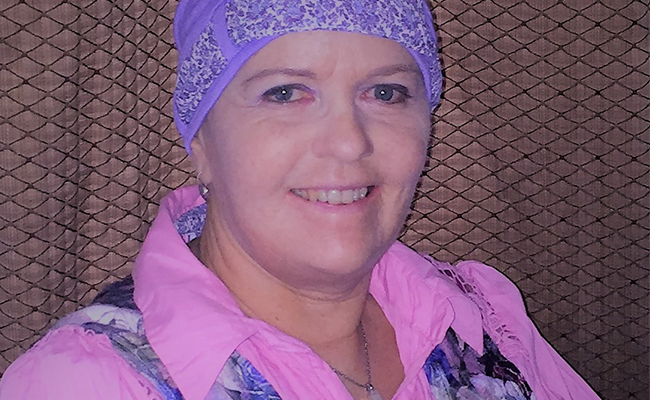 Ronel Smit pictured during her chemotherapy series in February 2018
Champagne on order
On 6 April 2018, her haematologist called to say her blood cancer was still in remission, despite her having stopped the Gleevec – to her huge initial relief.
"As for the breast cancer, a CT scan of my abdomen and thorax in early August 2018 came up totally clear, exactly a month after my last chemo session. I've suffered a bit with chemo side-effects like swelling in my feet and lower legs and my nails peeling off, but my daughter treated the latter with creams and special dressings. My liver, lungs and heart showed up completely normal, just my liver enzymes were a bit elevated, but that'll fade as time goes on," she says excitedly.
In September 2018, she underwent a full hysterectomy – a precaution as the chemotherapy had rendered her ovaries susceptible to cancer. "I recovered fully from that surgery. From now on I go for scans and tests every six months," she adds. She has resumed her biologic Gleevec treatment – probably for life. "I suppose you could say I was going for Gold but got Silver. It's very disappointing, but the Gleevec should keep me in life-long sustainable remission. There'll be some manageable side-effects, like fatigue and muscle cramps," adds the 58-year old. Ronel is convinced she'll now stay clear for five years, the first beacon toward full remission.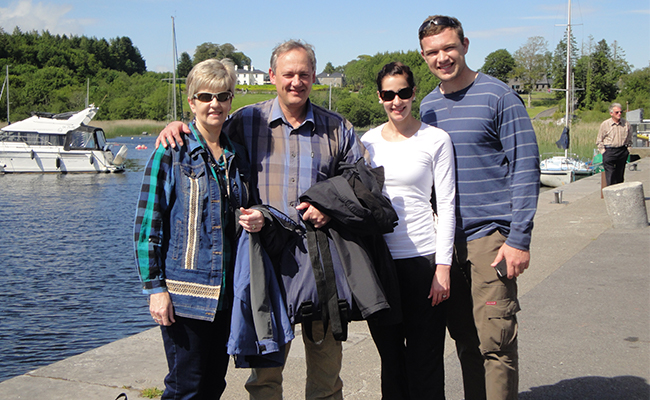 Ronel and Paul on a tour of Ireland with their daughter Hanri and son-in-law Jacques Meyer
Cancer-meds cause life-threatening ordeal for Ronel
Ronel also started using breast cancer medicine Herceptin on 19 April 2018, while getting her second round of chemotherapy. "This biological therapy searches for and destroys cancer cells in your body and the treatment lasts a number of months," she says.
Once Ronel got the medical all-clear, she returned to Baku for a six-week rotation that began on 1 November 2018. She took her last ampules of her Herceptin along but started feeling very unwell a few days after injecting what was her 12th injection, while in Baku. "For the first time in my life I became short of breath and never thought it could be a build-up of fluid in my lungs. On 27 November, I was immediately airlifted to Dubai, where they drained three litres of fluid from my one lung and two litres from the other. Tests thankfully showed no cancer or infection and it turned out to be linked to a rare complication associated with Herceptin. The Baku team saved my life!" Ronel was discharged and flew back to South Africa.
Ronel's advice to other cancer survivors
You're entitled to being sad or angry and have all those emotions. Don't suppress them.
Get support. I have a huge prayer group that envelopes me in a cocoon of prayer.
Do some research; ask your oncologist anything.
Live one day at a time and make the best of it.
Be kind.
Eat healthily and exercise when you can.
The famous neurologist, psychiatrist and Holocaust survivor Dr Viktor Frankl once said the only thing they cannot take away from you is your attitude! I live by that.
"I've been shaped by these cancers. I think I'm even kinder to people than before because everyone is fighting some kind of battle, and I'm more understanding and patient," Ronel concludes.
The Discovery Health Medical Scheme is an independent non-profit entity governed by the Medical Schemes Act, and regulated by the Council for Medical Schemes. It is administered by a separate company, Discovery Health (Pty) Ltd, an authorised financial services provider.
Finding your cancer voice is extremely empowering and will keep you in the know every step of the way. And if you're not getting all the answers you need, go for second, third or even fourth opinions until you do!
Navigating your Cancer Journey
'You're not alone'. While these three little words may offer little comfort while you're reeling from the shock of being newly diagnosed, it's an absolute given that no one ever faces their cancer journey in isolation.
Bone marrow transplant saves Thinus' life
Bone-marrow stem cell transplant recipient, Thinus Janse Van Rensburg, has survived Non-Hodgkin's Lymphoma – twice. Discovery's cover gave him both top medical care and his salary in full for two years - giving him time to focus on healing.