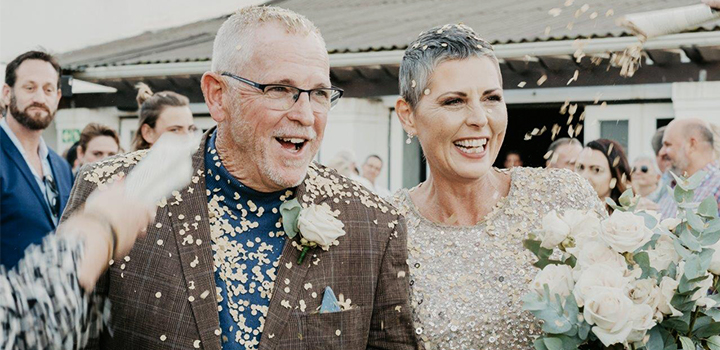 Since 2013, Anneke Stocker has been hanging onto her seat in a rollercoaster ride with cancer. She survived Stage 4 non-Hodgkin's B-cell lymphoma cancer of her digestive tract and a bone-marrow transplant in 2018 and in May 2019, Anneke got married!
SHARE YOUR CANCER JOURNEY WITH US HERE
Having survived three cancer diagnoses, the last of which resulted in a bone-marrow stem cell transplant in late December 2018, 52-year-old Anneke Stocker (née Coetzer) has set her mind to a new way of being. "Every incident brought me to the place where I went to God and just said 'I surrender'," Anneke explains.
Anneke believes healing is a physical, medical, spiritual and emotional journey. She adds: "The biggest change I have made is in thinking of my health on all those levels and specifically in changing my thought process to support my health. Say, for example, I'll be sitting in bad traffic - instead of allowing myself to feel stress, anger, frustration, I now listen to audio books, which restore my peace. I have changed the way I look at life and instead of seeing my circumstances as constantly triggering a fight or flight response in me, I have realised the need to accept reality and think in a way that reduces any negative thoughts that cause me stress and have a bad effect on my immunity. I have invested a lot into my brain's ability to change my habits and thoughts, for the better. Cancer has given me this gift."
Anneke spent Christmas Day 2018, her 52nd birthday and New Year's Day 2019 in hospital, having undergone a bone-marrow stem cell transplant on December 19th. She says, "I kept thinking about how I would celebrate many more healthy, happy Christmases, out of hospital in future."
The December 2018 stem cell transplant was the culmination of a journey that started in early March 2013.
Diagnosis 1: April 2013 – Stage 4 non-Hodgkin's B-cell lymphoma
Back then, the pressure of being a globetrotting retail clothing and textiles quality manager was excuse enough to ignore what felt like a tennis ball under Anneke's arm – for nearly four months. When she got so sick that she was constantly coughing, hardly able to walk up a flight of stairs and sweating profusely at night, she finally went for a check-up in Shanghai where she'd just begun a new dream job as the retailer's quality assurance manager.
"I thought my travel exhaustion had brought on very bad flu or pneumonia, perhaps set off by the Shanghai pollution," she says. Though it was winter, she was sweating so badly she had to change her pyjamas and move to the dry side of her bed. "I knew something was very wrong. I was very irritated, having just started a new job," she confesses.
Following medical scheme-related and logistical complications in Shanghai, Anneke's head office in Cape Town insisted she fly home for diagnosis and treatment. By then it was almost too late. She was diagnosed with Stage 4 non-Hodgkin's B-cell lymphoma in early April that year - a cancer that starts in white blood cells or lymphocytes, which are part of the body's immune system. Up until her cancer diagnosis, Anneke was a regular half-marathon runner, and a cancer diagnosis was the last thing she expected.
"My life partner, Craig, calmed me down and told me there was no way he was going to let me die - especially as we had only known each other for a year. I agreed to have chemotherapy albeit reluctantly as I prefer a natural medical route," she explains. So began the first of what would be two chemotherapy regimens. Back home after the first treatment, she felt nauseous and, "like I was on fire from the inside," she recalls. "The way food tastes changes and your urine smells metallic," she says. Three months passed and she celebrated Christmas of 2013 with her nearest and dearest, feeling relatively well and believing remission was a possibility.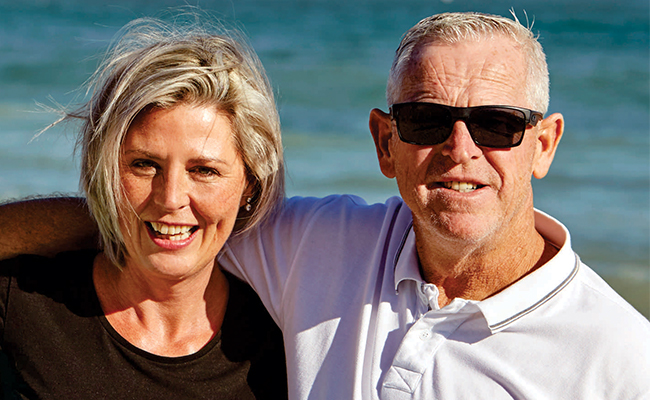 Three-times cancer survivor Anneke with her husband Craig
Diagnosis 2: February 2014 – Anneke's cancer returns
Yet, in February 2014, she felt a lump near her collarbone, and her oncologist confirmed the cancer had returned. Her hair had only just begun to grow back. Second-line chemotherapy was indicated. "My body had an adverse reaction to the second chemotherapy," she reveals. Depression set in. She had 23 daily radiation sessions in a row. Intermittent scans continued, and the outlook once more turned positive.
She decided to detoxify her system entirely. Anneke tried a holistic treatment route and engaged with a GP who focuses on cancer and administers various supportive treatments. She says her GP advised her to address her cancer on four levels: lifestyle and diet, emotional, chemical toxicity, and any trauma in her past.
Diagnosis 3: February 2018 - Anneke's cancer spreads to her intestine
In February 2018, after nearly two and a half years of relatively good health, Anneke developed digestion problems. "I would have severe pain with eating," she says. On 16 February, she was diagnosed with duodenitis – the duodenum (the first part of the intestine, immediately beyond the stomach) was blocked. Given her history of cancer, she had a PET scan done, which revealed two new tumours on her duodenum.
"At first, I tried to manage the cancer through natural means. But my non-Hodgkin's Lymphoma metastasises so fast, that in four months it was far worse and, not eating, I lost 20 kg. In June 2018, doctors told Anneke that unless there was a radical clinical intervention, she had two weeks to live. They proposed surgery but realised that chemotherapy promised a better outcome by attacking the cancer while shrinking the tumours, which would enable her to eat vital protein more often. Anneke's chemotherapy began on 16 June 2018, with a four-day hospital session every four weeks after which, when all clear, she would undergo a full bone-marrow transplant to 'reboot' her immune system.
"I was drinking a lot of protein shakes and eating mostly fish and had put a bit of weight back on, so it seemed to be working," she says.
Putting financial peace of mind in place
"I stopped working on 16 June 2018 when I started chemotherapy. Thankfully the combination of Discovery Health Medical Scheme cover and Discovery Gap Cover along with separate life cover I have through my employer, which includes disability cover and an income protector benefit, meant I was able to stop work knowing that financially, I had the cover I needed."
Preparing for a bone-marrow transplant
"On 12 December 2018, I was admitted to hospital to start the six days of intense chemotherapy needed to destroy my old bone-marrow cells, after which the bone-marrow transplant - which is like a blood transfusion - took place on Day 8. After 21 days in hospital, I went home on 2 January 2019."
In January 2019, Anneke was home dealing with the tiredness and nausea that follow the procedure she had, with her symptoms improving all the time. She was due to visit the hospital every Monday for another nine weeks to monitor her red and white blood cell count and to receive an immune-boosting intravenous formula. The blood counts showed an upward movement and each week showed significant signs of recovery and return to normal. She adds: "A drive to stay alive and maintaining hope are the biggest factors in healing."
On 1 April 2019, Anneke returned to work. "I still have monthly check-ups with my haematologist and manage slight treatment side effects such a sleeplessness, infections and tiredness, but am able to function at 85% of my previous capacity," she says. "It's all about managing my energy and making time for the important things in life."
Anneke celebrates the most beautiful day of her life
Anneke and Craig got married in early May 2019. She says, "It was the best day of my life! The wedding was a celebration of love and life with family and friends. We wanted to include the people who have supported us through our long and tough journey and celebrate our new life together. It was said to be a memorable day with tears and laughter. I arrived without any flowers and asked friends who had been there for us through my cancer journey to give me a flower as a symbol of their support. I walked into a ceremony in a spiral layout, collecting all the flowers, until I got to Craig, at which point his daughter tied all the flowers together for my bouquet. This meant that all our guests could participate in our vows. It really was the most magical part of the wedding."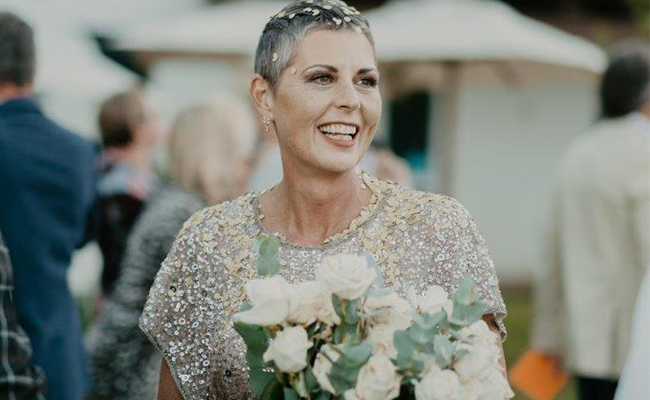 Anneke is radiant on the day of her wedding to Craig
Anneke's tips for other cancer patients – from the heart
Have any persistent niggles - that might indicate cancer – checked as soon as possible.
If you suspect you might have cancer, take a companion along for the test results. This can prove invaluable, because, the moment you hear the news, you may not hear a word after that.
Do your research on cancer while you're (even relatively) healthy. It's hard to absorb detail and complexity when you're in shock or undergoing chemotherapy.
Get help from a financial adviser who can help you manage your medical scheme claims and oncology benefit details.
Anneke now looks towards a future of recovery and health: "I want my story to be inspirational and help others to understand that cancer is not a death sentence. Chemotherapy has side effects but given the benefit and opportunity of living a more meaningful and longer life with a chance to capture the sweet memories of all that I have experienced, it has all been worth it."
The Discovery Health Medical Scheme is an independent non-profit entity governed by the Medical Schemes Act, and regulated by the Council for Medical Schemes. It is administered by a separate company, Discovery Health (Pty) Ltd, an authorised financial services provider.
Living with an incurable cancer
With his diagnosis carrying a median survival rate of four years, Fareed Bruintjies, 47, accidentally bumped into a patient who'd survived the same cancer for twelve years, in the chemotherapy room.
Bone marrow transplant saves Thinus' life
Bone-marrow stem cell transplant recipient, Thinus Janse Van Rensburg, has survived non-Hodgkin's Lymphoma – twice. Discovery's cover gave him both top medical care and his salary in full for two years - giving him time to focus on healing.
Stages of survivorship: life after cancer
Thanks to ongoing breakthroughs in modern medicine, more and more people live full and productive lives, post cancer diagnosis and treatment. Today, 'survivorship' is recognized as a specialized field, playing a pivotal role in every cancer journey.