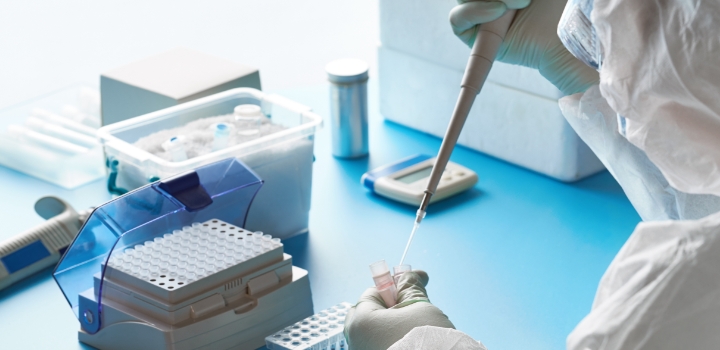 Dedication, a strong work-ethic, and scientific collaboration led to a world-first for South Africa in January 2021. Scientists isolated the Beta variant of COVID-19 after doctors in the Eastern Cape reported an unusual spike in infections.
Since then, all global advances in treating the more infectious 501Y.V2 (or Beta) variant have been based on that single breakthrough by researchers at the KwaZulu-Natal Research Innovation and Sequencing Platform (KRISP) in Durban.
As veteran HIV and AIDS researcher and former co-chair of the Ministerial Advisory Committee on COVID-19, Professor Salim Abdool Karim says: "It's like in any battle. Know the enemy. Know the virus. Know how it is transmitted and know how it's changing." He's highlighting a fundamental scientific principle when it comes to translating research results into an effective public health intervention. This is even more important when a pandemic has the entire world in its grip.
Watch a video with Professor Abdool Karim on how South Africa's scientists joined the global fight against COVID-19:
Discovery a lifetime high
Professor Alex Sigal of the Africa Health Research Institute in Durban describes science as "a roller-coaster of highs and lows, but mostly lows". He adds that this was an extraordinary high and one unlikely to be matched in his lifetime.
Professor Tulio De Oliviera, who is Prof Sigal and Prof Karim's colleague in Durban, said motivation for the local breakthrough came through a tweet from Oxford University. Researchers from Oxford reported that a non-pneumonia strain was emerging in Wuhan Province, China, the site of the original outbreak.
Professor Karim recalls: "I remember the day; it was the 11th of January, I'm sitting busy at my computer and Professor de Oliviera walks in and says 'have you seen this? It's on Twitter' I said, 'what are you talking about?' He says, 'the viral sequence is on Twitter'." Professor De Oliviera adds: "It's probably a classical moment. We not only saw the genome on Twitter, but what we did was download the sequence and start analysing."
SA proved perfectly placed
They were on the front foot thanks to SA's historical dual pandemics of TB and HIV.
"When SARS-CoV?2 hit, we were able to pivot and use our facilities, especially those with high containment, to work with this virus and understand it better," Professor de Oliviera says enthusiastically.
His research colleague and laboratory supervisor, Sandile Cele, was so excited at the prospects (considered slim at the time) that he sacrificed Christmas at home with his family to work on isolating the virus from infected individuals.
They received some valuable clues after beginning research on the original virus in June.
Professor Alex Sigal explains: "In October we started to realise that this virus is moving and changing, and one of the most dramatic changes happened here in SA when this virus mutated and became what's now known as the Beta variant."
Doctors in the Eastern Cape alerted Professor de Oliveira of an unusual spike in infections in their area. Within a week of receiving their samples, he noticed a very unusual cluster which he and Professor Karim realised may be able to escape immunity. Professor Karim says dramatically, "that realisation was soul destroying!"
'Best ever' Christmas present
The actual breakthrough was on Christmas Eve, in an otherwise deserted lab. Cele and de Oliviera chanced their luck on using human saline to infect monkey cells, which until then had proved unresponsive to weeks of experimentation. The outcome was the best Christmas gift ever.
Cele say: "We were very excited. As a researcher, there's no better feeling than to know you're moving forward in the right direction."
The immunity conferred by the Beta variant was far stronger than the original strain, meaning its isolation and use had global implications. The rest, as they say, is history in the making.
Discovery Health wants to recognise and applaud all healthcare workers on the frontlines of the COVID-19 pandemic. Find more hope-giving examples of resilience, innovation and thought leadership in South Africa's healthcare sector here.
Read how Discovery Health CEO, Dr Ryan Noach, pays tribute to the immeasurable tenacity, resilience and selflessness shown by South Africa's healthcare workers.
Meet Quintin: a robot that connects isolated ICU patients with their loved ones, giving those battling COVID-19 a reason to keep fighting.