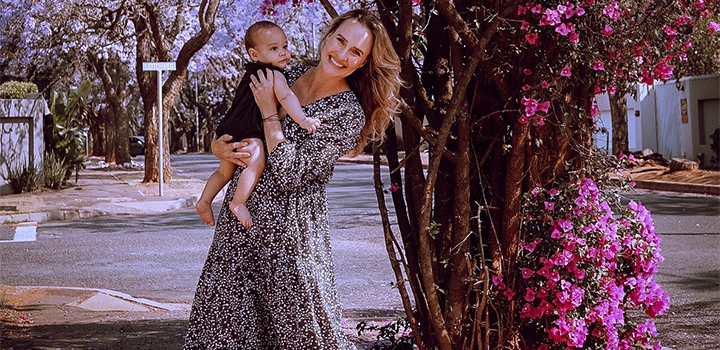 New mom Misha Levin has taken the ultimate step in securing her children's future health by collecting and banking their stem cells at birth through Netcells. She explains what stem cell banking is, why she decided to do it and how the process works.
"For us, stem cell banking just seemed like the natural choice," Misha Levin, a 36-year-old mother of two, explains why her family decided on stem cell banking. As an imminent new parent, you want to do anything and everything you can to make sure that little life is safe."
Misha is a digital marketer and owner of a microblading studio in Johannesburg. When her children, were born in 2018 and 2019, she had her doctor collect and save their stem cells.
What is stem cell banking?
"Stem cells essentially are the building blocks of life," Misha explains. "They are the first cells that form. One of the easiest ways to retrieve them is through the umbilical cord and the cord blood, which is typically discarded after birth."
Misha stored her babies' stem cells through Netcells, a company of Next Biosciences. Netcells is a private stem cell bank giving expectant parents the opportunity to collect their newborn baby's umbilical cord blood and tissue stem cells at birth, and bank them for potential future medical use.
The Managing Director of Netcells, Shelley Bredin, adds, "Stem cells are the cells that make up the embryo and develop into various cell types in the body such as skin, cartilage, nerves, blood cells, muscles and bone." Stem cells are found in the body where they continually maintain and repair tissues.
Why stem cell banking?
"The cord blood is rich in haematopoietic or blood-forming stem cells that are currently being used to help treat over 80 blood-related diseases," Shelley explains.
Stem cells found in the umbilical cord blood are used to regenerate bone marrow. It's routinely used to help treat diseases such as Fanconi's anaemia, leukaemia, lymphoma, thalassaemia and sickle cell anaemia. New therapies using these stem cells are currently in research and clinical trial phase for cerebral palsy, stroke, autism, hearing loss and type 1 diabetes.
Umbilical cord tissue contains stem cells, which give rise to the connective tissues of the body, for example, skin, muscle, bone cartilage, nerves and fat. Researchers are using these cells in trials to regenerate skin in wound healing and anti-ageing treatments. They're also using stem cells in:
Neurology (multiple sclerosis, spinal cord injury)
Orthopaedics (rheumatoid and osteo-arthritis)
Sports injury (cartilage and ligament repair)
Cardiology (heart muscle)
Stem cell banking made easy with Discovery Health
Misha says from the registration process to the delivery room at Linkwood Clinic, her experience of banking her babies' stem cells was seamless.
"As a Discovery Health Medical Scheme member, the really great thing is you just punch your number in when you're filling out the online process, and that automatically demonstrates to you the discount that's available if you choose to bank through Netcells," she says.
"In a few days' time, your Netcells banking kit arrives at your home and then you have your exciting kit that you're going to take with you to the delivery room," Misha adds. "From there it's a matter of handing the box over. The gynaes, midwives and doctors are all pretty well-versed and experienced in this, so they know what to do. They take the box and from there they retrieve as they have to. The whole process really is so seamless."
Stem cell banking offers peace of mind
"I would absolutely recommend stem cell banking to my friends and loved ones," Misha concludes. "It's complete peace of mind knowing that you have that option that you hope you never have to call on."
Invest in your child's future health with Netcells
Discovery Health has arranged a unique offering for its medical scheme members with Netcells, a company of Next Biosciences – Africa's leading biotech company. Next Biosciences combines medicine, science and technology to create innovative products and services, letting you invest in your future health.
Netcells is a private stem cell bank giving expectant parents the opportunity to collect their newborn baby's umbilical cord blood and tissue stem cells at birth, and bank them for potential future medical use.
Discovery Health Medical Scheme is an independent non-profit entity governed by the Medical Schemes Act and regulated by the Council for Medical Schemes. It is administered by a separate company, Discovery Health (Pty) Ltd, an authorised financial services provider.