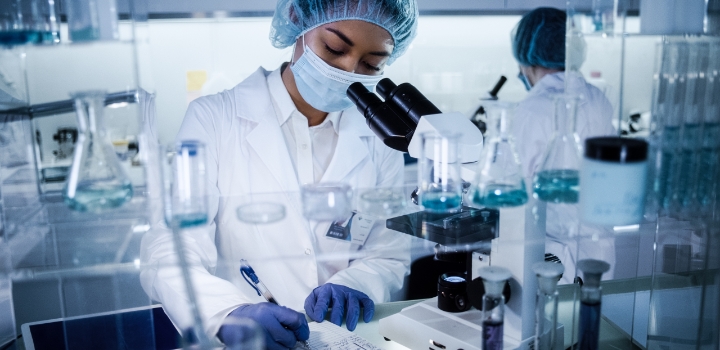 Healthcare professionals are gratefully viewed by most South Africans as the heroes in the battle against COVID-19 and it's alarming and devastating variant-driven surges. Yet the backroom scientists and clinician-researchers who actually enabled them to save so many lives often go unmentioned.
These scientists and researchers contributed new medicines and the fastest ever developed, highly effective vaccines. This video rectifies that:
Professor 'Salim' Karim is the former Vice Chairman of the Ministerial Advisory Committee on COVID-19 and veteran HIV and AIDS researcher. He sets the scene by reminding us of how important knowledge, evidence and science become when we're suddenly faced with a medical crisis. He brings to mind the concept of Ubuntu in science where all of South Africa's research platforms pulled together and joined their global counterparts in the race to understand the new virus.
Professor Helen Rees, Executive Director of the Wits Reproductive Health and HIV Institute, says South Africa had a unique head start through its hard-won experience in dealing with HIV and TB. She and her researchers immediately put up their hands to probe the Coronavirus for vaccines and treatment options. This came after the call for collaboration from the World Health Organisation (WHO). The WHO set up the global Solidarity Trial with some 200 hospitals around the world, 14 of them in South Africa.
She says that instead of inventing a new drug, the collaborators looked at repurposing what drugs they already had. They considered testing the molecules for any activity against COVID-19 and extracting those that showed promise in the laboratory for clinical trial.
Professor Karim observes, "It's a very efficient way to do the research. You're studying many things and if any of them worked, you were lucky."
The efficiency and hard work paid off, especially with the long-standing steroid, dexamethasone. The widespread use of dexamethasone soon caused an overall one third drop in COVID-19 mortality.
The power of Ubuntu in science
Professor Rees illustrates the power of expert collaboration.
"A quick vaccine takes six years. Instead of that, we had our first vaccine in under a year, and that was because we were able to take things off the shelf, change them and develop them."
She explains how that was achieved, given that scientists had anticipated a pandemic for some time. They were already working out how to repurpose existing platforms in the event of an unprecedented pathogen emerging.
"Everyone's heard about an mRNA platform or an adenovirus platform where you can take a vaccine and say, 'I can change it now from being a vaccine for this disease to being a vaccine for that disease'", she says.
Professor Karim says an entirely new technology was used, its acceleration boosted by the investment of billions of dollars by the world's major governments.
He recalls, "It was the 9th of November (2020) when the messages came through that the Pfizer vaccine was at least 90% effective. I said 'what?! Not just a vaccine, but one that's so highly effective!' It's testimony to great science and amazing individuals who put heart and soul together to make these vaccines and test them to show that they work.
Professor Rees adds: "I think there are many things that South Africa and the world can be enormously proud of. Is it perfect? Absolutely not. But I do think that if we look at South Africa, we have seen people really roll up their sleeves and work 24/7. Perhaps people in the public don't realise that."
Discovery Health wants to recognise and applaud all healthcare workers on the frontlines of the COVID-19 pandemic. Find more hope-giving examples of resilience, innovation and thought leadership in South Africa's healthcare sector here.
Read how Discovery Health CEO, Dr Ryan Noach, pays tribute to the immeasurable tenacity, resilience and selflessness shown by South Africa's healthcare workers.
Meet Quintin: a robot that connects isolated ICU patients with their loved ones, giving those battling COVID-19 a reason to keep fighting.