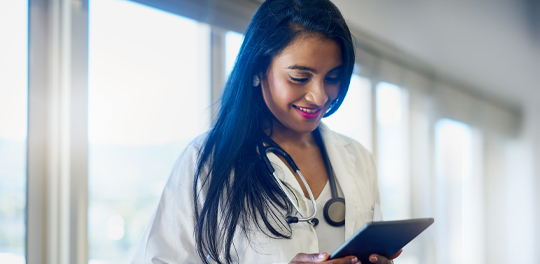 Azania Mosaka recently spoke to two women at Discovery who challenge the status quo every day. Not only are they at the forefront of building innovative digital healthcare solutions, but they are also role models for future generations of women.
Karren Sanderson and Ana Endres have been instrumental in developing Discovery Health's digital healthcare channels, especially during the COVID 19 pandemic. They spoke to Azania about their passion for building digital healthcare technologies for the good of South Africans.
Listen to the podcast:
Karren Sanderson started her career in a call centre
Twenty years ago, Karren started working at Discovery as a call centre consultant. Today, she is the Chief Operating Officer of Discovery Health, and has recently become a member of the Discovery Group Executive Committee.
"I've worked across many areas at Discovery Health, which has really given me a well-rounded set of skills and a strong foundation," she says.
Ana Endres's adventures led her to South Africa
Born in Portugal, Ana has studied and worked in over seven countries. She is fluent in English, Portuguese and Spanish, and is a qualified chemical engineer specialising in biotechnology. She met her South African husband in Spain when she was completing her MBA, and started working at Discovery in 2010. Today, she is the Head of Discovery Healthcare Services.
Women in the workplace today
Karren and Ana are examples of #WomenInMotion at Discovery and testament to what women can achieve through resilience and a strong support system.
"It is really great to see the progress we are making," Karren says about women in the workplace today. "In our boardrooms, it is no longer unusual to see a woman at the helm."
"In the broader South African context, we certainly do need to do more," she adds. "Women need to take the opportunities that present themselves, and I think often, a lack of self-confidence holds women back unnecessarily."
Karren advises women to raise their hands, share their thoughts, and grab opportunities to lead and grow. She also recommends reading as much as you can. "Investing in your own knowledge is one of the most important ways to succeed," she says.
Ana agrees with Karren that women need to take what they want from life. "My thoughts are shaped by my own experience, which may be different from other South Africans', given that I grew up abroad," Ana says. As a child and young professional, she had strong women role models showing her the way. "I always had the perception that, as women, we could get there because others had made it," she says.
A strong support system is vital for success. "If you ask for help and you invoke all your resilience and you persevere through, you can make it," Ana says. "It is crucial that I have lots of help from my husband and family to carry me through."
Accessing healthcare services in a digital way
Karren and Ana play leading roles in helping members get better access to healthcare services through digital channels.
"At Discovery Health, we have seen a significant uptake of our digital services," Karren says. "Digital channels are the first way a customer experiences a company, and so they really need to be good. COVID 19 has accelerated consumer-driven needs for digital and contactless services."
Earlier this year, Discovery and Vodacom partnered to give all South Africans access to COVID 19 online doctor consultations. With 80 million mobile phone users in South Africa, it makes sense to meet consumers where they already are – on the internet.
"At Discovery, we are big believers in leveraging the latest innovations and digital technologies to continuously improve the healthcare and the servicing that the member receives," Ana explains.
"We are proud of the solutions we've brought to market like HealthID, where we give doctors the ability to see electronic health records of their patients, with their consent," she adds. "And then the expansion of that to allow doctors and members to connect and do virtual consultations."
"Virtual consultations have increased 10 to 12 times since COVID 19 started in South Africa," Ana continues. "From March to August, we have done nearly 30 000 virtual consultations, and we've seen about 150 000 members log in to the DrConnect application. We have more than 2 000 doctors engaged with virtual consults."
Digital technologies can advance healthcare for everyone
"We want to improve healthcare delivery and drive the engagement of members with their own health goals," Ana says. "There is a wealth of digital technologies that can help with both."
"Our consumers are living in a technology-dominated world and people are seeking out best-in-class solutions," Karren adds. "We have to build smart, sophisticated technology. We're always in pursuit of simplicity, so that customers find it easy and convenient to use our digital services."
Earlier this year, Discovery introduced Ask Discovery on WhatsApp, where members can engage with Discovery anytime, anywhere.
"It's about bringing customers the service they want when they want it," Karren says. "We want people to get meaning out of our digital channels. It must make your life more convenient, give you better access to quality healthcare, and make you healthier, which we try to do through Vitality as well."
Listen to the podcast in which Karren and Ana share more behind-the-scenes insights into what it means to build powerful digital channels at Discovery:

Access a world of digital support
Technology has created many benefits for our lifestyle. Life is easier; you have choices that are best suited for you; and you save costs and valuable time. These benefits of technology are now also changing how we manage our healthcare journey at our fingertips.

In today's tech-savvy world you want your medical aid to keep up with technology, your schedule, and how you prefer to do things. We've enhanced what our website and app can do for you for fast, convenient service, whenever and wherever you need it.

In today's tech-savvy world you want your medical aid to keep up with technology, your schedule, and how you prefer to do things. We've enhanced what our website and app can do for you for fast, convenient service, whenever and wherever you need it.