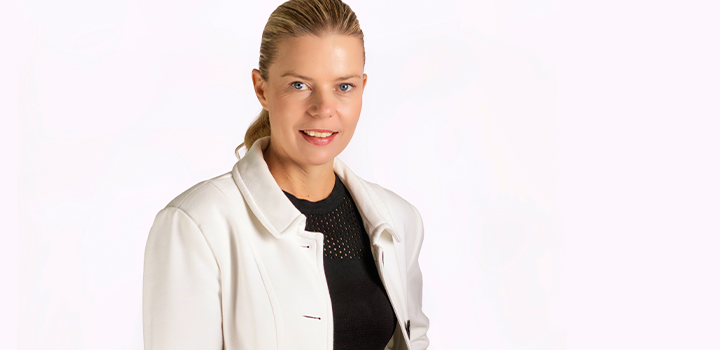 There are few people at Discovery Health who know the business as intimately as its Chief Operating Officer, Karren Sanderson, who started out as a call centre consultant 20 years ago and has recently become a member of the Discovery Group Executive Committee.
"Karren's career trajectory in Discovery is a remarkable example of what can happen in our organisation when an individual is excellent and the environment, liberating," says Adrian Gore, Discovery Founder and Chief Executive.
Karren says she "grew up in the business", working her way up in all divisions as the company expanded at a rapid rate, armed with a BCom from Unisa, determination and stimulated by "some of the best minds in the country".
Her big break came in 2004 when the Discovery Health executive team decided to focus on building more sophisticated front-line services. Then a four-year veteran of managing multiple call centres, Karren designed a customer services strategy using her intimate knowledge of all aspects of the portfolio. Having gained experience in strategy planning and execution, she quickly became Divisional Manager before moving to Discovery Care, the clinical operations hub of the business, in 2007, with a brief to revamp its operations. In January 2009, she became Deputy General Manager and received a mixed portfolio of business areas to oversee including New Business, Claims, Managed Care, and various operations project units. These diverse portfolios grew her reputation as a hands-on generalist, honing her skills in leading big teams and projects.
Making a real difference in people's lives
Creating better customer experiences excites her. "We're dealing with people's lives in an emotionally connected way, helping them often in their greatest times of need. We're not selling data or a bottle of perfume, we're selling help for the rest of their lives. It's meaningful to make a real difference in a person's life."
In 2014, she became General Manager of Health Operations, overseeing 2 800 staff across all five regional offices. By September the following year, she'd progressed to her current position as Chief Operating Officer with 3 400 teammates – her word – focusing on delivering services across all customer segments and service channels for Discovery Health.
"We want to be the best Health Insurance Operations team in the world – and a vital part of the journey towards that is devising key strategic initiatives for Health Operations, outlining the strategy to achieve them, and then driving implementation," she says.
Karren's team administers the service and operations of 19 different medical schemes, including Discovery Health Medical Scheme, as well as other product suites offered by Discovery such as Gap Cover, Primary Care and Healthy Company, delivering services to 3.5 million customers. Karren and her team always try to exceed their expectations by harnessing, adapting, and creating globally burgeoning technology to provide proactive, predictive, interesting, and engaging services.
Stellar use of data and technology
"For example, if a customer's been in hospital recently, we build algorithms that monitor the reason they were there. We can identify patients hospitalised for trauma such as violence or crime. We analyse that so that we can arrange emotional and logistical support proactively for them and their families, sharing information and connecting them with the needed support services to get through the trauma and admin," she explains.
Her team fields 35 000 calls and 15 000 emails a day. They then analyse this data using speech-to-text analytics to design new and to improve existing services.
"We use data science in many ways, such as working hard to find customers who have expressed unhappiness in the interactions with us, or to predict which customers are more likely to call us based on something that's just happened. We can then reach out to them before they've even called us. The nerd in me gets very excited about stuff like that. We're focused on being alive to people's needs."
"For example, in oncology we wanted to provide far better service support to our members than just claims administration. So, we changed the entire operational design to centralise it and create a one-on-one relationship, so that cover and payments are never a burden and emotional support is always on tap."
Support systems build resilience
Asked what advice she'd give to young women entering the corporate workspace, Karren says. "I work for this vibrant, 21st century organisation where I've seldom experienced bias in any form. Gender equity is not an issue here. You come to work and enter this liberal meritocracy. You're judged based on the value you bring."
And in the big world beyond Discovery?
"I do think women have real-world complexities and disadvantages to deal with that men don't, so you have to think carefully about your support system outside of work if you're to succeed. Think of how you want to be treated as a wife and parent. Those things have to be absolutely shared; I wouldn't be the success I am today if I didn't have a strong support system."
That comes in the form of her husband Reardon, her 18-year-old daughter Tyler, and her 15-year-old son Matthew. She balances the demands of domestic and work life by hiring tutors, and a driver.
"I make sure both my work and home teams are pretty well reinforced and when I need help, I know I have the best around me. It's like managing a soccer team. You analyse weaknesses and gaps and buy players in if necessary. I can't be there for everything. Andy, my housekeeper, manages me and everybody in my house, making sure our home is run well and kept in shape."
Karren loves to cycle, jog and swim, proudly keeping her Vitality Diamond status, though she says her husband is mainly responsible. "He's Vitality's poster child – he keeps me engaged."

I believe all women are brave, creative, intelligent and tenacious
#WomenInMotion, Cheryl Ngobeni, believes that being in touch with our emotions is a strength that enables women to make a difference where it matters most. "We should stop being afraid of being sensitive or emotional. It's these traits that make it possible to empathise and develop workable solutions for our communities."