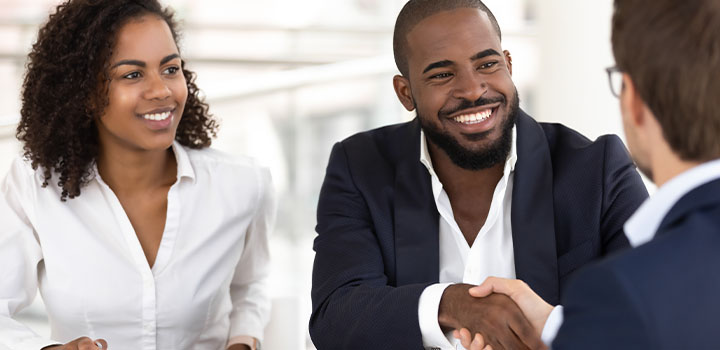 COVID-19 has brought many challenges for businesses. Many have seen a reduction in sales, leading to loss of revenue and constraints on cash flow, especially for small- and medium-sized enterprises (SMEs). To help our clients manage their business during this time and avoid business failure, we give them access to capital and other business resources.
Clients get access to capital and get rewarded for meeting their repayments
Access to capital
Through our partner, Merchant Capital, clients can get a cash advance to assist them with cash flow during this time. Clients can use these funds to meet their business requirements, including paying their insurance premium. This ensures that their business remains adequately protected during this time.
Qualifying clients can get a cash advance of up to 80% of their monthly turnover generated from debit or credit card sales. This will depend on the client's profile and how their turnover has been affected by COVID-19.
Clients get up to 50% of their premiums back for meeting their repayments
In addition, clients can get up to 50% of their business insurance premiums back (limited to R5 000 monthly premium) if they are in good standing with their cash advance repayments. Merchant Capital will determine whether the client is in good standing with their repayments or not.
Clients can qualify for a premium cash back of 15% to 50% depending on the amount of their cash advance and their monthly premium. To qualify for the cash back, clients must have a minimum cash advance of R50 000, as detailed in the table below:

The cash back is calculated as:
cash back = cash back percentage x monthly premium x 12 (where monthly premium is limited to R5 000).
The cash back is available on a single loan facility for cash advances taken out between 1 July and 31 December 2020.
Clients get access to other business resources
Clients also get access to business resources, such as Discovery's Healthy Business Show podcasts. These podcasts aim to raise awareness of the importance of entrepreneurship and small businesses for the economy. They provide a platform to share knowledge of what it takes to own and grow a business and the support channels in place to assist business owners.
Listen to these podcasts and share them with your clients to help them get the knowledge and support they need to run a successful business.
Through our partnership with Endeavor South Africa, our clients get access to amazing resources such as webinars and articles to help their businesses succeed during COVID-19 lockdown levels and beyond. These resources include insights into financing options available to businesses during this time and what actions businesses can take to preserve cash flow. Details on these topics and many others are available on the Endeavor website: