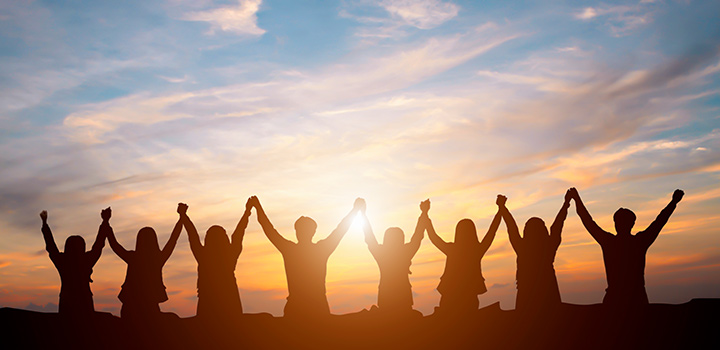 Be inspired by learning just how much Vitality Active Rewards members have given back to society by achieving their goals and donating their rewards to fellow South Africans in need.
In a world in which obesity and other chronic diseases of lifestyle are becoming increasingly prevalent, we're committed to creative and mutually beneficial ways of promoting good health.
The Vitality Active Rewards programme has helped incentivise thousands of people to get active. And through it, we've also managed to raise significant amounts of money for various charities. This was made possible by members who choose to donate their rewards to a specific cause through MoveToGive campaigns.
Since the launch of MoveToGive in 2015, a total of R7.2 million has been donated to various causes.
Crowdsourcing kindness
The term crowdsourcing refers broadly to the process of organising many people to participate in a joint project, often in small ways – but if MoveToGive is any indication, these small ways can make a sizable difference.
According to Dr Craig Nossel, Head of Vitality Wellness, over 400 000 lives have been positively impacted across South Africa through Vitality Active Rewards. The impact has been on peoples' health, but also on society.
MoveToGive campaigns have contributed in the following ways:
14 500 teddy bears donated to 20 local organisations (19 – 25 December 2015)
150 000 winter warmer items like scarves, socks, beanies and gloves (4 – 10 June 2016)
R 250 000 donated to Endurocad to send future aspiring athletes to the Olympics (6 – 12 August 2016)
40 000 meals donated to help people in need (November – December 2016)
Over 22 000 back-to-school stationary packs donated (22 February – 7 March 2017)
25 kids' dreams came true with Reach for a Dream (28 April – 12 May 2017)
25 bicycles raised for schoolgirls through Qhubeka (17 – 27 May 2017)
Over R370 000 in disaster relief donated to affected communities (June – July 2017)
35 Qhubeka bikes raised for children to get to school (12 – 25 July 2017)
Over 42 000 sanitary packs donated to help empower schoolgirls in need (9 – 22 August 2017)
Over 53 kids' dreams came true with Reach for a Dream (20 December 2017 – 2 January 2018)
Over 36 000 stationary packs donated (31 January – 13 February 2018)
Close to 10 000 care packages donated to those affected by the fires in Alexandra (26 July – 1 August 2017)
Over 100 000 hand sanitisers and 500 000 litres of water sent to communities in need during the Cape Town water crisis (21 February – 20 April 2018)
"We're humbled and thrilled to be a part of something that brings out the best in people – giving them a platform in which to do good for their fellow South Africans, while enriching their own lives through the many health benefits of increased physical activity," says Nossel.
"This kind of crowdsourced philanthropy aligns strongly with our Vitality Shared-Value insurance model, which seeks to benefit all stakeholders – members, through better health; insurers and investors, through reduced risk; and society as a whole – through healthier citizens and charitable initiatives like MoveToGive."
Data shows that members who are generous tend to exercise more
"We've also found that members who frequently select MoveToGive rewards are seen to exercise more frequently than the average member," adds Nossel.
"While we support and applaud increased physical activity for any reason, it's heart-warming to witness how many people are more motivated to get active in order to help others. We hope more people will rise to the challenge, and will use Vitality Active Rewards and MoveToGive as a platform to prove to one another that the spirit of ubuntu continues to thrive in our country."

The Vitality Open. Anyone can join. Everyone wins
Download the Discovery app to join the Vitality Open and get rewarded for getting active and driving well.
Achieve your goals to earn great rewards PLUS if you reveal a diamond, you will go into a draw to win prizes … for life. Flights, fuel, gym, movies, concert tickets, smoothies, coffees, tyres, Uber, Nando's, running shoes, HealthyFood and the latest iPhone … for LIFE.
Want to help? Get active and drive well to help build a Dream Room
From 17 October 2018 to 13 November 2018, all Vitality Open and Vitality Active Rewards members who achieve their fitness or drive goals can choose to spend their Vitality reward points on building a Dream Room in the paediatric oncology ward at the Chris Hani Baragwanath Hospital.
Download the Discovery app to join the Vitality Open get rewarded for getting active and driving well.
A new generation of healthcare professionals
Discovery and the Umthombo Youth Development Foundation are empowering youth from rural areas to pursue a qualification in healthcare and give back to their communities.
Click here to watch Umthombo graduates share about their experience and the incredible impact it's making in improving the country's shortage of healthcare professionals.
The knock-on effect of achieving your health goals
There's emerging evidence that people who exercise self-control in one domain are generally successful in a number of other domains. Here's how engaging in Vitality Active Rewards can make you more capable by triggering other positive habits.
Self-discipline is that much easier with Vitality Weight Loss Rewards
Vitality Weight Loss Rewards just helps you keep going with its encouraging feedback messages and enabling you to track your weight loss. That's very motivating. Once I got into the habit of eating properly and doing all the right things, it changed my way of life. Read Dawn Zaal's weight-loss story.