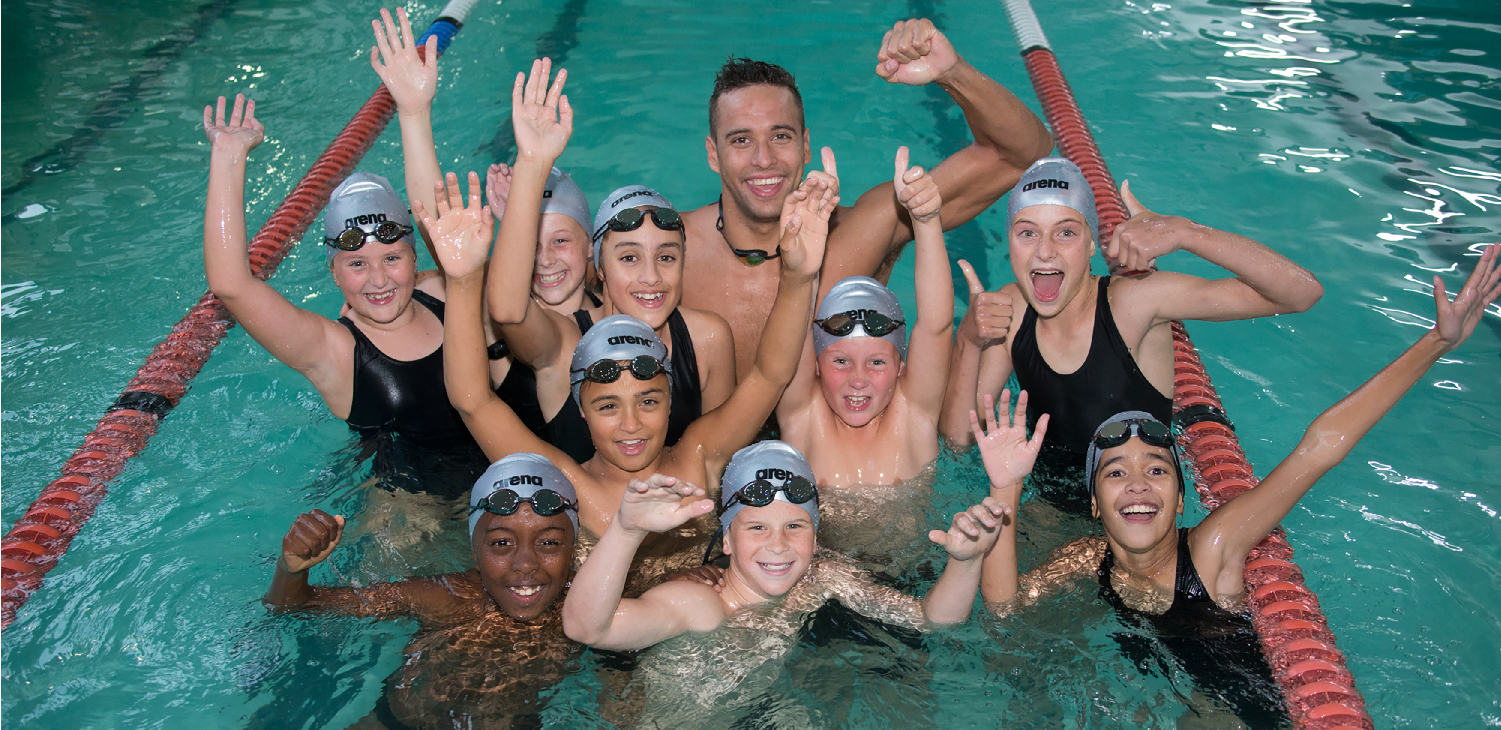 Discovery Vitality Ambassador and South Africa's most decorated Olympian Chad Le Clos doesn't believe enough is being done to develop young South African swimmers. Together with his sponsors and supporters, he's determined to make a difference.
In the last 8 years, South Africa has brought home two Olympic gold medals in swimming, thanks to Chad le Clos and Cameron van der Burgh. That's from a pool of just 3 000 registered swimmers. Compare that to America, which has a pool of 750 000 registered swimmers. "We have 60 million people in South Africa," says le Clos, "so our pool should be lot bigger."
The Discovery Vitality Ambassador believes in the latent potential of the country's youth, but recognises the need for support to help them rise to the top. This led him and his family to start a swimming academy and the Chad Le Clos Foundation, a not for profit organisation whose goal is to develop swimming in the country.
Bridging the gap for promising young swimmers
"In South Africa, winning an Olympic Gold is huge, and once you win that, you're okay – but the build-up towards that is very hard. Often, when swimmers leave matric, they have no future because they have no money. I remember coming through the ranks – even when I was a World Champion and a Commonwealth champion, I was relatively unknown. I had to take a gamble; my parents had to help me a lot and it was a difficult couple of years until I won that gold."
"Since then, I've been blessed with amazing sponsors, so now I want to help develop the next generation. We have a lot of promising youngsters who have been knocking at the door for many years. At the last World Championships, we had Zane Waddell and Tatjana Schoenmaker winning gold and silver. I've done a few training sessions with Ethan du Preez, an up-and-coming butterfly swimmer on the verge of making his Olympic debut at 15 – these are kids who should be getting a lot more attention."
The Chad le Clos Foundation accepts donations from individuals, trusts and companies, and the funds raised are put straight back into the sport, with a focus on kids from underprivileged backgrounds. Longer-term, the Foundation aims to develop swimming infrastructure in South Africa for local community use.
Positivity in a pandemic
Apart from scheduling community outreaches once lockdown restrictions end, the foundation's latest initiative is selling locally-produced face masks, with 90% of the proceeds going to charity and 10% going to the Foundation. "We want to do our bit to make a difference in this time of crisis," explains le Clos. "Discovery has donated 3 000 masks, and we're giving masks to the Sandton police force, healthcare workers in Joburg and in Durban and so on."
"It's been a real encouragement to see the support we're getting from companies like Discovery, my sponsors, and I'm urging more corporates to get behind this, because we're all trying to make South Africa a better place. The most important thing is that we have positive people behind us. Along with doing my best to keep winning gold medals, this is my legacy back to South Africa."
Chad le Clos' Decade of Greatness
Highlighting a decade of greatness, Chad le Clos emerged as the most decorated South African swimmer of all time by stepping onto the podium at major events each year since making his international debut.
Swim your way to good shape like Chad!
Discovery Vitality Ambassador Chad le Clos has been hitting his personal fitness goals throughout the season, and is now on the cusp of winning an unprecedented fourth FINA Swimming World Cup series title. Find some inspiration from him to hit the pool this summer!