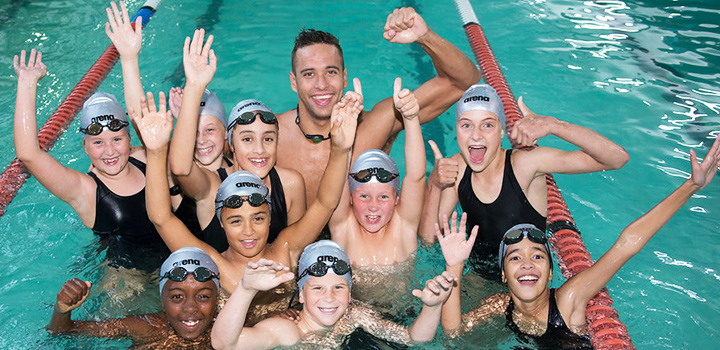 Home-grown Olympian champ Chad le Clos is committed to transforming the way swimming is taught in South Africa. Here's what he's up to this Youth Month.
Images courtesy of Andrew Gorman Events
Discovery Vitality Ambassador Chad le Clos has been making waves on the global stage ever since he won five medals at the inaugural Youth Olympic Games in Singapore back in 2010. Since then, he's become South Africa's most decorated Olympian, boasting a gold and three silver medals over two editions.
Investing in untapped talent
Chad is now set of giving back though his newly established CLeC Academy, because, as he puts it, "Academies do not start off with Olympic champions! I want to create better opportunities for youngsters by growing swimming from grassroots level. My main thing is about giving back and investing in untapped talent."
The programme will focus on stroke development and fitness for swimmers aged five through to adults, with Chad planning to expand the academy beyond Claremont in Cape Town, where it is based. "We are opening in two underprivileged communities over the next few months. Our goal in the year ahead is to open another six academies in South Africa."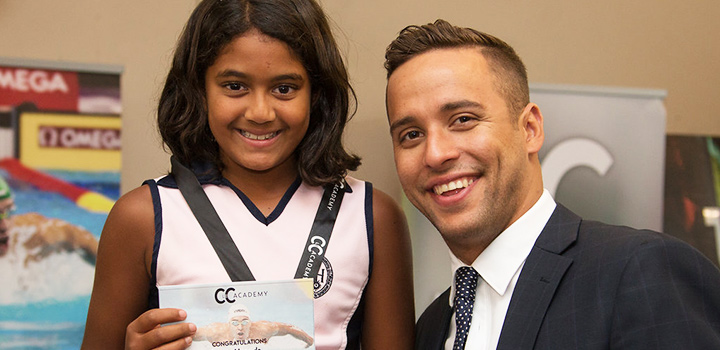 Images courtesy of Andrew Gorman Events
"I want to create better opportunities for youngsters by growing swimming from grassroots level."
Drowning can be prevented by teaching kids to swim
Chad's vision goes beyond developing youngsters into future Olympians. His aim is to make a deeper impact on South Africa?s most vulnerable - children. "Over and above the many health benefits of swimming," Chad says, "you need to teach a kid water safety - it is a necessity to get them water-safe. There are so many drownings in South Africa and around the world which could so easily be prevented just by teaching people how to swim."
According to statistics released by the National Sea Rescue Institute in 2017, there are around 2 000 fatal drownings a year, with children under the age of 16 accounting for 600 of these cases. David Stanton, head of clinical leadership at Netcare 911, to wants to remind the public that water-related accidents and drownings can happen in the home and any time of the year, not just on a beach in summer. Children always need to be watched when they are near water - be it a pool or a bathtub. Here are some essential pointers from Netcare 911 on how to respond in the event of a drowning.
Water safety tips: what to do when someone is drowning
Get the victim out of the water as soon as possible, but don't become a victim yourself. Make sure it is safe for you to enter the water first.
Handle the victim with care. Many submersion incidents are associated with neck injuries, so keep movement to the back and neck to a minimum.
Assess to see if the victim is awake by asking, "Hello, can you hear me?"
Check for breathing by looking at the chest for no longer than 10 seconds. If the victim is not breathing or not breathing normally (i.e. gasping), call for immediate medical assistance.
Call, or have someone call, a recognised medical emergency service provider such as Netcare 911 on 082 911 as soon as possible. Whoever calls for the ambulance must give the dispatcher an accurate location of the incident and a contact number at the scene. Never hang up on the operator and always return to the rescuer to inform them that you have called for help.
A basic course in first aid and cardio-pulmonary resuscitation (CPR) can make a huge difference in the outcome if your skills are applied in time.
If the victim is not breathing, immediately start CPR, beginning with chest compressions. Keep doing CPR at a ratio of 30 chest compressions, and then 2 breaths.
When caretakers grab a child and rush to hospital, the child gets no blood flow and oxygen for too long. CPR is vital, even if an amateur administers it until advanced life support can take over.
Do not try to 'get the water out'. When a child vomits, they end up with horrific aspiration pneumonia.
Motivation to ramp up your swimming skills this month
Here's some information and inspiration to make you more water-safe this Youth Month, and have you heading to the pool with care and confidence!
Learn how to handle an emergency by signing up for a CPR course today
Cardiopulmonary resuscitation (CPR) is an emergency technique used on someone whose heart or breathing has stopped. Knowing how to perform CPR can literally save lives, so don't wait until you wish you did - sign up for a course today!

Plus, Discovery Vitality members 18 years and above can earn 2 500 Vitality points for successfully completing a CPR course. You can earn 2 500 points every year, for as many years as your CPR certificate is valid.
Make sure you have emergency details close at hand
Remember to store details of emergency services and contacts in an easily-accessible place, like a note posted on the fridge door, as well numbers saved on the phones of everyone in your family.

Remember, if you are a Discovery Health Medical Scheme member and require medically-equipped transport, call 0860 999 911. This line is managed by highly-qualified emergency personnel who can send air or road emergency evacuation transport to your address if you need it.
Boards and buoys, swimsuits and shorts - get it all for less!
Swim your way to good shape like Chad!
Discovery Vitality Ambassador Chad le Clos has been hitting his personal fitness goals throughout the season, and is now on the cusp of winning an unprecedented fourth FINA Swimming World Cup series title. Find some inspiration from him to hit the pool this summer!
Can you keep up with Wayde and Chad?
Recent championships have tested the mettle of Vitality Ambassadors Chad le Clos and Wayde van Niekerk - and not found them wanting! Their impressive list of new records and humble approach to excellence will inspire you to be your best every day.
Just 30 minutes of exercise a day helps you live longer
We all know it's important to get off the couch and get active, but there are more health benefits of exercising regularly - for just 30 minutes a day - than you think. is that a fraction of time that you can spare if it meant a healthier life?