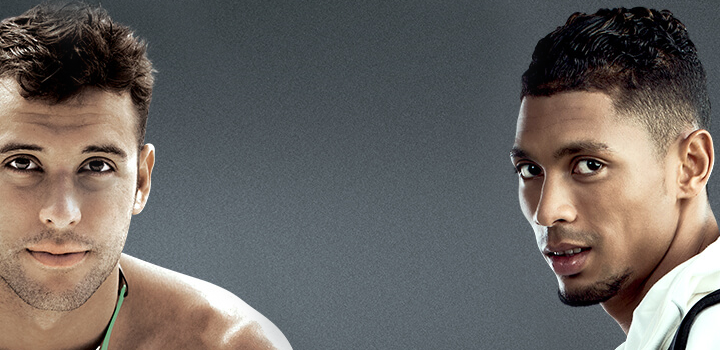 Between them, Vitality Ambassadors Chad le Clos and Wayde van Niekerk have broken a grand total of six South African records and three world records this season.
Recent global sporting championships have tested the mettle of Discovery Vitality Ambassadors Chad le Clos and Wayde van Niekerk - and found them up for the challenge. Their impressive list of new records and humble approach to excellence, both on and off the field, will inspire you to be your best every day. Here's a look at what have they've achieved.
Wayde's track record
Wayde van Niekerk raced in seven different countries this season: the Czech Republic, England, the United States, Switzerland, Monaco, Slovenia and Jamaica. He's clearly maintained his superb form since the 2016 Rio Olympic Games. He not only earned South Africa's first gold medal, but also finished the 400m in 43.03 seconds - breaking the world record that Michael Johnson set 17 years ago. Wayde has continued to beat his personal bests and set new standards in sprinting. Here are some of his achievements this season:
Wayde has become a double 400m world champion - only the third South African after Hestrie Cloete and Caster Semenya to successfully defend a world title.
He posted a new 100m personal best of 9.94 seconds in Velenje; a new 200m personal best and South African record of 19.84 seconds in Kingston; and a new 300m world best of 30.81 seconds in Ostrava - the last being a record which had stood since 2 000.
Wayde claimed his second South African 200m title - six years after he first won it.
He won his first South African senior silver medal in the 100m.
In August, Wayde successfully defended his 400m world title at the 2017 World Championships in Athletics in London with a time of 43.98 seconds. Two days later, he finished second in the 200m in a time of 20.11 seconds. This made him the first South African athlete to land two individual medals at a single meet.
Adding up his races throughout this season, he's run a total of 7.5km over the 100m, 200m, 300m and 400m distances, which he cumulatively covered in about 13.5 minutes. That's an extraordinary pace of almost one minute 48 seconds per kilometre.
Chad makes a splash
This season, Durban-born swimming sensation Chad le Clos raced in six different countries: Budapest, France, Rome, Moscow, Germany and the Netherlands. He's been dubbed the Comeback King after a dazzling performance:
In July, Chad reclaimed his 200m butterfly world title in Budapest, Hungary where he posted his second fastest time ever, clocking in at 1:53.33.
He won his fourth individual World Long Course Championship title - the most by a South African - after clinching the 200m butterfly gold.
He now equals Roland Schoeman's total medal tally at the World Long Course Championship.
Chad broke the South African 100m freestyle Short Course record on the first day of the 2017 Berlin World Cup, posting a time of 45.78 seconds. This means he broke Lyndon Ferns' record of 46.00, from 2009.
He's won South African 200m freestyle, 200m butterfly, and 100m butterfly titles.
He now holds four individual South African Short Course records - the 100m and 200m butterfly, 100m freestyle, and 400m individual medley.
Break your own records this season
Pushing our own sporting limits and exceeding our personal health goals is just as worthy of celebration. Eating nutritious food and exercising enough to claim your weekly Vitality Active Rewards may sound like unexceptional goals - but anyone who's tried to live a healthy lifestyle knows the dedication it takes.
Chad says, "My diet is focused around my training - it's a big part of what helps me perform my best." He prioritises his health with nourishing meals. Chad also emphasises the importance of maintaining a balanced life. "In spite of my hectic training sessions, I have two nights a week to spend time with my friends - and to beat my personal best on my PlayStation."
Wayde echoes these sentiments and urges South Africans to look after their health. On becoming a Discovery Vitality ambassador, he said, "The health of South Africans, and especially our children, is very close to my heart. If I can make just one person more aware of the benefits of leading an active and healthy lifestyle, I will have made a big difference."
So take heart from these home-grown champions - define your personal health and wellness goals, and then break your own records this season.
Take your fitness goals to the next level with HealthyGear
New running shorts? Swimming cap? Weights or yoga mat? Whatever your fitness fancy, get the latest gear for less with up to 25% off a wide range of sportswear and equipment at Totalsports or Sportsman's Warehouse. Activate the Vitality HealthyGear benefit today or increase your cash back by doing a Vitality Fitness Assessment.
Wayde van Niekerk sprinted to a world first and new SA record of 19.84 seconds in the 200m half-lap in Jamaica. We celebrate his extraordinary 19-second (or so) achievement with 19 key insights shared during our most recent interview with him.
Discovery Vitality ambassador, Chad le Clos was hailed as the comeback king after reclaiming his 200m butterfly title at the FINA World Championships in Budapest, Hungary, on 27 July 2017.