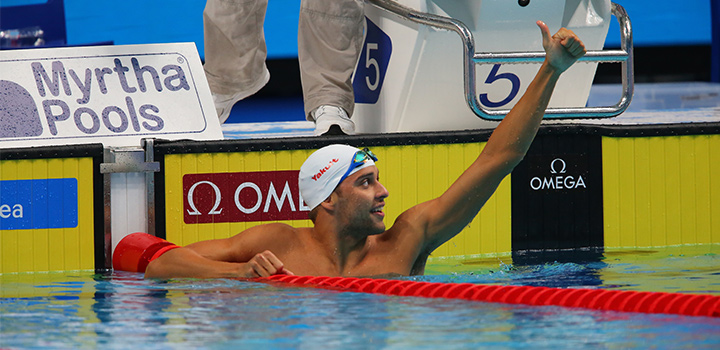 Discovery Vitality ambassador, Chad le Clos was hailed as the comeback king after reclaiming his 200m butterfly title at the FINA World Championships in Budapest, Hungary.
Posting a time of 1:53.33, Le Clos touched the wall first in his fastest time since beating American swimming legend Michael Phelps at the London 2012 Olympic Games.
Le Clos was on a comeback mission after he surrendered his title to Hungarian swimmer Laszlo Cseh in Kazan, Russia two years ago. To compound his disappointment Le Clos failed to defend his 200m butterfly title missing out on a podium place altogether at the Rio Olympic Games. But on Wednesday evening Le Clos announced his return to the top beating overwhelming home favourites Cseh and Rio Olympics bronze medallist Tamas Kenderesi.
Le Clos took the race out fast to lead from start to finish to hold off a fast approaching Cseh to claim the victory. Cseh finished shortly behind him in a time of 1:53.72 with Japan's Daiya Seto bagging the bronze in 1:54.21.
"It is a great honour to be here in the stadium, probably one of the best I have ever competed in, together with my great friend Laszlo," Le Clos said of his fierce competitor.
"It was a very emotional event, before, during and after the race for me. I was pretty nervous before the race. I am very thankful and lucky that I touched home first."
Le Clos will now be looking to win only his second 100m-200m butterfly golden double when he is expected to race in the final of the shorter distance on Saturday evening.
He will be looking to become only the second man behind Phelps to win the 100m butterfly title on the trot.
Pushing limits and shedding pounds: How Dumi found a sport she loves
Spring brings a scurry of activity as the earth bursts into life. Use this season to fall in love with a fitness activity that keeps you coming back for more. Dumisile Mthalane did just that. By finding a sport where she can soak up the sunshine, she's transformed the way she looks, thinks and feels.
5 excuses not to exercise (but are they good enough?!)
We can all think of a reason why we just can?t fit a workout in today. But understanding how we justify it can help to break down barriers to exercise. Here we list some common excuses for avoiding exercise, and tips to get you going.
Wayde van Niekerk sprinted to a world first and new SA record of 19.84 seconds in the 200m half-lap in Jamaica. We celebrate his extraordinary 19-second (or so) achievement with 19 key insights shared during our most recent interview with him.